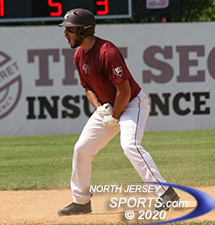 Kevin Stefanski's two-run single in the sixth inning got Don Bosco Prep even before it went on to a 7-6 victory over Governor Livingston in the Last Dance World Series.
LITTLE FALLS – "It ain't over until it's over." - Yogi Berra
As the Diamondbacks, a team comprised of Don Bosco Prep players, watched a gritty Governor Livingston squad put up three runs to take a 5-0 lead in the top of the fifth inning, the thoughts of a long run through the Last Dance Tournament were quickly slipping away. But, fittingly, playing in Yogi Berra Stadium the Diamondbacks kept battling until finally finding their groove in the sixth.
The Diamondbacks, the top seed in the North Region, put up a six-spot in the sixth inning capped by a two-out, two-run single by Charlie Grannatell before surviving a controversial ending to advance with a wild 7-6 triumph over No. 16 seed Berkeley Heights/Mountainside featuring the players from Governor Livingston High School on Tuesday afternoon in Little Falls.
"This is the type of game and the atmosphere we wanted when we entered this tournament," said Diamondbacks' head coach Mike Rooney. "Our guys who didn't get to play their senior seasons stepped up big and our younger players grew up in a hurry today."
Although they were a decided underdog in terms of seeds, the White Sox showed they could play with anybody and set the tone early. Michael Shaffer lined an RBI double and Nick Gold followed with a single to drive home Shaffer and give them a 2-0 lead. Under normal circumstances that might have been enough with the way White Sox right-hander Ryan Devanney was dealing. He got ahead early in the count throughout his four innings of work, allowing just two hits and no runs.
"I have to give that team credit, they came here to win and Devanney really kept us off-balance out there," added Rooney. "I thought our at-bats needed to be better and we started focusing on going the other way more, that's when things started to get going for us."
Villanova-bound righty Devin Rivera settled down after a tough first inning. The White Sox were undaunted though and got to him once again in the top half of the fifth, plating three more runs to take a commanding 5-0 lead. An RBI groundout in the bottom half of the inning got the Diamondbacks on the scoreboard before they erupted in the sixth.
With their senior seasons taken away due to the Covid-19 pandemic, it was appropriate that a pair of now Don Bosco Prep graduates were the lynchpins to the comeback. Down 0-2 in the count Mikey Dreznin went with an 0-2 fastball and lined it down the right-field line for a two-run double that cut the White Sox four-run lead in half. Kevin Stefanski followed by tying the game with a two-run single to bring up Grannatell. He waited then turned on a 1-1 curveball and drilled it into left field for a two-run single that gave the Diamondbacks a 7-5 lead heading into the top of the seventh.
"I was just looking for a good pitch to hit and not overthink my at-bat," said Grannatell. "It's about having a mature approach at the plate and battling every time you're up. We don't like falling behind any team but we're confident that we can rally. Our coaches kept us calm and that really helped us."
The White Sox showed heart throughout the game and did not go down without a fight. Mellusi drew a leadoff walk and McCullough laid down a perfectly-placed bunt to reach before one-out walk to Gold loaded the bases. Caden Dana came on to close for the Diamondbacks and got a strikeout for the second out but the pitch was wild and Mellusi scooted home with the tying and go-ahead runs moving into scoring position.
It was then when the Diamondbacks caught a massive break. Dana appeared to balk not once but twice in the same wind-up, which would have allowed the tying run to score. However, after lots of arguing from the White Sox dugout and a conference with the three umpires no balk was called. Two pitches later, Dana got a game-ending strikeout as the Diamondbacks survived to play another day. That day happens to be today as they turn around quickly to play the North Region's No. 8 seed Jefferson also at Yogi Berra Stadium with a the first pitch scheduled for 1:00 P.M.
"We're still knocking the rust and we did just enough to move on today," said Grannatell. "This team is aware of the mistakes we made today and we'll keep working not to make them twice. This was a really good battle and the competition is going to be as tough or tougher as we advance. We missed out on a season but now we have a second chance to do something special and we'll do everything we can to make the most of it."
FOR MORE PHOTOS OF THIS EVENT CLICK HERE. TO BUY A COLLECTOR'S PRINT OF THIS STORY PLEASE VISIT 4-FeetGrafix.com.