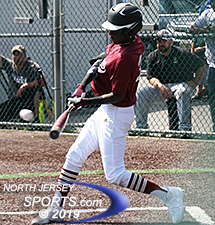 Quincy Mitchell got Bayonne off and rolling in a 6-2 win over Hudson Catholic on Wednesday. The Bees won for the second straight day in pool play in the Last Dance World Series in Jersey City.
BAYONNE – This was supposed to be Bayonne's year. With a deep pitching staff, power in the lineup, speed on the base paths and plenty of senior leadership, the Bees had mentally and physically prepared for every situation imaginable except for the one that was never even considered.
When spring sports were officially cancelled in New Jersey, the ballyhooed senior class of 2020 lamented its lost season and not being able to wear a Bayonne uniform together as a group for what might have been a special season in southern Hudson County. Through all of the heartache and disappointment the Bees kept working on their craft in hopes for one last shot, so when The Last Dance Tournament was finalized, the Bees were ready to make some noise.
Facing Hudson County rival Hudson Catholic, the Bees broke the game open with some clutch two-out hits. Quincy Mitchell lined a two-run single and Tyler Johnson followed two batters later with a two-run triple as Bayonne won for the second straight day in pool play and moved one step closer to advancing with a 6-2 victory over Hudson Catholic on Wednesday, Day 2 of the Last Dance Tournament at Lincoln Park in Jersey City.
"This was a great win for our program, especially for our seniors," said Bayonne's Dave Hoffman, who is normally the head coach and in the third-base box but has had to watch from behind the fence for logistical reasons. "To have an opportunity to advance in this tournament was something that was a major priority for us going in."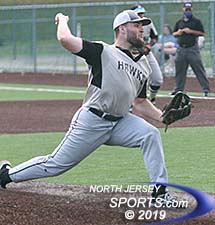 Jimmy Kemp, a member of Hudson Catholic's Class of 2020, drove in a run and also was effective on the mound.
Hudson Catholic looked to have caught a break in the top half of the first when Bayonne appeared to take the lead, only for the run to be taken off the board due to catcher's interference. The Hawks then put two runners on before O'Connor settled down to induce a fly ball to Mitchell in center to end the threat.
"We're a pretty good team and we've been focused for a long time for this opportunity," said O'Connor. "It's about coming in here with a good mindset. We have a few seniors on the team that are going to play in college and we came into this tournament with something to prove."
The Bees got on the scoreboard first when Carlos Miranda used a hook slide to get around Hawks' catcher Rody Martinez. Miranda missed the plate on the slide but dove back to get his hand on the plate just before getting tagged by Martinez for a 1-0 lead.
They tacked four more in the third with Mitchell's single just over the head of Hudson Catholic second baseman Ivan Gonzalez to plate two runs. After Brian Baranak got hit by pitch, the imposing Johnson stepped to the plate and showed why he is always a run-scoring threat. He went with an outside fastball from Hudson Catholic starter Greg Paulino. Johnson crushed to right-center for a two-run triple that knocked Paulino out of the box.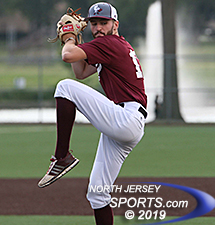 Justin O'Connor picked up the win for Bayonne, which will play Newark East Side on Thursday with a chance to advance out of pool play.
"I just tried to have a good at-bat and hit the ball hard in play," said Johnson. "Our goal is to make the opposing pitchers work for their outs. I figured I would get something high in the zone and I was ready for it."
Hudson Catholic's Jimmy Kemp also was robbed of playing his senior year and did his best to keep his team afloat. He came onto the mound to prevent any further damage then lined an RBI single to get the Hawks on the board and bring the tying run to the plate. Once again, O'Connor was at his best in pressure situations stranding the bases loaded with another fly ball.
The Hawks never threatened again thanks to the solid pitching of Bayonne's Brandon Kobryn in relief. The soon-to-be junior right-hander pitched the final four innings allowing just one run. With another win in the pool-play finale against Newark East Side, the Bees will advance and get a chance to play another day.
"We have really good chemistry and we were really prepared for making a run here," said Kobryn. "It's a great group of guys and we feel confident that can we can win every time we step on the field because of our preparation. It feels great to get two wins, but now we have to come back and do it again tomorrow."
FOR MORE PHOTOS OF THIS EVENT CLICK HERE. TO BUY A COLLECTOR'S PRINT OF THIS STORY PLEASE VISIT 4-FeetGrafix.com.