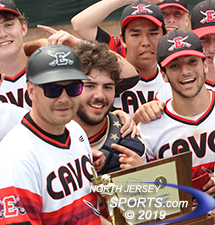 Emerson was all smiles after it wiped out a five-run seventh inning deficit and beat Glassboro, 8-5, in the Group 1 state final on Saturday in Hamilton.
HAMILTON – As Emerson head coach Chris Sommerhalter brought his team together for what seemed like one last huddle, an unfortunate one at that. With his team trailing by five runs heading into its final at bat in Saturday's Group 1 state final, he used just about every baseball analogy he could muster. Sommerhalter reminded his team that the game was not over until the 21st out was recorded, to take it one pitch at a time and all that, but it was time was almost up on the Cavos' season and it was just about time to accept their fate.
However, this was no ordinary situation and this is no ordinary Emerson team. Having done it in recent years and during this current post-season run, the Cavos never stopped playing hard. Thanks to some timely hits up and down the lineup in a wild seventh inning, they were rewarded with a win that will go down as one of greatest comebacks ever in a state tournament championship game.
After collecting just four hits over the first six innings, the Cavos pounded six in their final turn at the plate. Mike Carmosino tied the game with a two-run double and No. 9 batter Frankie Savino snapped the tie with a two-out single as Emerson scored all eight of its runs in the seventh inning to win the Group 1 state championship with an 8-5 triumph over Glassboro at Veterans Park in Hamilton.
"We have won games in every single way possible. We have come from behind, we have won in blowouts, close games…every which way all season and no matter what ever happened these guys' heads never went down," said Sommerhalter, who has been to three state finals as Emerson's head coach and has now won two of them. "It's pretty unbelievable what just happened here. I don't even know how to describe how they just did that. They were down five runs in the seventh and came back to win against a great high school baseball team."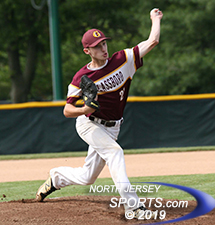 Glassboro starter Justin Toungue had a 22-inning scoreless streak going before entering the seventh inning and having to leave via the pitch count rule.
Before the wild seventh inning the Cavos' best chance to get a run on the board early came in the top half of the opening frame. Joe Giacalone singled on the game's first pitch and there were eventually two runners in scoring position with two outs. Glassboro southpaw Justin Tongue wiggled out of trouble with a looping curveball for a called third strike.
In the bottom half of the inning Emerson right-hander Brendan Pattermann also got into trouble with a runner on third and one out. The junior bore down and rung up two straight batters to keep the game scoreless.
Miscues dogged the Cavos in the third inning. Three passed balls, a pair of errors, and a wild pitch opened the door and Glassboro took advantage of all of them to take a commanding lead. The big blow was a two-run double by Drew Tongue as the Bulldogs raced out to a commanding 5-0 lead.
After swinging early in counts the first time through the order the Emerson lineup started to have longer, more productive at-bats as the game went on. It did not appear as it would matter much facing a big deficit and running out of outs, but Joe Carmosino, a senior with plenty of experience, came on in relief and kept the Cavos afloat before heading into the top of the seventh inning where several huge occurrences happened in short order.
The bottom of the lineup came up huge as Pattermann and Savino (the Nos. 8 and 9 batters in the order) both reached base before an errant pickoff throw allowed the first run to scored and also snapped Tongue's 22-inning scoreless streak. After a walk to Giacalone loaded the bases again, Ryan Taub laid down a perfect bunt along the third-base line. Pete Durocher followed with a Texas-leaguer that dropped in for an RBI single, which accomplished two things. It cut the lead to 5-3, but it also knocked Tongue (109 pitches) out of the box, forcing the Bulldogs to go to secondary pitchers to try to close the game out.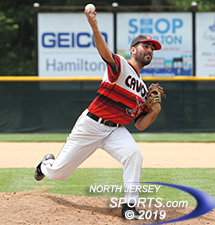 Senior Joe Carmosino threw three innings of scoreless relief to pick up the state championship-clinching win for Emerson.
After a sac fly by Joe Carmosino, Matt Harada was hit by a pitch on a 1-2 curveball that set the stage for Mike Carmosino. He smoked a fastball over the right fielder's head and off the fence to tie the game at 5. The energy both in and out of the Emerson dugout was electric, but there was still work left to do.
"The key was keeping a confident mindset going into the seventh inning, the only way we would win was with a total team effort," said Mike Carmosino. "I had the confidence to step up and I was looking for a particular pitch and I got it. We're the type of team that keeps grinding and never gives up. We just went at it one by one, when one person got a hit everyone else would follow."
The Cavos loaded the bases again with Savino stepping to the plate for the second time in the inning. In a spot every baseball player dreams of, Savino did not to waste any time or let his nerves get the best of him. He drove the first pitch he saw into right-center scoring two runs and giving Emerson an unlikely 7-5 lead.
They tacked on another run before handing the ball back to Joe Carmosino to close things out. It would not come easy as the Bulldogs got the tying run to the plate in Drew Tongue with two outs. Tongue hit a ball to the deepest part of the park by Emerson centerfielder Joe Giacalone was camped right under it by the warning track and squeezed it as Emerson headed for a celebratory dogpile.
"I'm so blessed to even have this opportunity and we got the job done," said Savino, a sophomore second baseman. "Two years ago when they made the state final I was here just as a fan and now I'm here actually contributing to these guys winning it. It's an amazing feeling and it's totally surreal that it's even happening."
There were no shortage of heros for Emerson (23-7). Savino went 3-for-4 at the plate with two RBIs and two runs scored. Joe Carmosino, who took the loss in the 2017 state final, allowed just two hits in three innings of relief to pick up the win and his brother, Mike, had the huge double to tie it in the seventh. Noah Putney went 3-for-4 with an RBI and a run scored for Glassboro (23-6).
"We came back from nine down in the seventh to win a section final against Park Ridge my sophomore year [in 2017] and came back from four runs down this year a few days ago to beat New Providence [in the Group 1 semifinals] so that helped because we knew it was possible," said Joe Carmosino. "We got a lot of momentum in that seventh inning and we just kept it going until we got the lead. It feels crazy and it doesn't feel real. To score in the eight in the last inning to win a state championship is awesome. There's nothing like it."
Now that the long journey towards their ultimate goal has been played out, the Cavos can savor the moment and reflect on how it will affect their lives both on and off the diamond.
"We're a really close team but this takes it to another level," said Mike Carmosino. "Winning a state title and doing it the way we did it is something that we'll talk about for the rest of our lives."
FOR MORE PHOTOS FROM THIS EVENT PLEASE CLICK HERE. TO BUY A COLLECTOR'S PRINT OF THIS STORY PLEASE VISIT 4-FeetGrafix.com.