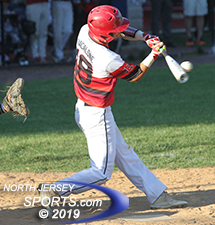 Joe Giacalone making contact with the RBI triple that tied the game in the top of the eighth inning before his mad dash home gave Emerson a wild 9-8 win over New Providence in the Group 1 state semifinals.
DEMAREST – Senior Joe Carmosino and junior Dylan Pattermann form what is probably the best one-two punch at the top of any Group 1 pitching staff in all of New Jersey. With those two heading the rotation, Emerson was perfectly positioned for yet another deep run in the state playoffs. Pattermann pitcher the Cavos past Midland Park in the state sectional semifinals last Thursday and Carmosino took his turn in the section final, which Emerson won over Kinnelon on Friday.
And therein lies the rub…those games were on Thursday and Friday and, because of the pitch count rules of high school baseball, neither was eligible or available to pitch on Monday in the Group 1 state semifinals.
Because of last week's whacky weather which delayed the semifinal round by two days, Emerson went into the penultimate game of the year, Monday's Group 1 state semifinal, with a depleted pitching staff and staring at seven innings of bad road after New Providence scored four runs with two outs in the top of the very first inning.
"Both of those guys [Pattermann and Carmosino] are beasts, but we didn't have any other pitchers to start today so coach [Chris Sommerhalter] just looked at me and said, 'Hey Pete, you get the ball today," said senior Pete Durocher, who was forced into taking just his second start of the season. "I got off to a rough start in that first inning, but baseball is a crazy game."
Durocher was not being interviewed because of what he did in his 3 1/3 innings of work as Emerson's starting pitcher. Sure, he lasted into the fourth inning and settled down after his early struggle, but it was what he did in the bottom of the eighth inning with Joe Giacalone on third base and nobody out. Durocher hit a pop-up to the right side of the infield around which three different New Providence defenders converged, but none made the catch.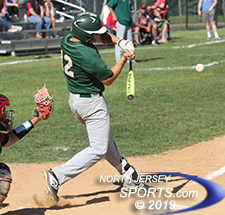 Jack Connor had two RBI in New Providence's four-run first inning.
As soon it hit the ground, Giacalone took off for home and was called safe in a cloud of dust as Emerson scored twice in the bottom of the eighth and grabbed a spot in Saturday's Group 1 state final with a wild 9-8 victory over New Providence at Northern Valley/Demarest High School. Emerson, one of three Bergen County public schools to make it the final day of the season, will play Glassboro for the state title at Veteran's Park in Hamilton in a 1:00 p.m. start.
"It's pretty awesome. These seniors, this group of outstanding seniors has been playing baseball with each other since they were five years old and that is what is great about Emerson. These kids stay here and this means something," said Sommerhalter, himself an Emerson kid who is now in his fifth season as Emerson's head coach and heading to his third state final. "It means a lot to this team to this program and this town."
The team, the program and the town were all in trouble in the opening inning when New Providence was brimming with confidence and chirping loudly from its dugout. The Pioneers had two out and nobody on when the rally started as Stanton Leuthner came back from an 0-2 count to draw a walk on a borderline 3-2 pitch and then stole second before scoring on Christopher Kubas' (2-for-4, RBI, R) two-out knock. Jack Connor added a two-run double and Jeffrey Policarpio singled in the run that made it 4-0 New Providence just seven batters into the game.
New Providence starter Nathaniel Scott, working quickly, faced just one batter over the minimum through the first two innings, but Emerson's offense got going in the bottom of the third with a rally started by the bottom of the order. Pattermann's leadoff single and Frankie Savino's (2-for-3, 2 RBI, 2 R) walk flipped the lineup for Giacalone (2-for-4, 2 R, RBI, SAC), whose sacrifice bunt earned him a spot on base after a poor throw to first base. Two batters later, Durocher (3-for-4, 2 RBI, R, 2 SB) got the Cavos on the board with a two run single and Carmosino (2-for-3, RBI, R, SB) singled in a run to pull Emerson right back into the mix, trailing by just a 4-3 score.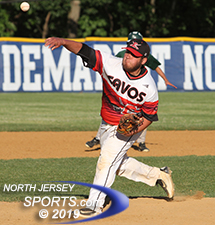 Justin Roa pitched 2 1/3 innings to pick up the win in relief for Emerson, which will play Glassboro for the Group 1 tiltle on Saturday in Hamilton.
Each team scored a run in its have of the fourth inning before Emerson grabbed the lead for the first time with a three-run outburst in the bottom of the fifth. Justin Roa (1-for-3, 2 RBI) had the big hit, a two-run double with one out as the Cavos surged in front, 7-5, and they led by the same scored heading into New Providence's turn at bat in the seventh. Bryan Atkinson had stabilized the middle of the game on the mound for Emerson, but the last three outs are the hardest to get and Dylan Bedder (2-for-3, 3 R, 2 SB) opened what could have been the Pioneers' final turn at bat with a double Walks to Policarpio and Matthew Marchesano loaded the bases with one out before Thomas Friscia (3-for-4, R, RBI, SB) beat out an infield hit that pushed a run across. New Prov got even when Roa, who entered the game in relief of Atkinson with the bases loaded and one out, hit the first batter he faced with tie the game at 7.
Roa rebounded to get the next two hitters with no damage done, but Bedder, New Prov's third pitcher of the game, struck out the side in the bottom of the seventh to push the game into extra innings. The Pioneers, who stranded 13 base runners in the game and eight over the final three innings, loaded the bases with one out in the top of the eighth, but got only an RBI single by Marchesano and a slim 8-7 lead to show for it.
Emerson was right back in business when Savino opened the bottom of the eighth with a single before Giacalone socked an opposite field triple to not only get Savino home with the tying run, but to make himself the winning run stationed just 9-0 feet away. Ryan Taub was hit by a pitch, which passed the baton to Durocher, whose pop-fly fell as Giacalone started his mad dash for home plate.
There was first cloud of dust and then a celebration as Giacalone was ruled to have just beaten the tag of Kubas, New Providence's catcher.
"This is incredible. There are not words to describe this moment," said Giacalone, Emerson's senior centerfielder. "To be able to say that my last game as a high school baseball player is going to be in a state championship game with the best teammates I could ever ask for is just unbelievable. I can't wait for Saturday."
FOR MORE PHOTOS FROM THIS EVENT PLEASE CLICK HERE. TO BUY A COLLECTOR'S PRINT OF THIS STORY PLEASE VISIT 4-FeetGrafix.com.