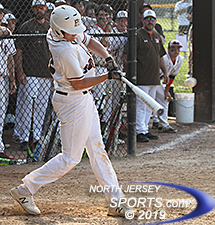 With this swing in the bottom of the eighth inning Ryan Ramsey ended Pascack Hills 1-0, 8-inning victory over Ramsey High school in the North 1, Group 2 state sectional final on Friday in Montvale.
MONTVALE – If the pitch count had never descended upon New Jersey high school baseball and if neither head coach had any regard for the long term health of the two starting pitchers then Friday's North 1, Group 2 state sectional final might still be going on.
 
Steven Turk, Ramsey's starting pitcher was not good, not great, but brilliant in throwing the full seven innings that constitute a regulation high school baseball game. He did not give up a single run earned or otherwise, allowed just six hits and one walk for a 1.00 WHIP and pitched out of rare spots of trouble with bravery to give the Rams, the No. 6 seed every chance to win the ballgame.
And then there is Ryan Ramsey, who was not only brilliant in his seven-plus inning masterpiece, but added to his legend as one of Bergen County's best ever baseball players. The senior southpaw who was the winning pitcher in last season's state sectional final when he threw a one-hit shutout, was just about untouchable in 7 1/3 innings in which he allowed two hits and one walk while striking out 18 before leaving with one out in the top of the eighth inning when he reached his pitch limit in a still scoreless playoff classic.
Chris Curcio struck out two of the three hitters he faced to close down that top of the seventh inning and Ryan Ramsey, picked then added another level to his championship pedigree in the bottom of the eighth inning. With two outs and the bases loaded, Ryan Ramsey dropped a single in short left field that Curcio with the only run of a 1-0, 8-inning victory that earned Pascack Hills (27-3) its third straight state sectional championship, an unprecedented run of success from a Bergen County public school.
The Cowboys will play North 2 champion Madison on Monday at Rutgers University for the chance to go to the Group 2 state final, but first things first. How about Ryan Ramsey's performance?
"Ryan Ramsey…18 strikeouts and the game-winning hit in his last game on his home field; that is pretty impressive," said Pascack Hills head coach Kevin Kirkby. "As a sophomore he was probably a JV kid and then we went down to Myrtle [Beach in the preseason] where he throws a couple of good innings and he turns out to be our closer. He gave up one run the entire year as a sophomore, last year he was the state pitcher of the year and this year he does this. He has had a hell of a freakin' career and it is not over yet."
Steven Turk threw seven innings of shutout baseball for Ramsey.
Offense was pretty much non-existent for the majority of the contest. Ramsey High School got the first of its two hits when its second batter of the game, Ben Bibergal, stroked a clean single to left but was caught stealing when he tried to go first move against Ryan Ramsey, who, to make it even more unfair for offenses when he is on the mound, has a plus move and the added advantage of being left-handed. Ryan Ramsey then struck out nine of the next 11 batters he faced including three straight after issuing his lone free pass of the game, a leadoff walk to Brian Dovidio in the fourth.
Joe Winterhalter provided the Rams their second and final hit of the game when he singled back through the box as the first batter of the fifth inning, but Ryan Ramsey (7 1/3 IP, 0 R, 0 ER, 2 H, 18 K, 1 BB) struck out the side to end that mild threat, he struck out two of the three batters in the sixth and then fanned the side again in the seventh to finish the regulation portion of the game with 17 Ks and 106 pitches. That left him with just enough ammo to face one batter in the top of the eighth inning and that at bat ended in a strikeout as Ryan Ramsey tied his career-high and walked off the mound to an ovation from the hearty home crowd.
All of that being said, it was still a scoreless game when Ryan Ramsey walked off the Montvale mound for the final time.
"It was hard going out there every inning with 0-0 still on the board, but I just tried to stay mentally tough every single inning. I just kept going out there trying to do my job," said Ryan Ramsey, who will play at the University of Maryland next season. "Knowing this was my last game on my home field I wanted to leave on a good note. I did not want to give in."
Pascack Hills had a bit more traffic on the base paths through the first seven innings, but Turk was up to every challenge. He got Ryan Ramsey (2-for-4, RBI) to hit a comebacker at the end of a long at bat with two outs and a runner on second in the bottom of the second and wiggled out of a tight spot in the fourth. Curcio (3-for-4, R, 2B) singled leading off, Brandon Siegenthaler drew a walk and Marc Hernandez bumped both runners up a base with a sacrifice bunt, but Turk got a pop-up and a strikeout to end the inning.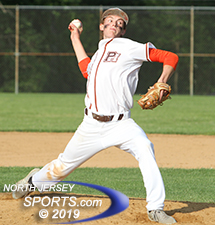 Senior Chris Curcio got the save in Thursday's semifinal round, the win in the final and also scored the game's lone run for Pascack Hills, which will play Madison on Monday in the Group 2 semifinals.
Turk pitched around a one-out double by Curcio in the sixth and a two-on, one-out situation in the seventh, his final inning of work. The Rams played error free behind Turk with Brendan Bussiere running down everything in centerfield four putouts next to Raul Camejo, who made three in leftfield as the Ramsey High School defense was air tight. The Rams just could not figure out a way to dent Ryan Ramsey through 7 1/3 or Curcio in the bottom of the eighth.
Ramsey High School (15-9) came from the No. 6 seed to reach the section final and put together an outstanding season in which they hosted a Bergen County Tournament game and were one of the last 32 public school teams left playing in the state.
"Both teams played a great game, both teams fought. They hit the ball a little bit more than we did, but we made all of the plays in the field that we needed to make throughout the game. As a coach, you can't ask for anything more. We fought all the way to the end," said Ramsey High School head coach Bill Chesney. "We have been fighting all year. We have not lost a game by more than three runs all season and we haven't gotten much respect for it, but we did ourselves proud today. We played a good game. We needed a couple of breaks and we didn't get them, but tip your cap. Pascack Hills played a great game, too."
Pascack Hills finally put the winning rally together in the bottom of the eighth when Curcio and Siegenthaler (1-for-3) strung together consecutive one-out singles and Mike Rodriguez (2-for-4) banked one off the pitcher and legged out an infield single to load the bases with two outs. That brought up Ryan Ramsey, who ran the count full before smacking the final pitch into left field for the win.
"As a coach you start to get that feeling like something bad is going to happen; like they are going to get a guy on, we make an error or something like that and we give away a run," said Kirkby, who has now led the Cowboys' baseball program to three state sectional titles after having led the basketball program to four straight earlier this decade. "But our pitchers, Ramsey and Curcio, were unbelievable today and we found a way to sneak across a run when we needed it and got a W."
The Cowboys have now won 10 straight state playoff games with two more out there as they gun for a second straight state title, which has not been done by a Bergen County public school since Emerson won back-to-back Group 1 state titles in 2000 and 2001.
"We just keep our composure in tight situations. That is one thing that I can say we are really good at doing," said Curcio, who got the save in Thursday's semifinal, the win in relief of Ryan Ramsey on Friday while striking out six of the last seven batters he faced over that two-day stretch and also scoring the winning run. "We are just playing now to survive and advance. Madison is going to be good. We played them last year [in the Group 2 semifinals], we beat them and we know that they are going to come back wanting to beat us. It's going to be a good test, so we are going to have to go after them with everything we have."
FOR MORE PHOTOS FROM THIS EVENT PLEASE CLICK HERE. TO BUY A COLLECTOR'S PRINT OF THIS STORY PLEASE VISIT 4-FeetGrafix.com.