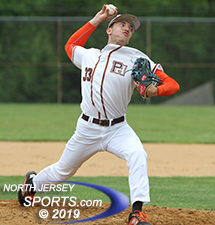 Senior Brandon Siegenthaler struck out 10 and did not allow an earned run in five innings on Wednesday before Pascack Hills could finish off its 4-1 win over Dumont in the North 1, Group 2 state sectional semifinals on Thursday in Montvale.
MONTVALE – This week's weather could have proven to be a disaster for any of the baseball team's left playing this deep in the state tournament. Cancellations, lightning delays, suspended games and general uncertainly about the schedule on a day to day basis could wreak havoc on pitching plans, the most important part of the game of baseball which gets ramped up even further in the postseason.
That is unless a team has three of Bergen County's best pitchers on its roster then it is just a matter of showing up at the field, waiting until the umpire says, 'Play Ball,' and then firing darts at opposing batters until Mother Nature intervenes or the game reaches its natural conclusion.
In a game that was starting to resemble a multi-day cricket match, Pascack Hills needed two of its front-liners and had the other in the bullpen just in case as the defending Group 2 state champion took no chances. In the North 1, Group 2 state sectional semifinal originally scheduled for Tuesday, started and interrupted on Wednesday and then resumed on Thursday, top-seeded Pascack Hills came away a 4-1 winner against a gritty Dumont team.
Brandon Siegenthaler (5 IP, 1 R, 0 ER, 3 H, 10 K, 0 BB), the senior Villanova commit, ate up the five innings that were played on Wednesday before the rains came and when the game restarted Chris Curcio, the senior headed to Rowan University, took the hill while University of Maryland-bound senior Ryan Ramsey went to the bullpen.
The first two hitters Curcio faced both grounded out to different infielders and the last four all swung and missed strike threes. Curcio (2 IP, 0 R, 0 ER, 0 H, 4 K, 0 BB), hitting as high as 89 on the radar gun with a tightly-spun curveball arriving in the upper 60s to low 70s, retired all six hitters he faced and got it all done in just under 25 minutes.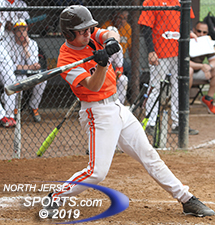 Nick Sudano scored the lone run for fourth-seeded Dumont, which finsihed its season with a 15-12 record.
"Chris [Curcio] is a really underrated pitcher. He is our closer but he could be an ace on just about any other team in the county. He comes in throwing 89 and he is our third pitcher?" said Siegenthaler, himself a hard-throwing right-hander. "Not a lot of teams in the state have that."
No they don't, but Dumont, the No. 4 seed that was no-hit by Siegenthaler, did not make it a restful Wednesday night for the Pascack Hills coaching staff. The Cowboys got three two-outs runs in the Tuesday portion of the game but had yet to put the contest out of reach by the time of its overnight suspension.
Dumont grabbed an unearned run in the top of the fifth set up by Nick Sudano, who reached on an error leading off the frame and stole second before coming around to score on Vincent Tamburro's RBI single that got the Huskies to within 3-1. Pascack Hills had a runner on first base with two outs in the bottom of the fifth when the lightning detector ended the festivities for the night.
"They did not roll over and die at all. [Dumont head coach] Jay [Cannici] does a good with them. They are always pesky, they always fight and there is a reason that his program is as well-respected as it is. They are a good team and they got to the semifinals for a reason," said Pascack Hills head coach Kevin Kirkby. "You never know how it is going to work out after you get cancelled two days ago and then yesterday with the rain and lightning and waiting for an hour only to be suspended anyway. It could have been tough for us, but Curcio is a nice weapon to have and he made sure that didn't happen."
Pascack Hills built its Tuesday lead with a pair of two-out rallies. With no one on in the bottom of the second Ramsey was grazed by a pitch thrown by Dumont starter William McCarthy (4 2/3 IP, 3 R, 3 ER, 4 H, 5 K, 3 BB), Christian Kim followed with a walk and then Cameron Funesti (2-for-3, RBI) Pascack Hills' No. 9 hitter, stroked a clean single to drive in the game's first run. Kim then alertly scored when the throw back from the catcher went over McCarthy's head.
Marc Hernandez had an RBI and a stolen base for Pascack Hills, which will host Ramsey in the North 1, Group 2 championship game on Friday.
Pascack Hills returns six of the nine starters that won everything last season and finished as the No. 1 team in the state. Funesti Kim and Spencer Berson are the three players filling the shoes of Jack Brodsky, Paul Sullivan and Chris Lum and they have done a bang-up job. Pascack Hills is 26-3 and will host a section final on Friday.
"I was around the team for the end of [last season]. I didn't do much, I didn't play but I was in on all of the dog piles," said Funesti, the rightfielder who had two of the Cowboys' six hits against Dumont. "This year it feels good just to say that I am a part of it. I am playing this year so it feels like I earned it, but we still have some games to win to get where we want to be."
Pascack Hills picked up an unearned run in its only full turn at bat on Thursday, but with the way Curcio was throwing the insurance run was a mere luxury.
The loss ended another solid season for Dumont, which finished up with a 15-12 record and a representative effort on the home field of the defending champion that has its eyes on a repeat of a Group 2 state championship.
"We have been on roller coaster this season. We have had our highs like making the Bergen County Tournament and nobody expected us to do anything this year. I had 11 seniors that gelled together. Our issue this year was pitching, but as you can see our pitchers have heart. They threw strikes, they kept us in games," said Cannici, who just finished his 17th season as Dumont's head coach. "We were up against a Class A ball club like Pascack Hills and there was fight in us still. A tip of the cap to Pascack Hills, but I am proud of my boys for the season they put together. We have a great tradition at Dumont and we are going to work hard to keep that going."
So now it is Pascack Hills, the No. 1 seed, against Ramsey, the No. 6 seed, for the trophy on Friday in Montvale. The Cowboys swept the season series, but that was back in early April and the Rams are one a roll having dispatched Mountain Lakes by a lop-sided 14-3 score on Thursday.
"We got knocked out of the [Bergen] County Tournament when we got upset by St. Joe's [in the quarterfinals], but we were not going to let that ruin our whole season. We knew we could still make a run in the states and win a section and win a group title," said Siegenthaler. "I talk to the guys a lot about not getting too cocky. We have to stay humble and stay the course. We can't get too high on ourselves because teams will come out scrappy and beat us. We have to match that and be at our best, too."
FOR MORE PHOTOS FROM THIS EVENT PLEASE CLICK HERE. TO BUY A COLLECTOR'S PRINT OF THIS STORY PLEASE VISIT 4-FeetGrafix.com.