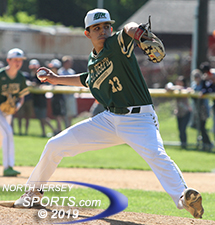 Only the pitch count rule kept sophomore Jimmy Romano from finishing off 10th-seeded St. Joseph Regional's 3-1 win over defending champion Pascack Hills in the quarterfinals of the Bergen County Tournament.
EMERSON – When a No. 10 seed makes a run to the semifinals of any tournament it is usually a surprise. Normally in these situations research needs to be done concerning the last time the up-start program made it that far in a tournament and words need to be dedicated to just how impressive the run of upsets that include, in this case at least, the No. 7 and No. 2 seeds in successive weekends.
The plucky underdog being talked about here? Uh, how about St. Joseph Regional, the perennial state power that needs no introduction when it comes to the Bergen County Tournament that it has dominated on many occasions. In the 60 previous editions, St. Joseph has qualified 37 times (tied for second most), won 76 games (the most all time by a lot), played in 16 championship games (the most all time, also by a lot) and won the whole thing 10 times (also the most of all time).
This is SJR we are talking about here and the Green Knights are back in the county semifinals after a 3-1 win over second-seeded and last year's champion Pascack Hills on Saturday at Emerson High School.
"We were 9-5 going in [to the county tournament cutoff], so I don't even know how we got into that [No. 10] spot, but if that is what it took to motivate our guys then it is fine. It works for us," said St. Joseph Regional head coach Mark Cieslak. "I think we have a good team. We struggled a little bit in the beginning, we were down with our pitching, but now our pitching is back and our bats are coming around. That was a good team we beat out there today."
Jimmy Romano was a freshman last season who was almost forced into county tournament action. With the Knights' pitching staff walking the ballpark in its semifinal loss to the Pascack Hills, Romano was almost the next man up, but was left in the dugout as his team made a painful exit.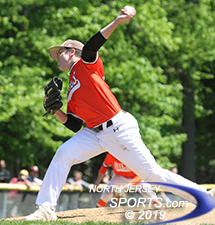 Pascack Hills senior Ryan Ramsey struck out 12 through the first five innings.
This year Romano is at the head of the rotation and he showed why with his quarterfinal outing. Romano allowed just two hits and one unearned run in 6 2/3 innings. He struck out four, walked three and was pretty much in control from the start to his pitch-count-forced exit with two outs in the bottom of the seventh inning.
"Last year they beat us [in the semifinals] and I almost got an opportunity, but it turned out that it was not my time. I was mad about that, so I came into this game with a little bit of a chip on my shoulder. I wanted to come win it, to play for the seniors, play for my brothers and get this done." said Romano, a right-hander with a potent changeup that kept the Pascack Hills hitters off balance. "I trusted my stuff. I found my changeup in the second or third inning and that, in combination with my curveball -- my 12-6 – I was able to blow it by them."
Romano was matched against Ryan Ramsey, a University of Maryland commit, who was the winner in last year's county semifinal and the Group 2 state championship games. He did nothing to diminish his reputation as a big game pitcher as he eight hitters through the first four innings and 11 through the first five using mostly his crisp fastball.
Pascack Hills actually got out in front when it was gifted a run in the bottom of the second inning after Romano had retired the first two batters of the frame. Ramsey then swatted a two-out double and Christian Kim walked in front of No. 9 hitter Cameron Funesti, who reached on a throwing error as courtesy runner Alex Covito scampered home to give the Cowboys a 1-0 lead.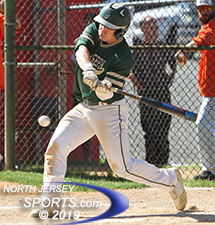 Ben Winstead had two hits for SJR, which will play Rutherford in the semifinals on Saturday.
Romano, however, put the Pascack Hills offense on lockdown after that. He allowed only three more baserunners as he worked around a leadoff single by Spencer Berson in the bottom of the third, a leadoff walk drawn by Ramsey in the bottom of the fourth and a one-out walk to Mike Rodriguez in the bottom of the fifth. Romano worked a 1-2-3 sixth and struck out the last two hitters he faced for the first and second outs of the seventh.
With Romano cruising, SJR had ample tie to mount its comeback and got even in the top of the third even though Ramsey struck out the side in that frame. Ellis Garcia's leadoff walk and steal of second left him in position to scored easily on Andrew McDermott's long two-out double to centerfield.
The Knights did not touch Ramsey again until the top of the sixth when then pieced together a rally with back-to-back one-out singles by Socrates Bardatsos and Ben Winstead. With Bardatsos' courtesy runner, TJ Roman, and Winstead in scoring position with two outs, Sean Hard's swinging bunt put the screws to Ramsey, who came off the mound and got off a flip to catcher Marc Hernandez. Roman, who got a good jump off of third, slid in just underneath Hernandez's tag to make it 2-1 and Niko Mokanos' single scored Winstead to make it 3-1.
Romano ran into the pitch count ceiling after getting the first two outs of the seventh inning and Pascack Hills at least made it interesting. Berson was hit by a pitch and Mike Rodriguez singled to get the tying runs on base, but SJR senior Rich Curran caught the final batter of the game looking at a called strike three to pick up the save for the Knights, who will play No. 6 seeded Rutherford in Saturday's quarterfinal round.
"We have had a rough road with the pitchers we have been up against. Today we had Ramsey and [Brandon] Siegenthaler, Maryland and Villanova, and last week it was a kid [KC Hunt] from Ramapo that is going to be drafted and we have done just enough," said Cieslak. "It has not been easy, but it is not supposed to be. It is the county tournament and we are happy to still be in it. I am proud of these guys; they are doing a great job."
FOR MORE PHOTOS FROM THIS EVENT PLEASE CLICK HERE. TO BUY A COLLECTOR'S PRINT OF THIS STORY PLEASE VISIT 4-FeetGrafix.com.