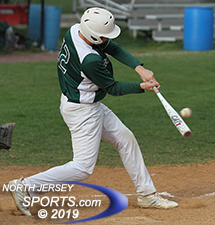 Ramapo senior Matt Winfield had three hits and 3 RBI, including the game winner in the top of the seventh for Ramapo, which won for the 11th time in its last 12 games, 6-4, in Demarest on Monday.
DEMAREST – Marty Pane never knows when he is going to get a chance to play. If a Ramapo starting pitcher, and its starting staff has been solid all season, is on top of his game than Pane may do little else than warm up in the bullpen or just encourage his teammates, but that does not mean that Pane is out of sight or out of the mind of his head coach.
"Marty Pane is my insurance on the bench because I always know that I can put him in and he is going to throw strikes and he is going to throw three different pitches for strikes," said Ramapo skipper Mickey Hunt. "He is not going to light up any radar guns, but he is going to be right around the plate, he is going to mix things up and it is reassuring to have him on the bench in my pocket to put out there with confidence when one of our guys [does not have it]."
Pane's skillset is perfect for a game like Monday's when Ramapo fell behind by three runs in the second inning and needed someone to hold the fort until its offense could retaliate. Pane (5 1/3 IP, 1 R, 1 ER, 3 H, 3 K, 0 BB), a right-hander, was more than up to the task in an extended and supremely effective relief outing on the road and in less than ideal weather conditions at Northern Valley/Demarest High School.
"I actually didn't think I was going to pitch today because I pitched around three innings in a game against [Northern] Highlands late last week, but my role all season has been to plug in and pitch whenever Coach needs me to," said Payne, one of 21 seniors on the Ramapo roster. "Coming in so early in the game today down a couple of runs I just wanted to contain the game, pound the zone and limit walks because I knew we were going to pick it up with the bats eventually."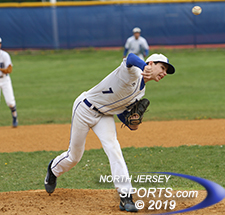 Freshman Andrew Argenziano threw 5+ quality innings in his first varsity start for NV/Demarest.
Pane came on in top bottom of the second inning to stop the bleeding. The combination of back-to-back errors and then back-to-back walks put the Green Raiders in a hole. Joe Argenziano, Thomas Reilly and Corey Felder, the first three Demarest hitters in the frame, all scored and Pane came on right after Jackson Hecker drew a walk to give the home team a 2-0 lead. The first hitter Pane faced, Matt Hefter, lifted a sacrifice fly to center to make it 3-0, but Anthony Valvano made a nice running catch of Nick Argenziano's flyball to deep left field for the third out, mitigating the damage and keeping Ramapo in the game.
While Pane was just settling in, Ramapo was trying to figure out Demarest's starting pitcher, the freshman righthander Andrew Argenziano who was making his first-ever varsity start against one of the best team in Bergen County. Andrew Argenziano faced KC Hunt and John Whooley, the No. 2 and 3 hitters in the Ramapo lineup and two Division 1 recruits, in his first-ever inning as a varsity starter and navigated the inning unscathed.
Andrew Argenziano hung up zeroes in the first and second innings despite his elevated heart rate.
"I was very nervous. Pitching against the older kids that are going to good baseball colleges is scary, but I just tried to take deep breaths on the mound and tried to hit my spots," said Andrew Argenziano. "But I have a lot more confidence now after this because I was able to go out there and pitch and throw some strikes."
Marty Pane threw 5 2/3 innings of one-run relief for Ramapo, the newly-announced No. 7 seed in the Bergen County Tournament.
Leadoff walks came back to bite Andrew Argenziano (5+ IP, 4 R, 4 ER, 7 H, 3 K, 3 BB, 92 pitches) as David Ring drew one in the top of the third inning and came around to score on the first of Matt Wingfield's three hits in the game, a two-out single to left. Jack Rizzo drew a free pass to start the top of the fifth and Whooley's two-out single drove him home to make it 3-2. Wingfield, the cleanup hitter then picked up his second two-out RBI of the game and tied it at 3-3 with a single that scored David Byrnes, the courtesy runner for Whooley who had moved up to second base on a wild pitch.
Demarest finally touched Pane for the lone run he allowed in the bottom of the fifth. Hecker (1-for-3, RBI, R) stroked a leadoff single, moved to second on Hefter's groundball and then scored on Ethan Rothstein's sacrifice fly to center to put the Norsemen back in front, 4-3.
Andrew Argenziano lasted into the top of the sixth and left with two on and no outs.  Pinch hitter Derek Langfelder sacrifice bunt moved both runners up a base and David Ring tied the game at 4 with an RBI groundout.
Pane worked around a two-out single in the bottom of the sixth to get the Raiders right back in to hit and Whooley (3-for-4, 2 RBI) was gifted a leadoff double when a flyball was misplayed in the outfield. Enter Wingfield (3-for-4, 3 RBI, R), who doubled in Byrnes with the game-winning run.
Wingfield, the senior first baseman, started hitting on Day 1 of the season and has not slowed down since. After his three-hit day on Monday, Wingfield is hitting .500 for the season (21-for-42) and has 16 RBI in the Raiders' 14 games.
"We had a little bit of slow start with the bats today, but this team has been a fighting team all year and we were able to string together a few runs. They came a little late, but whatever it takes to get a win," said Wingfield, who also stole two bases. "We feel good. We have won 11 of our last 12. We are hot and this is the best time of the season to be hot and we are ready to go for the county tournament."
Ramapo, now 14-3 on the season, received the No. 7 seed as the Bergen County Tournament seeds were announced on Monday night. The Raiders have a first round bye and will take on the winner of the play-in game between No. 10 St. Joseph Regional and No. 23 Lodi in the Round of 16 on Saturday.
Demarest fell to 7-7 with the loss, but the Norsemen are Bergen County Tournament qualifiers as well. They will play in one of the most interesting first round matchups on Wednesday when, as the No. 20 seed, they will travel to Midland Park, the No. 10 seed that has just one loss on the season.
Demarest will enter the tournament battle tested by its Big North Conference schedule and the beefed up out-of-league slate that it sought out.
"We put together a tough schedule with the ones we have in the league and some independents," said Demarest head coach Marc Houser. "We really challenged ourselves throughout the season to put ourselves in a good position when it comes to tournament time."
FOR MORE PHOTOS FROM THIS EVENT PLEASE CLICK HERE. TO BUY A COLLECTOR'S PRINT OF THIS STORY PLEASE VISIT 4-FeetGrafix.com.