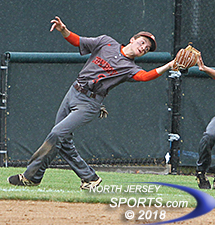 Third baseman Mike Rodriguez grabbing the final out of Pascack Hills' 3-2, 8-inning win over Raritan in the Group 2 state final on Sunday in Hamilton.
HAMILTON – There is nothing left to win. By overcoming a valiant effort by Raritan in the Group 2 state final on a rainy Sunday afternoon, Pascack Hills scooped up the last trophy it needed to make its case as Bergen County's best-ever public school baseball team. And the Cowboys are on solid philosophical footing.
Pascack Hills won a league title, a Bergen County title, a state sectional title, the Group 2 state title and entered the weekend as the No. 1 ranked team in the state by the Star Ledger, a position it reinforced with its 3-2, eight-inning victory over Raritan at Veterans Memorial Park.
Pascack Hills is the first Bergen County public school to pull off the four-title season since a different set of Cowboys did it a generation ago in 1987. It is the first public school to win a Bergen County title since 2010 and beat two parochial school powers in the span of three days to get that done. It won 30 of the 32 games it played this season and outscored its six playoff opponents by a combined score of 55-8.
The Cowboys list of accomplishments is complete and thorough.
"This is the fitting end to the season that these kids had. Thirty-and-2? How many public schools ever win 30 games in a year? It's been unbelievable," said Pascack Hills head coach Kevin Kirkby, who fell for the old pose-with-trophy-for-coaches-picture-get-doused-with-Gatorade-bucket gag one last time. "I said it after the counties that my goal was to win the section, but the kids all said, 'Coach, we want the Group [title].' This is pretty special and this is a great group of kids."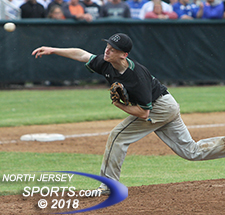 Zack Johnston threw 7+ innings of gritty baseball for Raritan.
Coming off a 16-0 walkover in the semifinals against Madison, Pascack Hills faced a stiff test in trying to complete its dream season in the person of Zack Johnston, Raritan's strike-throwing senior right-hander. Because the state baseball final format changed when the games were moved from multiple fields in Toms River to a single venue in Mercer County, the Group 2 championship was on the Sunday slate, which put Johnston on full rest after his win over Haddonfield in the semifinals on Tuesday.
Johnston was free to throw to the 110-pitch limit and because of his efficiency and effectiveness, his outing covered the full seven innings of regulation and the first batter of extras. Pascack Hills had its entire pitching staff on full rest, which meant another start for junior left-hander Ryan Ramsey and plenty in reserve, including senior righty Jack Brodsky, who has never allowed a run in three years-worth of state tournament outings covering 34 2/3 innings heading into the final game of his high school career.
There would be no big innings, no sustained rallies and little margin of error for either side. Ramsey (4 IP, 2 R, 0 ER, 2 H, 7 K, 4 BB, HBP, 91 PC) took a minute to find his groove as he walked two straight batters in the bottom of the first inning and hit the next one to load the bases with one out before striking out the next two and all three Rockets that came to the plate in the second inning.
Pascack Hills senior Jack Brodsky picked up the win in relief with four more scoreless innings. In his high school career, he did not allow a single run in 38 2/3 innings of state tournament baseball.
By the time he struck out the side in the second frame, Ramsey was working with a lead as Pascack Hills got two in the top of the inning. After Raritan catcher Alex Lamattina erased a leadoff baserunner with a caught stealing, Chris Curcio reached on an error before back-to-back doubles by Chris Lum and Marc Hernandez gave the Cowboys a 2-0 lead.
After that, though, Johnston gave up little. He needed 63 pitches to get through the first three innings, but just 46 more to make it through the next four and the Raritan offense did just enough to push the game past its scheduled seven innings. The Rockets scratched out two unearned runs in the bottom of the third, which started with Tyler Bruno's leadoff single and Ryan Kasmer's walk. Ramsey got the next two hitters to hit the ball harmlessly in the air, but two errors extended the inning and a bases loaded walk drawn by Dan Vanmeerbeke and a wild pitch allowed Raritan to get even.
Ramsey handed the baton to Brodsky after four innings, Johnston (7+ IP, 3 R, 2 ER, 5 H, 8 K, 1 BB) was already locked in and the respective offenses struggled to get anything going. Johnston faced just two batters over the minimum from the fourth through seventh innings and Brodsky (4 IP, 0 R, 0 ER, 3 H, 4 K, 1 BB) faced just one extra batter over that same stretch.
"I think we got off to a little bit of a slow start because maybe we expected to roll over them like we did to other teams, but Raritan really showed some fight," said Brodsky. "But there was never a doubt that we were going to come out on top."
Chris Lum drove in a run with a second-inning double and forced home the game-winner when he was hit by a pitch with the bases loaded in the eighth.
If there was going to be any doubt it may have trickled into the Cowboys' psyche in the bottom of the seventh inning of the still-tied game as Johnston, who bats in the No. 9 hole but had two of the Rockets' five hits, stroked a clean single up the middle to give Raritan an all-important leadoff baserunner. The threat ended with a Brodsky to Julian Bulzomi to Paul Sullivan 1-4-3 double play and it was off to extra innings.
Mike Rodriguez legged out an infield single to start the top of the eighth inning and that was huge because not only did Pascack Hills get its own leadoff baserunner, but it also chased Johnston, who finally ran up against the pitch limit. Brandon Siegenthaler, the Cowboys' clean-up hitter who was called upon to bunt before working out a walk as the first hitter Vanmeerbeke faced in relief, gave PH a second baserunner before Ramsey bunted them both up a base. Curcio then drew a walk to load the bases for Lum, who fell behind 0-2 in the count before working it full and finally getting plunked by a pitch to force home what turned into the game-winning run.
Maybe it was not the type of dramatic circumstance that could have happened with the bases loaded in extra innings of the final game of the season, but it was good enough for Lum (1-for-3, 2 RBI, R).
"I took the first two pitches because I thought they were balls, but the ump did not agree and then [Vanmeerbeke] threw me curve after curve and I didn't want to go after any of them because I knew I would be in trouble if I missed," said Lum. "It was 3-2 when the kid hit me in the knee and I did not feel it at all. It bounced right off me and I was just happy to get on base and get that run home."
Pascack Hills almost cracked it open when, with two outs and the bases still loaded, Spencer Berson came up as a pinch hitter and ripped a line drive. The hardest ball the Cowboys hit all game ended up in the glove of Raritan first baseman DJ Dekis and they would have to settle for the one-run lead heading into the bottom of the eighth.
Brodsky struck out the first hitter on a 3-2 pitch then fielded a comebacker for the second out before a single and a walk upped the tension level. With two outs and two on, Rodriguez, Pascack Hills' third baseman, stood under a pop fly in foul territory looking into the rain to try to find the final out.
"I was just trying to catch the ball. There was a lot going on in my mind, but all I was trying to focus on was catching that ball, seeing it all the way into my glove," said Rodriguez. "It did not come easy today. Compared to our semifinal game, nothing in this one came easy. Raritan was good, their pitcher battled all game, but we found a way to get what we needed at the right times. This is unreal. For us to be 30-2 and state champs…it's crazy to think about."
So that is a wrap on what is probably the best season in Bergen County public school baseball history. Now, what comes next?
"I haven't really even thought about it," said Ramsey, who will be back for his senior year in 2019 before heading to the University of Maryland. "I have school tomorrow and I have a physics exam. I guess that is what I should start thinking about."
TO BUY A COLLECTOR'S PRINT OF THIS STORY PLEASE VISIT 4-FeetGrafix.com. FOR MORE PHOTOS FROM THIS GAME PLEASE CLICK HERE