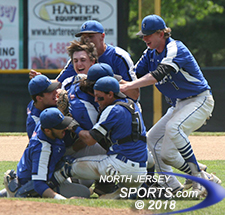 Middlesex won its second straight Group 1 championship, this time with a 3-0 win over Park Ridge on Saturday.
HAMILTON – After letting a seemingly insurmountable 10-run lead slip away against Emerson in the North 1, Group 1 final in 2017, Park Ridge's 2018 season was about redemption. The Owls showed their mettle by capturing a section title and then winning a wild Group 1 semifinal over New Providence. On their run to the state final, Park Ridge found every imaginable way to win, but just seven innings away from an improbable state title the Owls finally ran into a situation they had no answer for.
Middlesex hurler Kyle Nepton had it going from the first pitch of the game until the last. His masterful one-hit performance kept Park Ridge off the scoreboard and freshman Ryan Vollmer broke open a close game with a two-run single as the BlueJays defended their Group 1 state crown with a 3-0 triumph over Park Ridge on Saturday at Veterans Memorial Park in Hamilton.
Park Ridge had scored first in four of its five state tournament games and looked poised to do it again in the top half of the opening frame. With one out, Cole Triano was hit by a pitch and stole second. Justin Cho then stepped to the plate and roped a long shot to deep right field. Vollmer not only collected the biggest hit of the game, but he also made the biggest play in the field. He made a Willie Mays-style over the shoulder catch to save a run.
"That was a huge catch, probably the biggest play of the game both for our team and for me personally," said Nepton. "When you have the confidence of the defense to make plays behind you like that then it makes it much easier to pitch. My focus was to throw first-pitch strikes on both corners and then keep them off-balance with my breaking stuff."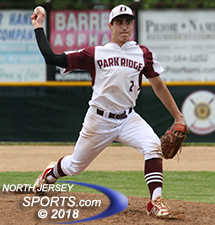 Cole Triano took the hard-luck loss for Park Ridge. He allowed just four hits with one walk and three K's.
Tommy Ryan drew a one-out walk in the second inning for Park Ridge but was quickly erased on a double play started by Nepton. That sparked a run between the second and fifth innings in which the senior southpaw retired ten straight batters, throwing first-pitch strikes to eight of them. 
"Nepton was hitting his spots and getting first-pitch strikes, we needed to be more aggressive," said Park Ridge head coach Pete Crandall. "I thought we only had three or four good at-bats in the first five innings. Cole Triano really kept us in the game but we couldn't get anything going at the plate."
Middlesex got the only runs of the game in the fourth inning. Tyler Dymond reached on a fielder's choice and Jared Zimbardo singled with one out. Jack Hnylycia then dropped down a bunt in front of the mound. Triano wheeled and tried to get the force at third but the throw went into left field allowing Dymond to score for a 1-0 lead with Zimbardo and Hnylycia moving into scoring position. Vollmer followed with a double into the left-centerfield gap to make it 3-0.
"(Triano) had a lot of tail to his fastball so I was looking for something outside to drive the other way," said the left-handed batting Vollmer. "Kyle is a wonderful pitcher and if we got him some runs we felt like we'd get the job done."
Kyle Nepton threw a one-hit shutout for Middlesex, which finished the season with a 24-4 record.
The Owls' only hit came on a single by Vinny Pinto to lead off the sixth inning. Nepton was unfazed and retired the final five batters he faced to give Middlesex a second straight Group 1 title. Coincidentally his father, Roger, also pitched a shutout in the 1990 Group 1 state final win over New Providence.
"The fact that both my dad and I have won state titles at Middlesex is pretty crazy," said Nepton. "To come here last year and win a state championship was awesome. Getting here again with the seniors in my grade and playing as well as we did is even better. We all grew up together and worked hard for this goal."
Nepton twirled a one-hitter with one walk and eight strikeouts for Middlesex (24-4). The Group 1 title was the fifth in the history of the BlueJays' program.
Triano took the hard-luck loss for Park Ridge (20-7). He allowed just four hits with one walk and three K's. The Owls also got solid defense from Ryan at third base, who made a pair of tough plays among his five putouts.
While the end was a disappointing one for the Owls the long journey to get to this point is one that will be cherished for some time.
"For these kids to battle all season the way we have and get to this point is pretty special," added Crandall. "A lot of other teams would love to be here. Among all the Group 1 teams in the state we were one of the last two left standing. Every year is a different experience and we played good baseball the entire year. Our key hits that we've had throughout the state tournament just ran out today."
TO BUY A COLLECTOR'S PRINT OF THIS STORY PLEASE VISIT 4-FeetGrafix.com. FOR MORE PHOTOS FROM THIS GAME PLEASE CLICK HERE