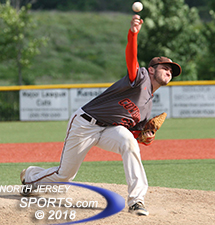 Jack Brodsky was brilliant in the playoffs once again as he needed just 52 pitches to complete a 52-pitch shutout in Pascack Hills' 16-0 win over Madison in the Group 2 state semifinals on Tuesday.
LYNDHURST – Sometimes just as important as a game plan for how to attack an opponent in an elimination games are the dimensions of the field that said game is played on. Once the state sectional tournaments are complete, the rest of the playoffs are conducted on neutral fields where the layout might or might not help. In last season's Group 2 state semifinal, the high grass infield at Belleville High School did Pascack Hills no favors. Having made it back for a second straight year, the Cowboys took advantage of everything that Lyndhurst Recreation Field had to offer.
Against Madison on Tuesday afternoon, the big outfield and deep backstop were perfectly suited for the Cowboys, who set the tone early, were aggressive on the bases and let senior right-hander Jack Brodsky do the rest.
On a shallow fly ball that was a routine out in the top of the first inning, Pascack Hills scored three runs to break the game open. That was more than enough run support for Brodsky, who put together his customary efficient performance. He needed just 52 pitches to hurl a five-inning shutout as Pascack Hills moved into the Group 2 state final with a 16-0 romp over Madison.
"We didn't know much about this team coming in so we worried about what we could do and we had to focus on playing our game," said Pascack Hills' Spencer Berson. "It's about everyone playing a role and doing their job. We took advantage of some situations to take some extra bases. We were more aggressive on the bases and at the plate when we were ahead in the count."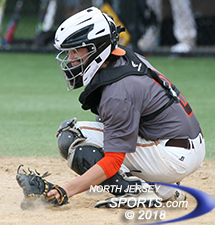 Marc Hernandez had a game-high 4 RBI for Pascack Hills, which is now 29-2 on the season.
The Cowboys showed a patient eye at the plate early with a pair of walks and a sacrifice bunt before Brandon Siegenthaler was hit by a pitch to load the bases.
After an error brought home one run, the aggressive play by the Cowboys on the ensuing fly ball cleared the bases. On a shallow pop in foul territory along the right-field line Paul Sullivan took off for the plate. The throw home was off target and went to the backstop. Siegenthaler never stopped running on the play and also scored. Another errant throw on the same play allowed Ryan Ramsey to come all the way around from first to cross the plate.
Without collecting a single hit the Cowboys had a 4-0 lead. That put the game on the right shoulder of Brodsky and he lived up to his billing as one of the state's best big-game pitchers.
Brodsky also helped his own cause with cat-like reflexes on the mound. He made three tremendous defensive plays, the first of which came on a comebacker in the bottom of the first inning that he snared to start a 1-6-3 inning-ending double play. The five-pitch first inning was a sign of things to come as Brodsky consistently got ahead in the count and retired 10 of the first 11 batters he faced.
"Without a doubt, getting those early runs is a huge confidence booster," said Brodsky, who also threw a gem in the Bergen County final victory over Don Bosco Prep. "I never hold everything back, especially at this time of the season when every game could be our last. I just let it fly and tried to hit my spots. This game was just as important to us as winning the county final; so it was important for us to jump on them early."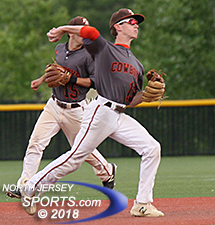 Chris Curcio had two hits for Pascack Hills, which will play Raritan in the Group 2 state final on Sunday in Hamilton.
The Cowboys put the game away in the third inning by exploiting the Dodgers' shallow set-up in the outfield. Chris Curcio and Berson both laced run-scoring triples in the midst of a six-run outburst to make it 11-0.
The only suspense from there was if Brodsky would keep his incredible state tournament run going. From his sophomore season through his senior season Brodsky had not allowed a single run in any of his state tournament appearances. The only time that was threatened was in Madison's final at-bat when Vince Costa doubled with one out. That was a blip on an otherwise dominant effort as the Emory University-bound senior induced a fly ball and a ground ball to lock up the shutout and increase his three-year streak to 34 2/3 innings of scoreless pitching.
"Jack has been incredible for us in the state tournament games, 34 2/3 scoreless innings has to be some sort of state record," said Pascack Hills head coach Kevin Kirkby. "We talked about a few little things; going first to third, taking advantage of a big back stop, and taking better angles defensively. If we did the little things we knew Jack would take care of his end on the mound."
Brodsky allowed three hits, struck out three, and did not walk a batter for Pascack Hills (29-2). Berson, a sophomore, took advantage of a rare start by stroking two triples and a double in his three at-bats, scoring three runs and driving in two. Siegenthaler, Curcio, Marc Hernandez, and Chris Lum each added two hits. Hernandez led all players with four RBIs.
Walter Brownlee, Paul Links, and Costa had the lone hits for Madison, which finished its season with a North 2, Group 2 state sectional championship and a 24-6 record.
Riding a 17-game win streak, Pascack Hills will have all hands on deck ready for this weekend's Group 2 state final against Raritan (21-5). With a Bergen County championship, a sectional title and a league title already in their trophy case, the Cowboys are just seven innings away from earning a coveted triple crown and an even more coveted No. 1 state ranking.
While the Cowboys are ecstatic about the opportunity to make history they also know staying humble and focused will be the keys in achieving their ultimate goal.
"All year our coaching staff has been great at channeling our adrenaline and staying in the moment during those big games," added Brodsky. "We never get too high or too low and pride ourselves on keeping our equilibrium level. Getting to a group final is something we've dreamed of all season and now we're here."
TO BUY A COLLECTOR'S PRINT OF THIS STORY PLEASE VISIT 4-FeetGrafix.com. FOR MORE PHOTOS FROM THIS GAME PLEASE CLICK HERE