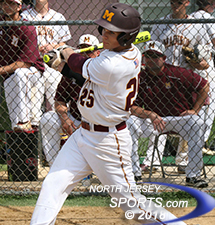 Will Hart and Madison pulled together enough offense in the final two innings to beat Rutherford, 3-2, in the North 2, Group 2 state sectional title game.
MADISON – After five innings of scoreless baseball, it was evident that the North 2 Group 2 section final between Madison and Rutherford was a classic pitcher's duel. However, baseball games rarely end the manner in which they started. With each team's season on the line and every pitch being more important and pressure-packed than the previous one, the final two innings brought many twists and turns until one final swing of bat brought abruptly ended the festivities.
Steve Coppola's two-out double in the bottom of the seventh drove home the game winning as top-seeded Madison won its first section title since 2012 with a 3-2 victory over second-seeded Rutherford on Friday at Madison High School.
"To be on varsity my first three years and not even getting past the section quarterfinals to winning the whole thing as a senior is amazing," said Coppola. "We knew Rutherford was a real good team and Kelly was going to be tough on the mound. I thought we had better at-bats as the game went on and we kept battling."
Rutherford fireballer John Kelly wiggled in and out of trouble all game. The Oklahoma State-bound senior got the key outs he needed early and stranded a runner in scoring position in each of the first four innings. That included a fourth-inning balk call with a runner on third that took a Madison run off the board. Kelly struckout the next batter and third baseman CJ Francisco made a nice play on the short hop and fired to first to end the threat.
While Kelly used his blazing fastball and effective curveball to set a tone his counterpart, Madison's Michael Maybaum, got ahead of nearly every batter and lived on the corners throughout his start.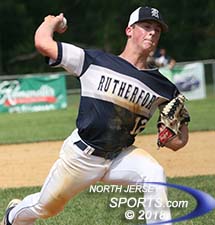 John Kelly took a tough loss for Rutherford going the distance giving up five hits with three walks and 8 Ks.
Neither Kelly nor Maybaum budged until the top of the sixth when the Bulldogs scratched across the first run of the game. Nico Mundo singled on Maybaum's first pitch of the inning and stole second before moving to third on a fly ball from Regan Landrigan. Kelly then helped his own cause by lifting a sac fly to put Rutherford in front, 1-0.
After squandering scoring opportunities in the first four innings the Dodgers answered back with a two-run inning in the bottom half of the sixth. Paul Links poked a one-out single and Will Hart hit a Texas leaguer down the right-field line for a double. With a base open, the Bulldogs elected draw the infield in and pitch to Madison's Aidan Kane, who singled back through the box to score the tying and go-ahead runs as Madison grabbed a 2-1 lead heading into the seventh inning.
Rutherford speedster Abdellany Mendez bounced a leadoff single through the right side and promptly stole second base, forcing the Dodgers to bring southpaw Links onto the hill. Then with one out Francisco hit a seemingly routine ground ball to Kane at short. But miraculously the ball hit a rock skipped directly over the head of the 6-foot-3 Kane, allowing Mendez to score the tying run. Francisco then stole second and took off for third when the throw went into centerfield. Coppola backed up the play and threw a dead strike to third to throw out Francisco by a wide margin, setting up his own heroics in the Dodgers' last at-bat.
With two outs and pinch-runner Owen Eilender on first base, Coppola envisioned himself doing something special but could not fathom it materializing right before his eyes. He went with an outside fastball and drove it over the head of the Bulldogs right fielder and to the fence, which brought Eilender around with the title-winning run.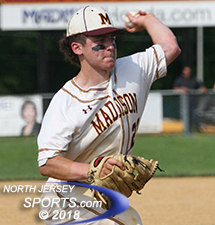 Paul Links picked up the win in relief for Madison, which will play Pascack Hills in the Group 2 semifinals.
"I tried to visualize myself getting a pitcher on the outer half and driving it to right-center, not exactly what happened but pretty close," said Coppola. "Kelly is a really good pitcher. You couldn't get around on his fastball and we weren't touching his breaking pitch. So I was pretty much looking for a pitch that I could take the other way. I wasn't expected to hit the ball that far but I'm happy it went where it went."
Maybaum (5-1) went six innings, allowing five hits and striking out without walking a batter. Links then came on in relief and picked up the win for Madison (24-5).
Kelly took a tough loss for Rutherford (20-7-1), going the distance giving up five hits with three walks and 8 K's. Mundo was the only player from either team to collect two hits.
Madison moves onto the Group 2 semifinals to face North 1, Group 2 champ Pascack Hills. The Dodgers will face another top-notch pitcher with the Cowboys having arguably the deepest pitching staff in New Jersey. But with a title in hand and nothing to lose the Dodgers will look to keep their winning ways going all the way to a state final appearance.
"We're a relaxed team and we have showed our resiliency all season," said Madison head coach Frank Dasti. "We've talked about playing a complete game all year and it paid off with the season we've had. To beat a team like Rutherford you have to be ready for a seven-inning battle. We know we'll have another tough battle on our hands (against Pascack Hills). We have to keep our composure and put together another complete game if we want to come out on top."
TO BUY A COLLECTOR'S PRINT OF THIS STORY PLEASE VISIT 4-FeetGrafix.com. FOR MORE PHOTOS FROM THIS GAME PLEASE CLICK HERE