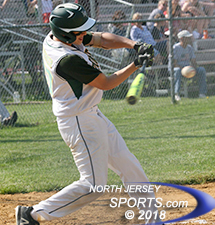 Stanton Leuthner drove in a run during a six-run second inning that set up New Providence for a 7-2 win over Hoboken in the North 2, Group 1 state sectional semifinals on Tuesday.
NEW PROVIDENCE – One of the interesting aspects of the state baseball tournament is that many times it includes games between teams that are completely unfamiliar to each other in a win-or-go-home setting. With no common opponents, Hoboken traveled to New Providence for the North 2, Group 1 semifinal looking to use the element of surprise to its advantage by jumping out to an early lead. But the Pioneers showed why they were the top seed by taking advantage of a pair of errors in a big second inning that broke the game open.
New Providence put up six runs in the second inning and held off a late threat to advance to the section final with a 7-2 win over fifth-seeded Hoboken at New Providence High School.
"If we were going to win this game and keep our season going we had to jump on them in the first two innings," said New Prov's Tommy Jankowski. "We pride ourselves on our energy and our approach to the game. I thought we came in really focused and we played hard."
The Pioneers got the big inning sparked by Greg Lambert's leadoff double. Then a ground ball off the bat of Ryan Sherman went between the wickets of a Hoboken infielder as Lambert crossed the plate for the game's first run. The Pioneers got good production up and down their lineup. Nos. 8 and 9 batters Jack Connor and Matt Shen lined run-scoring singles before Jankowski and Stanton Leuthner added two more RBI singles later in the inning to make it 6-0.
Aram Assadourian and Hoboken finished the season with a 12-12 record.
Dylan Bedder got plenty of run support but did not need it with the way he was dealing early on. The junior right-hander worked ahead to virtually every batter and kept the Red Wings' off-balance with a variety of pitches to cruise through his four innings of work.
"I was confident that we'd score runs and I had to try to exploit their weaknesses," said Bedder. "I had a couple of outings this year where I got behind and it was tough to bounce back. I couldn't let that happen today. If I got ahead of every batter that I'd be fine and guys would make the plays behind me."
The score was 7-0 in the top half of the sixth when New Providence reliever Nate Scott ran into some trouble. After managing just two hits over the first five innings Hoboken (12-12) strung together four consecutive singles with Victor Martinez and Daniel Henson driving in runs to make it 7-2. With the bases loaded, Scott battled back from a 3-1 count by perfectly spotting two straight fastballs on the corner with the latter being a called third strike to end the inning. Ryan Sherman came on in the seventh and induced a game-ending double play to lift the Pioneers into the section final.
"I fell behind some guys but I had to stay tough and worry about the next pitch," said Scott. "I just tried to throw fastballs on the outside corner and hope either they missed or I'd get the called strike."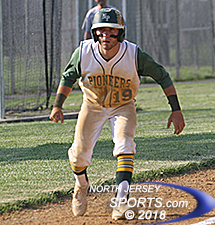 Tommy Jankowski and New Providence will play Dunellen in the North 2, Group 2 final on Friday
Five players had two or more hits, led by Tyler DeGeorge and Jack Connor with three each for New Providence (18-6). Bedder picked up the win with four scoreless innings. He allowed two hits, walked two, and had 8 K's.
New Providence will take on third-seeded Dunellen for the North 2, Group 1 title on Friday. With the season on the line and a championship at stake the Pioneers will try to keep their emotions in check by sticking to their usual routine.
"This team has been waiting for this moment all season," added Jankowski. "We love playing at home and there's something special about playing at home in a section final. We feel being at home that gives us a mental edge. It's all about playing Pioneer baseball and we're excited to play for a section title."
TO BUY A COLLECTOR'S PRINT OF THIS STORY PLEASE VISIT 4-FeetGrafix.com. FOR MORE PHOTOS FROM THIS GAME PLEASE CLICK HERE