David Lamanna connecting on his fourth inning home run that provided the lone run of the game in Bergen Catholic's 1-0 win over NV/Old Tappan in the Bergen County Tournament quarterfinals on Saturday afternoon in Emerson.
EMERSON – The obvious place to start the story of Saturday's Bergen County Tournament quarterfinal game between second-seeded Bergen Catholic and No. 7 Old Tappan is by talking to David Lamanna. With one out in the bottom of the fourth inning, BC's senior catcher smoked a line drive that carried over the fence in straight away centerfield.
"My first time up he [Old Tappan starter James Steindl] didn't really throw his slider too much. So when I went up there the second time I was sitting fastball and change-up. Once the count got to 1-1, I knew he was either coming with his change-up away or his fastball in," said Lamanna. "He left his change-up up a little bit and I was able to hit it over. I had a feeling it was going to go out, I was jogging. I am glad it didn't hit the fence because I might not have made it to second."
The ball did go out and Lamanna got to coast around the bases. When that journey ended he became the only offensive player in the game to touch home plate as the rest of the game was all about the starting pitchers. The two senior Division 1 lefthanders, Steindl, who will pitch at LIU-Brooklyn next year, and Bergen Catholic's Chris Gerard, heading to the University of Maryland, dominated from start to finish and Lamanna's solo homer stood up in Bergen Catholic's 1-0 victory that sends it into next weekend's semifinal against No. 6 River Dell, a 4-2 winner over No. 3 Pascack Valley.
Neither team made an error and neither pitcher really ever got himself into insurmountable trouble of his own making. From an outsider's perspective, it was a relatively drama-free day that was decided by one swing of the bat.
"Oh, there was drama, trust me. You might not think there was drama, but my stomach was telling me differently the whole time," said Bergen Catholic head coach Bob Muggeo. "The kid Steindl…awesome game. We play our home games at Breslin [Field] and that home run there would be a flyout to centerfield. Here it just happened to be a home run and we benefitted from the dimensions. The kid pitched an awesome game for them and our guy did too."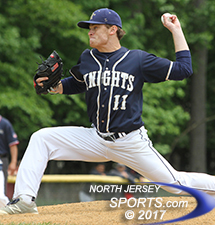 Old Tappan starter James Steindl gave up just four hits and one run in his six innings of work.
Gerard was lights out for the Crusaders. He gave up a lead-off double to Alex Clyde in the top of the first inning but then retired the next three hitters in order to extinguish what turned out to be Old Tappan's best scoring opportunity. Gerard when the distance on a three-hitter. He walked three, struck out five and retired 10 of the final 11 hitters he faced.
"I was able to locate all three of my pitches. I had them all working well. I forced them into some week contact and my teammates made some great plays behind me," said Gerard. "It was fun [being matched up against Steindl] because he was throwing so well, too. You get in a game like that and you have to compete because any mistake could mean that you come out on the losing end and I definitely did not want to happen."
Gerard temporarily lost the strike zone in the third inning when he issued two-out walks to Clyde and Matt Carney in succession, but came back to strike out the next hitter. Old Tappan managed two two-out base runners again in the fourth when Deenae Sujak singled and Aidan Bilali walked, but again Gerard struck out the next batter for the first out in his dominant game-ending stretch.
"We just couldn't get anything going. We had two situations with two runners on, but [Gerard] made big pitches and got two strikeouts. You have to tip your hat to him. It was a one-run game and we came up on the short end," said Old Tappan head coach Tim Byron, whose team will host West Essex on Monday in its North 1, Group 3 state sectional opener as the No. 4 seed. "We have one tournament to play for now and we will see how we respond. Even there, though, we are going to have to hit the ball. We had too many weak at bats today and that can't continue."
Steindl (6 IP, 1 R, 1 ER, 4 H, 1 K, 2 BB) did not overpower the BC lineup by any means. He struck out just one, but kept the ball off the fat part of the bat for the most part and let his defense do the work. Sujak, the Golden Knights' rightfielder, made five put outs on flyballs hit the other way while Clyde and Joe Moskowitz, the left side of the Old Tappan infield, got just one chance each.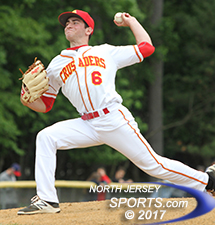 Chris Gerard went the distance on a three-hitter that moves BC into next weekend's Bergen County Tournament semifinal round where is will play River Dell.
Steindl faced the minimum through the first two innings, worked around a lead-off walk to Andrew DeRubertis in the bottom of the third and then settled right back in after giving up the solo blast to Lamanna with one-out in the fourth. His only other bit of trouble came in the bottom of the fifth when he walked Gerard with one out and then hit Rob Cappadonna with a pitch before Cole Bosch stung a knuckling line drive into left field that was chased down for the final out.
So now it is on to the final weekend of the Bergen County Tournament for the third straight year for the Crusaders, who have made to the championship game in each of the last two seasons. The Final 4 participants are the same for the second straight year albeit with different matchups. Bergen Catholic will play No. 6 River Dell while top-seeded St. Joseph, the defending champion, will play No. 4 Don Bosco Prep.
"We are going to play on Memorial Day weekend for the third straight year now and we have been to the finals in each of the last two and this year we want to bring home the trophy," said Lamanna. "[St.] Joe's had a scare today, but we did too and we are happy for the chance to move on to the next one."