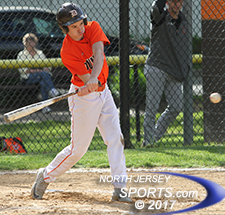 Billy Conboy doubled to lead off the third inning and scored the game's first run as Dumont broke open an expected pitcher's duel and posted an 8-1 win over Tenafly in the Round of 16 of the Bergen County Tournament.
DUMONT – For the first two-and-a-half innings it was exactly what was expected. With Dumont ace Dan Raglievich matched against Tenafly's Aljo Sujak, the first 15 outs whizzed by in rapid fashion. Raglievich side-stepped a potentially sticky situation in the second when he got two straight out with two runners on and Sujak faced the minimum over the first two innings as the expected pitcher's duel was just starting to take shape.
And then Dumont's Billy Conboy led off the bottom of the third with a ringing double into the gap and the whole game changed.
"It was a fastball down the middle and I just sat back and did my thing," said Conboy, Dumont's rightfielder. "We just needed one or two runs. That is all we need any time Daniel [Raglievich] is on the mound. He has been a shutdown pitcher all year, he doesn't give up many runs and we just had to give him any kind of lead to work with."
Conboy's double was the first of five third inning hits for Dumont as it sent 10 batters to the plate, scored five times and broke the game open the way to an 8-1 win in Monday's Bergen County Tournament Round of 15 game. The Huskies improved to 18-3 on the season and are heading to the quarterfinals for the second straight year where they will face No. 4 Don Bosco Prep on Saturday.
"We did a lot of preparation. [Sujak] is one of the better pitchers that we have seen all year and the preparation was seeing lefties only in practice and going the other way. You saw a lot of opposite field hitting today. Picture perfect, exactly what I wanted," said Dumont head coach Jason Cannici. "You heard me in the huddle when I told them, 'Guys, we have to stick to the game plan.' Then Billy Conboy comes up and hits that double to jumpstart the whole thing."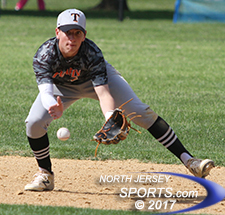 Tenafly shortstop Patrick DeSalvo had two hits and drove in the Tigers' run.
With Conboy on second with one out, Tito Garcia muscled a jam shot the other way to knock in the game's first run. Frank Deane then singled and Stephen DiGirolamo walked to load the bases before Michael Streim also walked to force in a run. Derek Ravensbergen delivered a two-run single, again to the opposite field, and Nick Colintino also went the other way to drive in the last in the five-run outburst.
A 5-0 lead for Raglievich was more than enough. The lanky right-hander who will pitch at Post University next season stuck to his own game plan of getting ahead with the fastball and then dropping the hammer, his tightly wrapped curveball, to get outs. Raglievich is all arms and legs in his delivery, he has the quirks of a stereotypical lefty and he can drop his breaking ball in for not only swinging strikes, but called ones, too; a rarity in high school baseball.
"We knew were facing an excellent pitcher today, but coach [Mark] Ferrara got a good scout on them and our hitters did an excellent job. They put that 5-spot up and that made my job a whole lot easier," said Raglievich, who is now 8-0 on the season. "I was trying to get ahead with the fastball and a lot times I did not have the best command of that, but I had decent command on the curveball so I went to it a lot today. I did not get a lot of strikeouts, they put the bat on the ball, but my defense did the job behind me. We didn't make any errors today."
Dumont's defense was airtight and cutoff any Tenafly attempts to rally. The Tigers' best shot to get back in the game came in the top of the fifth when Tyler Aug was hit by a pitch leading off and Kento Fukuda singled, but Raglievich (7 IP, 1 R, 1 ER, 5 H, 7 K, 2 BB, 93 pitches) traded two groundball outs for a run, intentionally walked Sujak with a runner on third and then watch Conboy haul in Wilson Richardson's well-struck liner in his tracks in rightfield for the final out. Dumont sent eight hitters to the plate in the bottom of the sixth and scored three more times to put the finishing touches on the win.
Patrick DeSalvo (2-for-4) drove in the lone Tenafly, run and Fukuda (2-for-3) also had two hits for Tenafly. Sujak, who will play at William & Mary next season, went 1-for-3 with a first inning double, had the other hit for the Tigers, who saw their nine-game winning streak come to an end. The loss on Monday aside, Tenafly has come a long way toward rebuilding the program and a long way this season after a 3-7 start. The No. 21 seed in this tournament, the Tigers pulled the first round upset of No. 12 Lyndhurst to earn their spot in the Round of 16.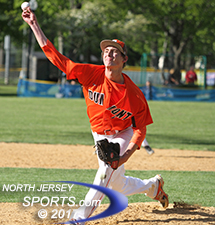 Dan Raglievich threw a complete game 5-hitter to get to 8-0 on the season for fifth-seeded Dumont, which will face No. 4 Don Bosco Prep in the quarterfinals.
"We went from 3-7 to 12-7 coming in here today and I am really proud of these guys. Aljo [Sujak] has been pitching his butt off and swinging the stick real well and I couldn't have asked for better leadership from my two captains [Sujak and Jack DeSalvo]. We are a scrappy team that has been successful, but today was a tough one for us," said Tenafly skipper Matt Kougasian. "They just put the bat on the ball, they had our defense moving around on some hit-and-runs and we just didn't make the adjustment to that guy [Raglievich], who was throwing pretty hard. We just didn't hit the ball hard enough to make them make mistakes."
DiGirolamo (3-for-3, RBI, 2 R), Michael Streim (2-for-3, 3 RBI, R) and Ravensbergen (2-for-3, 2 RBI) all had multi-hit games for Dumont. Deane was 1-for-3 with two runs scored, Colintino was 1-for-3 with an RBI, Conboy and Brandon Chin each went 1-for-3 with a run scored and Garcia (1-for-2, RBI, SAC) had the other hit for Dumont, which is in the same position it was in last year at this time but is hoping for a better ending.
The Huskies lost in the Bergen County quarterfinals to eventual finalist Bergen Catholic last year and their season then ended two days later in an upset loss to Wallkill Valley in the opening round of the North 1, Group 2 state sectional tournament.
"Last year we had a great start to the season. We were like 13-2 at one point, but it did not end the way we wanted it to. We got knocked out of the counties and then a few days later we got knocked out of the states and it all ended very fast," said Raglievich. "We don't want that to happen again this year and we are working hard to make sure we go further in each tournament."
How much does this win, a two-game winning streak and a 3-2 record mean to a program that has finally turned the corner toward respectability? Demarest defender Cabby Cammalleri tried to explain, but had to do so through tears of joy.