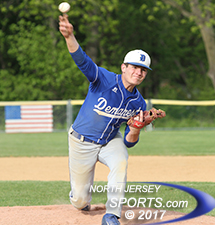 Sophomore Nick Argenziano worked three innings of solid relief for Demarest, which scored two in the seventh inning to grab at 4-2 win at Ramapo on Friday afternoon.
FRANKLIN LAKES - Standing on third base with one out in the top of the seventh inning of a tie game, Northern Valley/Demarest's Dan Baroni got the rare baseball do-over. He saw one pitch get by the catcher and rattle around in the backstop, but decided not to chance it, but when the same opportunity came on the very next pitch, Baroni never hesitated. He sprinted down the line, slid in safely and scored what turned out to be the winning run in a 4-2 Demarest victory that put a little bit of a damper on Ramapo's Senior Day celebrations.
"The first one went straight back and I thought the catcher would be able to grab and turn right around and tag me. The second one kicked out to the right a little bit, so I decided to go for it," said Baroni, who scored in both of his plate appearances after coming on as a defensive replacement in the fourth inning. "The game was tied and we had to find a way to take the lead. A base hit would have been nice, but a wild pitch or a passed ball worked just as well."
Both teams are in a similar situation at this point in the season. Both have a lot of youth on their respective rosters, both have been hovering near the .500 mark all season and both just missed the cut for inclusion in the Bergen County Tournament. And both are trying to find the right formula to get hot in the next week or so to build momentum for the state tournament, where both could be dark horses.
What each has going for it is that it can pitch and on Friday it was an unlikely matchup that led to a briskly played pitcher's duel. It was no surprise that Demarest's starter, junior right-hander Endrti Kaleci, was on point. He has been at the top of the rotation for the Norsemen all year and he threw four innings of shutout baseball which he gave up just two hits and two walks while striking out two. What was a bit of a surprise was that Kaleci was matched nearly pitch for pitch by Ramapo's Michael Bernstein.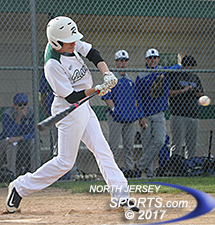 Michael Frank had two hit and and RBI for Ramapo.
Bernstein, a senior right-hander making his first varsity start on Senior Day, allowed just one manufactured run through the first four innings before Baroni, in his first at bat of the game, singled to left with one out in the top of the fifth and stole second. Tyler Stimmel followed with a bloop single down the rightfield line and Nick Argenziano, the last batter Bernstein (4 1/3 IP, 2 R, 2 ER, 4 H, 1 K, 1 BB) faced, pushed a run across with his groundball to make it 2-0.
The Demarest defense was air-tight behind Kaleci (4 IP, 0 R, 0 ER, 2 H, 2 K, 2 BB) through the first four innings, but Argenziano took over on the mound there were two errors in the fifth that helped Ramapo get even. The Green Raiders picked up two unearned runs, one on a groundball hit by Peter Gostkowski that scored John Whooley from third and the other on Michael Frank's clean, two-out single up the middle that scored David Ring, who had reached on an error.
"We have been pitching well all year. What happened to us in our little bit of a lull in some of our losses is that our pitchers have put too much pressure on themselves. We weren't getting it done offensively so our pitchers are high school kids saying to themselves, 'I have to strike people out,'" said Demarest head coach Marc Houser. "Our focus in practice has been to reevaluate that mindset and getting back to the idea not all of the responsibility is on the pitcher. It's got to be everyone that contributes."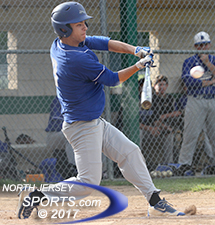 Tyler Stimmel had three hits, scored a run and stole a base for Demarest, which improved to 9-12.
Instead of putting pressure on itself, Demarest put the pressure on the Ramapo defense in the top of the seventh with two straight hard-hit ground balls. Anthony Rota was robbed of a hit leading off by KC Hunt, the Ramapo shortstop who took a carom off the pitcher and turned it into a 1-6-3 first out, but Baroni then reached on a throwing error to start the winning rally.
Stimmel again blooped a ball down the right field line and it fell in and both runners moved up on an error. It was slightly anticlimactic that Baroni scored the go-ahead run on a wild pitch, but Joe Argenziano added a legit insurance run with a single to right that scored Stimmel.
Ramapo's last licks started positively as AJ Wingfield caught a piece of the chalk with a leadoff double to right, but Nick Argenziano (3 IP, 2 R, 0 ER, 3 H, 3 K, 0 BB) allowed nothing else. He struck out two of the final three hitters he faced to seal the win that got Demarest to 9-12 on the season.
"I just tried to throw strikes. I am a sophomore, I am young and I am still learning how to pitch on the varsity level," said Nick Argenziano, a right-hander. "In the last inning after I gave up the leadoff double I just wanted to keep the next hitter off of second base. I had a two-run lead to work with, so I just wanted to go batter by batter and keep up in the lead."
Frank (2-for-3, RBI), Wingfield (2-for-3) and Evan Mooney (1-for-3) had the only hits for Ramapo, which fell to 9-11 on the season.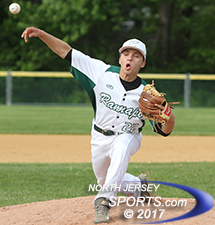 Ramapo's Michael Bernstein, a senior pitching on Senior Day, threw 4 1/3 innings of quality baseball.
"We would have liked to get the win here obviously, but this is a good time of the year for learning, to get kids at bats, to play every day and get some rhythm going for the state tournament, hopefully," said Ramapo head coach Mickey Hunt. "We didn't hit the ball well today. We had 19 hits yesterday [against Mahwah] and four or five today. We are still looking for that consistency."
It is the same in the other dugout where, like Ramapo in the North 1, Group 3 bracket, Demarest could be a contender or an early exiter in North 1, Group 2. The state playoffs in baseball more than any other sport are a crap shoot where top seeds are the most vulnerable.
"You never want to look ahead, but at some point in the season you have to start to try to get your teams minds right and get them focused on what is possible in the state tournament," said Houser, who has games scheduled this week against DePaul, Ridgewood and Bergen Catholic. "That is what we are working towards through our games and in our practices. We didn't make the counties, but we have an opportunity to play meaningful games in the state tournament and our guys are coming around. They are young and if we get hot, we could be dangerous."