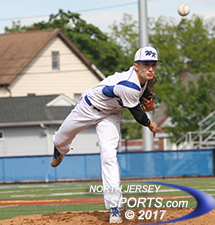 Nick Pronti threw 6 1/13 innings before ending the game in the bottom of the seventh with a solo homer that gave Wood-Ridge a 9-8 win over Northern Highlands in the opening round of the Bergen County Tournament.
WOOD RIDGE – First he tried from the mound, then he tried from the shortstop position, but Wood-Ridge senior Nick Pronti came up just shy. He threw the first six-and-a-third innings of the Blue Devils' opening round Bergen County Tournament matchup against Northern Highlands and left with a two-run lead and took over at shortstop to try to protect it. With one out and the bases full, Pronti was the front man on a potential 6-4-3 double play that would have ended the game, but the back end failed to materialize and Northern Highlands tied the game.
If Pronti was going to find a way to end the festivities once and for all it was going to have to come with him standing next to home plate with a bat in his hands and Wood-Ridge assistant coach Jesse Romano saw the whole thing coming.
Talking to a reporter as Highlands' took its warm up tosses in the bottom of the seventh, Romano made went on record with his prediction: "Watch, Pronti ends this thing with a home run."
A couple of minutes later, it was Romano imploring Pronti on from the first base coaching box as his line drive was splitting the gap in left-center field and rolling with pace toward the far away fence.
"I was running around first and Romano was yelling, 'Get home, get home!' That was when I knew I had a shot," said Pronti, the senior right-hander who will play at Wilkes University next year. "I just kept my head up and kept moving."
Pronti got there and when he slid in a head of the relay throw, Wood-Ridge won just its second Bergen County Tournament game in the last 43 years and its first-ever on its own home field. Crazy games are more the rule than the exception on the turf field with the crazy dimensions and this one was no different as the Blue Devils' 9-8 victory puts them into Saturday's Round of 16 against No. 6 River Dell, which had a first round bye.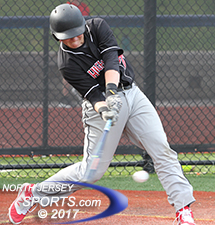 Doug Hermo gave Northern Highlands an early lead with a two-run homer in the top of the second inning.
"The kid Pronti pitched his [butt] off. He kept us in the game against a big team. I don't care what the rankings are, we were the 11 seed, they were the 22, but we all know that we were the underdog here. The home field definitely played to our advantage, especially at the end, but that is why we go out and try to win every game. We were 14-4 at the cutoff, that got us a home game and at home we are pretty good," said Wood-Ridge head coach Michael Carcich. "Everything after this is gravy...give me the pasta. Let's go!"
Carcich called Northern Highlands 'A big team' and that reputation is wholly deserved. The Highlanders were in the semifinals of this tournament last year, won the North 1, Group 3 state sectional title and the outright Group 3 state championship 11 months ago. But 14 of the 16 players on last year's roster graduated and the biggest change might be the status of Zach Dreznin, the senior right-hander who will pitch at the University of Notre Dame next year. Dreznin, one of the best pitchers in the state last year, has not thrown this season as he battles a tender arm.
Dreznin serves as the designated hitter and bats in the clean-up spot, but his absence from the hill leads to days like Wednesday when the Highlanders used five different pitches to try to piece together the seven innings. If they were going to win, the Highlanders were going to have to hit their way to victory against Wood-Ridge's ace and they made a real run at it. Dreznin singled to lead off the top of the second inning and Doug Hermo followed with a two-run homer to the opposite field and over the short porch in right to break the ice.
The bottom of the Wood-Ridge lineup came through in the bottom of the inning to put the home team back in front as freshman Liam Winslow (1-for-3, R), Nick Donato (1-for-4, R), Drew Packen (1-for-2, 2 R, 2 BB) and Jack Barteck (1-for-3, RBI, 2R) all singled in succession with one out before Pronti (2-for-4, HR, 3 RBI, 2 R, SB) drove in two with a single and Mike Giancaspro (2-for-3, 3 RBI, R, SB) added an RBI single to make it 4-2.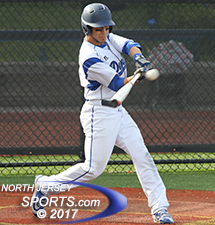 Mike Giancaspro had two hits and 3 RBI for Wood-Ridge, the No. 11 seed, which will play No, 6 River Dell in the Round of 16 this weekend.
Highlands surged back in front in the top of the third with five hits. Breylin Jones (3-for-4, 2 R), Gabe Robles (1-for-3, 2R), Will Russo (2-for-3, 2 RBI, R) and Dreznin (3-for-4, 2 RBI, 2 R) strung together four straight hits. Russo's was a two-run triple, Dreznin's hit the fence in right field and drove in a run and Matt Dreznin, Zach's younger brother and the Highlander's starting third baseman, added a run-scoring triple to put the Highlanders up 6-4.
Northern Highlands starter Ryan Duncan then worked a 1-2-3 inning in the bottom of the third before Wood-Ridge got another rally started with the bottom of the order in the fourth. Packen drew a leadoff walk and Barteck's sacrifice bunt attempt turned out better than planned when the throw pulled the fielder off the first base bag and two Blue Devils on with no outs. Pronti walked to load the bases, Giancaspro stroked a two-run single and Anthony Trano drove in a fourth run in the inning to put Wood-Ridge up 8-6.
"I tip my hat to Wood-Ridge because they kept coming at us. We jumped out to a lead two different times and they hit us right back with two four-run innings. It was a battle and you knew runs were going to be scored, I was just hoping that I could find the right pitcher at the right time to stop the bleeding," said Northern Highlands head coach Paul Albarella. "That is playoff baseball and now you can go back and analyze every play and see where it fit into the outcome. There were a lot of them in this game, the call at first base on the bunt where they said our kid was off the bag on appeal and that led to a big inning and there were other times where we could have taken the sure out and maybe sacrifice a run or two just to cut off the big inning."
The big innings, however, ceased momentarily as Pronti faced just one hitter over the minimum in the fourth through sixth and Jones and Russo patched together two scoreless innings on the mound for Highlands. It was still 8-6 heading into the top of the seventh and Pronti still wanted the ball. He got the first out before giving up a single to Jones and hitting Robles with a pitch, his last of the day. Shian Tanaka walked the bases loaded before Zach Dreznin got the Highlanders to within 8-7 with a single that left the bases still full.
And then the tailor-made double play ball was hit right to Pronti at short. He made the flip for the first out, but the return throw was low and was not dug out, which allowed Robles to scoot home with the tying run. Tanaka then settled in for a strikeout that ended the inning with the game still tied.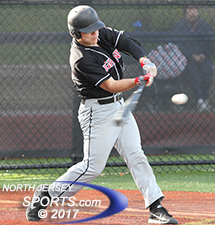 Will Russo had two-extra base hits and drove in two runs for No. Highlands, which fell to 8-7 on the season.
"At that point I was just trying to keep it a tie game. I would have liked to have ended it right there with me on the mound, but once they tied it it was a new game and we still had the last at bat," said Tanaka, Wood-Ridge's senior first baseman and its closer. "I just tried to keep it at 8-8; I couldn't walk anybody else or give up any more hits. I wanted to keep it even and leave it up to our bats."
Pronti's bat was all Wood-Ridge needed as he finished the game with his mad dash around the bases.
"I was sitting on a fastball. It seemed like that was all he was throwing. I got one in a 3-1 count, ripped on it and started running," said Pronti. "Just to come out and show what we have and now moving on to the Round of 16, this is awesome."
Wood-Ridge is now 16-4 on the season, while Northern Highlands fell to 8-7.
"Win or lose today, I am extremely proud of what this team has accomplished. Even before that kid [Pronti] hit that ball I told one of my coaches that just being in this environment and getting this experience is outstanding," said Albarella. "We battled back from down 8-6 in the seventh inning when we could have just tanked it, but we didn't. Getting off the bus today we had the best infield/outfield we have had in the last three years. To be able to channel that, to be able to use that going into the states is only going to help us."