Wednesday, June 8, 2016
By Rich Barton
NJS.com Staff Writer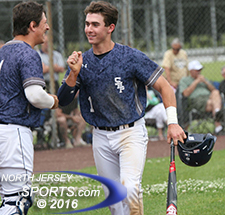 Jack Zyska led off the game with a single and it was all Seton Hall Prep after that as the Pirates took out St. Joseph Regional, 6-2, in the Non-Public North A sectional final on Tuesday at Ramapo College.
MAHWAH – For the entire 2016 season, getting a shot at St. Joseph' Regional has been on the minds of the Seton Hall Prep players. The two powerhouse programs locked horns in an epic 11-inning showdown in last year's Non-Public A North semifinals with St. Joe's eventually prevailing (7-6 in 11 innings). The chance to finally erase that memory came on Tuesday with a section title at stake. Even though the Pirates were facing University of Florida-bound right-hander Austin Bodrato, they made a point to work the count and set a tone which lasted throughout the game.
Seton Hall Prep sophomore Jack Zyska was a nightmare for the Green Knights at the top of the lineup all day. He led off the game with a single then drove home another run with a single in the second inning. The Pirates scored runs in each of the first four innings and right-hander Ryan Toohers did the rest with a solid performance on the mound as second-seeded Seton Hall Prep won its 13th Non-Public North A state title with a 6-2 victory over fourth-seeded St. Joe's at Ramapo College in Mahwah.
"Personally I try to stick to a particular approach and I thought we all had good discipline at the plate, especially in the first inning with five of our guys running the count full," said Zyska. "We have wanted this game all season and we've prepared for hard throwers like we faced today. To jump out early against the No. 1 team in the state coming in was a huge confidence booster for us."
St. Joe's, the Bergen County champion, came into the game as the No. 1 ranked team in New Jersey and having won 19 of its past 20 games. Seton Hall Prep, the Greater Essex Tournament champ, never gave Bodrato or the Green Knights the time to get into a groove. Zyska drove a single through the right side followed by the next three batters working walks with one to John Savino bringing home Zyska. Toohers helped his own cause by poking a single through the middle for a 2-0 lead. St. Joe's second baseman Carmine Palummo limited the damage by snaring a line shot off the bat of Justin Miller and doubling off a runner at second base to end the inning.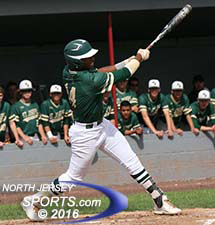 Justyn Henry-Malloy had a hit for
St. Joseph Regional, which finished the season with a 25-4 record.
Bodrato's wildness continued with a walk to Nick DeNicola, who hit the go-ahead homer in the Pirates' semifinal win over Bergen Catholic. Then a wild pitch moved courtesy runner Dylan Badger up to second. After a sac bunt by Joe Giovinco, Zyska came through in the clutch with an RBI single to make it 3-0.
St. Joe's battled back in the top of the third. It was the only time the Green Knights really got to Toohers. Connor Kolich lined a leadoff single and two batters later Nick Cantone (who came on in relief of Bodrato after Zyska's run-scoring single) doubled down the left-field line. With two outs, Devin Ortiz drove a single to left to drive in both runs and cut the Green Knights' deficit to 3-2. Justyn Henry-Malloy singled to put the tying run in scoring position but Toohers induced a ground out to wiggle out of the jam.
In the bottom half of the frame, Toohers beat out an infield hit and Nick Maldonado walked before both runners moved up on a wild pitch. After lining into the double play to end the first, Miller was chomping at the bit for redemption. He got his chance and made the most of it with a two-run single which opened the lead up to 5-2.
"We had everything to win and nothing to lose so I had to put the last at-bat behind me," said Miller. "Coach (Mike Sheppard Jr.) always says if you hit the ball hard consistently that good things are going to happen. I was just looking for something over the plate and got a good pitch to hit."
Just before the bottom of the fourth was about to start the skies opened up and a heavy but brief shower forced the umpiring crew to pull the teams off the field. The delay was only eight minutes and it did not seem to bother Seton Hall's Pat O'Hare any. On the first pitcher following the delay, O'Hare crushed a Cantone fastball over the left-field fence to make it 6-2.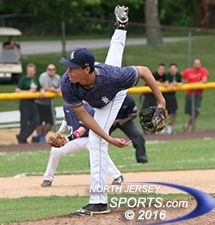 Ryan Toohers spun a five-hitter and also had two hits for Seton Hall Prep, which will St. Augustine for the Non-Public A state title on Saturday in Toms River.
The loss of cleanup batter Matt Cocciadiferro, who suffered a season-ending ankle injury last week, loomed large as it shortened the St. Joe's lineup. But with the way Toohers was dealing, it might not have mattered. He kept the Green Knights off-balance and got stronger as the game went on. Tooher, a 6-foot-5 senior, allowed just one hit over the final four innings as Seton Hall Prep avenged last year's loss to win its first section title since 2013.
Zyska, a 5-foot-10, sophomore centerfielder, went 3-for-4 with a run scored, an RBI and two stolen bases for Seton Hall Prep (27-3). Toohers allowed five hits and struck out five without walking a batter. He also helped his own cause by going 2-for-3 at the plate. The Pirates will play for the Non-Public A state championship on Saturday against Non-Public A South champ St. Augustine.
Matthew Alaimo also had a hit for St. Joe's, whose season came to a close with a final record of 25-4. While the dream of winning the triple crown of county, section, and state champions fell by the wayside, sometimes in baseball you just have to tip your cap.
"We put ourselves in some tough situations but I have to give Seton Hall credit, they were the better team today," said St. Joe's head coach Mark Cieslak. "You can't walk guys and put runners on base with the disciplined lineup that they have over there. I love the way we battled but we dug ourselves a hole and couldn't climb out of it."
CLICK HERE FOR MORE PHOTOS FROM THIS GAME. TO BUY A COLLECTOR'S PRINT OF THIS STORY, PLEASE VISIT 4FeetGrafix.com.