Wednesday, June 1, 2016
By Rich Barton
NJS.com Staff Writer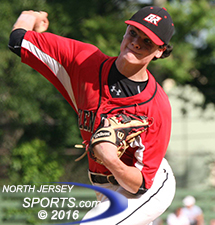 Owen Hannigan escaped a one-out, bases loaded jam in the seventh inning to close out Glen Ridge's 5-1 win over Secaucus in the North 2, Group 1 state sectional semifinals on Tuesday.
GLEN RIDGE – Over the past week, Secaucus has ridden a blueprint to state tournament success that any coach would sign up for in a heartbeat. In two road games, the Patriots played error-free defense, took early leads and rode a red-hot arm to consecutive road shutouts. Unfortunately, when going deeper into a state tournament run, that level of play gets harder to maintain as the opponents get tougher. Secaucus found that out the hard way when just one bad inning proved to be too much to overcome.
Glen Ridge took advantage of two errors to put up five first-inning runs. That was all the Ridgers needed as Owen Hannigan escaped a bases-loaded, one-out jam in the seventh to lift second-seeded Glen Ridge to a 5-1 victory on Tuesday over No. 11 seed Secaucus in the North 2, Group 1 semifinals at Hurrell Field in Glen Ridge.
Secaucus ace Anthony Ratti has been lights out all season with a blazing fastball and a solid 12-6 curve. Despite that, the Ridgers were able to do what no other team this season has, get to Ratti early. Matt Buchmann and Keeler Patton lined back-to-back singles to start the game. An overthrow to third on Patton's single allowed Buchmann to score and Patton to take third. Two batters later, Griffin Cancro got a hold of a fastball and roped it off the fence in left-center for an RBI double and a 2-0 lead.
"We didn't want [Ratti] to sit back and let him get going," said Cancro. "Everyone went up with a gameplan in the first inning with an idea of how to get on base. We've seen so many hard throwers coming down the stretch that it was nothing new to us."
Hannigan followed with a single to center to plate Cancro. Another run came home on an error and Buchmann drew a bases-loaded walk to bring in the last of the Ridgers' five runs to give starting pitcher Matt Myles a commanding lead.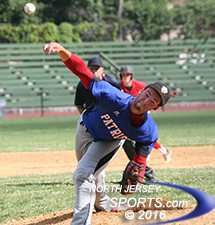 After a rough first inning, Secaucus starter Anthony Ratti settled in.
Secaucus got a run back quickly with in the top of the second. Matt Bienkowski beat out an infield single to start the inning and moved to second on a wild pitch before an error on Steve Pini's single allowed Bienkowski to score, cutting the Patriots' deficit to 5-1.
The Patriots came just three feet from tying the game in the fourth inning. After a pair of walks to Sergio Castillo and Bienkowski, Jeter Artiles beat out an infield hit to load the bases. Pini, the No. 9 batter, then hit a bomb down the left-field line. It would have cleared the fence but hooked just foul as the Ridgers dodged a major bullet. Myles made the most of his second chance by getting a pair of force outs to end the inning without giving up a run.
"A few feet to the right and we have a totally different ball game," said Secaucus head coach Keith Scheiner. "Give Glen Ridge credit, they hit us hard in the first and took advantage of a couple of errors. Anthony settled down and shut them down the rest of the game but we didn't get the key hits we needed."
After a rough first inning, Ratti settled in and pounded the ball low in the strike zone with a variety of pitches. With a Seattle Mariners scout looking on, Ratti topped out at 91 mph and showed how dominant he can be when he has his stuff working. The single he allowed to Robert Spitaletta in the third was the only hit he allowed and the only batted ball over his final five innings pitched to reach the outfield.
However, the score was still 5-1 going into the Patriots' last at-bat in the seventh. They had one last push in them with Pini being the sparkplug thanks to a bloop single to lead off the inning. A walk to Ian Fox and an infield hit by Ratti loaded the bases and brought the tying run to the plate with one out. Hannigan came on in relief in the fifth and wiggled his way out of trouble when the Ridgers needed it most. He caught the Patriots' cleanup batter looking for the second out and induced a ground out to end the game and the Patriots' season in the process.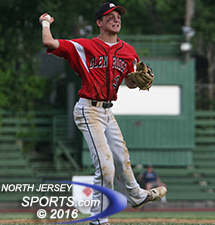 Robert Spitaletta and Glen Ridge are heading to a section final for the first time in more than 20 years.
"It's a tough lesson to learn but one bad inning can be the difference between a win and a loss," added Scheiner. "We only gave up 95 runs in 28 games this year but in big games we just couldn't get over the hump with that one big hit. For the younger guys now they know what it takes to make a run at a section title and they will work even harder to make a deeper run next year."
Myles picked up the win for Glen Ridge (12-12) and Hannigan tossed three innings of scoreless relief for the Ridgers, who reached their first section final in over 20 years.
Ratti took the loss for Secaucus (13-15) despite not allowing an earned run. He walked five batters and struckout 11.
With just three seniors graduating, Secaucus head coach hopes that the sting from this loss will make the Patriots work harder towards a better ending to the season next year.
"To go from being 5-20 last year to being in a section final this year is a big turnaround," said Hannigan, a sophomore right-hander. "We were honestly hoping before the season to get to the states and win one game. But now that we're here and we're playing well, we want to play until we can't anymore and hopefully go out and win the whole thing."
CLICK HERE FOR MORE PHOTOS FROM THIS GAME. TO BUY A COLLECTOR'S PRINT OF THIS STORY, PLEASE VISIT 4FeetGrafix.com.