Monday, May 30, 2016
By Cory K. Doviak
NJS.com Editorial Director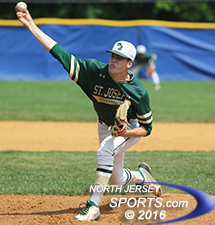 Junior Devin Ortiz threw four perfect innings before covering first and catching the final out with the bases loaded as St. Joseph held for a 3-1 win over Bergen Catholic in the Bergen County final on Sunday in Demarest.
DEMAREST – It was impossible to see the wild ending coming. For six innings St, Joseph junior right-hander Devin Ortiz dominated the Bergen Catholic lineup. He had a perfect game going through four innings, he retired the first 14 batters he faced in order and, even after losing his bid for a no-no, all Ortiz had given up through six innings was a pair of singles that led nowhere. He did not walk a batter, hit a batter or throw a wild pitch in that stretch either.
Ortiz had been given a lead to work with just about the get-go when St. Joseph turned two hits and a stolen base into a first inning run and the Green Knights tacked on in the fourth and six innings with single swings of the bat. Winning a Bergen County championship is not supposed to be easy, but the Green Knights, and Ortiz especially, were making it look so as they entered the seventh inning of Sunday's Bergen County Tournament final at Northern Valley/Demarest High School,
"I wasn't nervous with Devin on the mound or the baseball end of it," said St. Joseph head coach Mark Cieslak. "What made me nervous were the Baseball Gods because you never know which way the ball is going to bounce."
The first ball of the top of the seventh inning bounced into the glove of SJR third baseman Justyn Henry-Malloy, who threw to first for an easy first out…and then everything went Ka-blooey.
Three straight ground balls found their way through the infield, two through the hole between the first and second baseman and one up the middle, and all of a sudden Bergen Catholic went from nearly being no-hit, to being legitimately back in the game with the tying runs on base and just one out.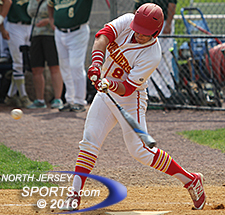 Vin Martin's infield single with one out in the seventh inning pushed across Bergen Catholic's lone run.
A strikeout pushed BC back to the brink of elimination, but Vin Martin's infield hit reenergized the Crusaders. They pushed a run across the plate and moved the tying run to second for Chris Gerard, who hit another ground ball in an awkward spot. SJR first baseman Matt Alaimo ranged far to his right to field it and tossed it over to Ortiz, who raced over from the mound to cover the base.
It was a bang-bang play but which sound came first has stirred a debate that will continue at every county tournament going forward. Most in attendance thought it was Gerard's right foot hitting the bag that created the first sound wave. The only opinion that counted, however, was that of the first base umpire, who voted the way of the ball hitting Ortiz's glove as the original thud. Gerard was ruled out and the game ended right there and St. Joseph Regional raced to the mound to celebrate its 3-1 win and its 10th Bergen County championship, the most in the history of the tournament and the first under Cieslak, who is in his first season as the Knights' head coach..
"I felt like he was out. Before I even looked at the umpire I thought he was out, but even if he wasn't only one run would have probably scored there," said Ortiz, who was given the Ennis Award, handed out annually to the best pitcher in the county tournament. "So we would have gone back at it and won 3-2 instead."
Let's assume for a second that Gerard was safe and that Bergen Catholic should have had a chance to send another hitter, its leadoff hitter no less, to the plate with the bases loaded and two outs trailing by a single run. If that is the case, then you can't handle the turn of events that denied his team that opportunity any more class than that shown by Bergen Catholic head coach Bob Muggeo.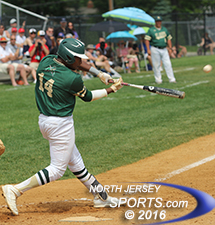 Sophomore Justyn Henry-Malloy connecting on his fourth inning home run that gave SJR a 2-0 lead.
"Safe at first. He was safe at first without a doubt in my mind. There will be pictures of it," said Muggeo. "Does it change the outcome of the county [tournament]? Yeah, I think it did, but you know what? There is no instant replay in high school baseball. We did our best and congratulations to St. Joe's."
The controversy at the end should not overshadow what went on in the previous six innings and that story was all about Ortiz, the junior and University of Virginia commit with the fluid mechanics. Everything he threw –fastball, change-up, curve – he threw with a purpose and to his desired location.
Ortiz even played a role in giving himself as lead to work with when he beat out an infield single with one out in the bottom of the first inning. Ortiz's courtesy runner, Carmine Palummo, stole second and scored on Matt Cocciadiferro's hard single to right.
Ortiz retired the side in order in each of the first, second, third and fourth innings. He did not give up his first hit until there were two outs in the fifth when John Mead hit a clean single to the opposite field. Ortiz grabbed a come-backer to get out of that inning and was similarly unruffled after giving up his second hit, a one-out single to Gerard in the sixth. A pop-up and a routine grounder to shortstop gobbled up by Tristan Plescia made it six scoreless innings thrown.
But lost in Ortiz's flirtation with a no-hitter was the job being done by Bergen Catholic starter Nick Esposito (6 IP, 3 R, 3 ER, 5 H, 5 K, 3 BB). After giving up the first inning run, Esposito, a senior right-hander, made only two more discernable mistakes after allowing the first inning run. Both of them were hit out of the park, however, as Justyn Henry-Malloy crushed a 2-2 pitch over the left field fence, a solo shot in the fourth, and Cocciadiferro hit one out to left with one-out in the sixth to make it 3-0.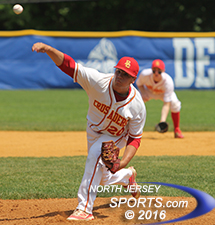 Senior Nick Esposito went the distance in a quality outing for Bergen Catholic.
Cocciadiferro, a senior, won the Evans Award as the Tournament MVP while Henry-Malloy is a sophomore third baseman who has already committed to Vanderbilt University.
"My first at bat he got ahead of me with two strikes and I couldn't battle back and my second at bat he got ahead of me, too, but I got it back to 2-2," said Henry-Malloy whose home run came leading off the fourth. "But then he hung me a curveball and I kind of stayed with my legs, which our hitting coach Frank [Salvano, Jr.] preaches to us all the time. I sat back on it, it wound up going over the fence and I am really happy."
Those solo homers looked like little more than window dressing with the way Ortiz (7 IP, 1 R, 1 ER, 6 H, 4 K, 0 BB) was throwing, but they became extremely important in that top of the seventh inning. John VanDeMark chopped one through the right side for BC's third hit of the game and Nos. four and five came right on its heels as Esposito and Mead also found holes on the right side to load the bases.
"They had three bleeders, two between second and first with Bodrato playing up the middle. We move Bodrato over and they hit one up the middle," said Cieslak. "Again, the Baseball Gods."
Ortiz got the second out one three pitches all blown by the hitter before Martin hit a shot back through the box. Bodrato made a nice play to smother it behind the second base bag to keep a second run for scoring, but Bergen Catholic was on the board, it had its first rally of the day cooking and then Gerard was called out at first base to end it in dramatic, if not controversial, fashion.
Mead (2-for-3) had the only multi-hit game for Bergen Catholic, which actually wound up with six hits to SJR's five. Cocciadeferro (2-for-3, HR, 2 RBI, SB, R) had the only two-hit game for St. Joseph and neither team committed an error in a cleanly played county final.
Both teams will now head into the Non-Public North A state sectional playoffs with Bergen Catholic, the No. 3 seed, will host No. 6 St. Peter's Prep in the opening round while St. Joseph, the No. 4, will get a third go-round with No. 5 Don Bosco Prep in the quarterfinals on Tuesday. St. Joe's swept the regular season series against Bosco, which was eliminated from the county tournament by Bergen Catholic in Saturday's semifinal round.
Whatever happens on Tuesday, St. Joseph already has a pretty nice pelt to hang on the wall.
"This is the one we wanted. I know a lot of people like the states, but we feel like the county tournament is just as prestigious. Look at the pitchers we had to beat to get here, the teams we had to beat. You have to beat Bergen, you have to beat Bosco, you have to beat the kid [Zach Dreznin] from Northern Highlands, you have to beat the lefty [Brian Rosen] from River Dell," said Cieslak. "We had all kinds of tough guys coming our way. This was a tough tournament so we take a lot of pride in winning it."
CLICK HERE FOR MORE PHOTOS FROM THIS GAME. TO BUY A COLLECTOR'S PRINT OF THIS STORY, PLEASE VISIT 4FeetGrafix.com.