Friday, May 27, 2016
By Rich Barton
NJS.com Staff Writer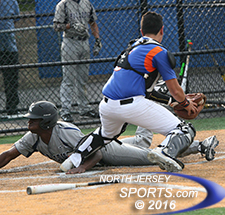 Kevin Kosakowski sliding in with the tying run during a 6-run top of the seventh inning that Rutherford used to stun Lodi, 9-7. in the North 2, Group 2 state sectional quarterfinals on Thursday.
LODI – There is one word in baseball that is never spoken or even hinted at with a veteran team. Part what makes baseball America's pastime is that there is no time to get too high off of a win or too low after a loss. That is because almost always it is another day to turn the page and play another game. With a Rutherford team chock full of seniors down to possibly the final at-bat of their careers that word finally came up: Desperation.
Rutherford was in serious trouble of seeing its season come to an end. Down four runs to Lodi in the top of the seventh inning the Bulldogs were down to their final chance to keep the season alive and do something memorable in the process. It was memorable all right.

Rutherford struck for six runs in the top of the seventh inning to take a 9-7 lead. Lodi got one run back in the bottom half of the inning and had the tying run just 90 feet away before Connor Clarc shut the door with consecutive strikeouts to end the game and lift fifth-seeded Rutherford to a wild 9-8 victory over fourth-seeded Lodi in the North 2, Group 2 state sectional quarterfinals on Thursday at Lodi High School.
"We have a bunch of seniors on this team who would do whatever it takes to get out of here with a 'W'," said Rutherford head coach Carmen Spina. "Our guys just kept the line moving and when you do that great things can happen. No matter how well or how poorly we play, this team always competes until the very end."
The two teams knew each other well having faced each other twice during the regular season with Rutherford winning both meetings. However, it did not take long to figure out that this game would be different.
Elian Guzman hustled his way to a run in Lodi's first at-bat. He singled, stole second base and alertly tagged up to third on a deep fly ball before scoring on a sacrifice fly to make it 1-0 Lodi. An inning later, the Rams tacked on two more runs. Cody Abromowitz drew a bases-loaded walk and Guzman lifted to a sac fly to score Matt Santana, which gave the Rams an early 3-0 lead.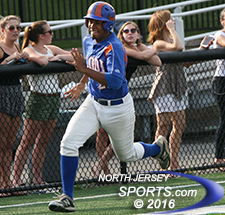 Richie Fontanillas' inside-the-park homer gave Lodi a 5-3 lead in the fifth.
Rutherford got all of those runs back in the third inning. An RBI triple by Julian Mis was followed by a run-scoring double off the bat of James Dolaghan. Joe Mauro got jammed on a by pitch by Lodi starter John Guerra but it was enough to get the tying run home.
The Bulldogs had a chance to grab the lead in the top half of the fifth with two on and two outs and the dangerous Mauro at the plate. Guerra was able to induce a groundout to end the threat before his teammates picked him up in the bottom half of the inning.
Guzman lined a leadoff single and Richie Fontanillas came right behind him with a two-run inside-the-park shot to the left-center that put the Rams back in front 5-3. They were not done yet as Gerald Sandoval plated another run with a single and Santana executed a suicide squeeze to make it 7-3.
As Rutherford came to bat in the top of the seventh inning, the seniors looked at one another with both a fear of having this entire season go down the drain and also the quiet confidence that they would find a way to continue their season and their high school careers.

Guerra's pitch count was elevated heading into the seventh and the Bulldogs became more patient at the plate by sitting on certain pitches. A lucky break or two never hurts either. No. 9 batter Liam Federico got jammed on a pitch to lead off the inning but was able to fist the ball over the head of Guerra. It handcuffed the shortstop with the ball skipping underneath his glove. Although the Bulldogs still had a long way to go Federico found a way to get on leading off and it gave the dugout some much-needed life.
Evan Smith singled and Mis drew a walk to load the bases with nobody out. Dolaghan hit a hard ground ball up the middle that was knocked down by Santana to the right side of the second base bag. He wanted to throw home but double-clutched and went to first with Dolaghan beating the throw. Mauro atoned for his last at-bat by lining a two-run single that cut the Rutherford deficit to 7-6.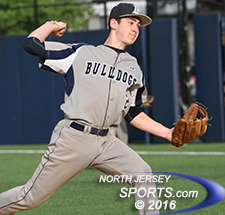 Connor Clarc struck out the final two hitters of the game to move Rutherford through to the semifinals.
"I was pretty angry at how I didn't come through my last time up. I had to make up for it," said Mauro. "I was too pumped up on that groundout to first. This time I tried to relax a little more and focus on taking a good swing not just trying to kill the ball. The bottom line is that we're a very close team and we all pick up each other. I had to stay calm, stay confident and do my job for this team."
Football standout Kevin Kosakowski came on to pinch-run for Dolaghan and it proved to be a valuable move. A sac bunt by Clarc moved the two runners into scoring position and, with the infield in, the Rams cleanly fielded a ground ball and fired to the plate. It was to no avail as the speedy Kosakowski beat the throw and scored on a head-first slide to tie the game. Then, on maybe the most unlikely play of the entire game, Brendan Brinksma executed a safety squeeze on what one would call a less than ideal pitch to bunt. The fastball was above his head but he somehow got it down, which allowed the go-ahead run to score before Dom Mignone stroked an RBI single that capped the six-run outburst and gave the Bulldogs a 9-7 lead.
Lodi was as stunned as a team could be, but rallied to have a chance at sending the game into extra innings. Ankaury Camillo led off with a single and went to second on a wild pitch. Sandoval's single put runners at the corners with no outs. Camillo used his blazing speed to beat the throw home after a groundout that trimmed the Lodi deficit to one run, 9-8. Cory Abromowitz was brought in as a pinch-runner for Sandoval and moved up to third on a wild pitch to bring the tying run just 90 feet away. Clarc had trouble with his command at times but settled down to get the outs when he needed them most. Clarc battled back to strikeout the last two batters of the game to polish off the huge comeback and kept the Bulldogs' hopes for a section title still alive.
"We capitalized on an opportunity in the top of the seventh and I had to do my job to hold that lead," said Clarc. "Even with the runner on third and one out I was still very confident. With the number eight and nine batters coming up I felt like I had the upper hand. I knew if I got ahead that I could control their at-bats instead of trying to battle from behind. This was a crazy game and I'm happy we got the win."
Clarc picked up the victory in relief for Rutherford (16-8). Mauro drove in three runs and Dolaghan knocked in two to lead the way offensively for the Bulldogs. Camillo and Sandoval combined to go 6-for-8 at the plate with four runs scored for Lodi, which finished the season with a 17-10 record. Eight of the nine starters for the Rams return next year.
While the there is a bright future for Lodi, the Bulldogs are pretty excited about the present. The path has been lightened with the top four seeds in North 2, Group 2 (Harrison, Hackettstown, and Madison) all falling in the quarterfinal round. With Rutherford being the highest remaining seed, the road to the title must go through Rutherford. It is a position the Bulldogs have wanted to be in all year and now that opportunity is squarely in front of them.
"This was a great comeback and we know what's at stake from here on out," added Spina. "Rutherford has gotten stuck the past few years on getting to the section semifinals before getting knocked out. We really want to get to a section final. Getting a shot to do that on our home field is just an added bonus."
CLICK HERE FOR MORE PHOTOS FROM THIS GAME. TO BUY A COLLECTOR'S PRINT OF THIS STORY, PLEASE VISIT 4FeetGrafix.com.