Wednesday, May 25, 2016
By Cory K. Doviak
NJS.com Editorial Director
Mike Pimpinella, the only senior in Pascack Valley's lineup, pitched three scoreless innings in relief as the Indians topped NV/Old Tappan, 4-3, in 8 innings in the opening round of the North 1, Group 3 state sectional tournament.
OLD TAPPAN – Mike Pimpinella is the only senior in Pascack Valley's starting lineup and he was playing to keep his baseball career alive for at least one more day. Justin Martin is the only freshman in the Pascack Valley's starting lineup and he was getting his first taste of state playoff baseball of which he hopes there will be plenty more of in the next four years.
Although they are two players on opposite ends of the high school sports spectrum, they were pulling in the same direction on Tuesday when their opening round matchup on the road at Northern Valley/Old Tappan resumed in the top of the sixth inning with one out, one-on and with Pascack Valley facing a one-run deficit.
Martin got the game tied with a two-out single and Pimpinella took the mound and held the fort long enough for Martin to do it again. The freshman shortstop playing in his first state tournament game hit a run-scoring single in the top of the eighth inning to provide the winning run in 12th-seeded Pascack Valley's 4-3 victory over No. 5 Old Tappan. The Indians are through to the North 1, Group 3 quarterfinals where they will play No. 4 River Dell, an 8-2 winner over West Essex.
"In both at bats I was really looking first pitch fastball and I didn't get it either time. The first one I hit a curveball and on the second one I got my pitch and drove it to center," said Martin, who ascended to the varsity after just more than a week on the freshman level early in the season. "I wasn't thinking about the situation I was in either time up. I just try to go out there and play and not think too much. That is when I play my best baseball."
Before the rains came on Monday, Old Tappan starter James Steindl threw
5 1/3 quality innings.
The game took place over two days as the rain on Monday forced a suspension. Day 1 belonged to Old Tappan, which had its ace on the hill and a one run lead heading into the top of the sixth. But when the teams returned to the field 24 hours later, James Steindl (5/13 IP, 2 R, 2 ER, 4 H, 5 K, 2 BB) was the first baseman holding on the runner he had walked with one out the day before.

Actually it was catcher Jack DeVanna who drew that walk and it was his courtesy runner, Christian Loucas, who stole second with two outs after OT's KJ Stewart retired the first batter he faced when play resumed. Martin then pulled a ball down the leftfield line to score Loucas with the tying run.
Jared Issackedes (5 IP, 3 R, 3 ER, 6 H, 3 K, BB), the sophomore right-hander who has pretty much come out of nowhere to become Pascack Valley's ace this season, pitched the Indians through Monday's five innings, but at the restart, PV skipper Will Lynch put the ball in the hands of Pimpinella (3 IP, 0 R, 0 ER, 2 H, 4 K, 2 BB) and it was his game to win or lose.
"Mike Pimpinella is the only senior we have on the field," said Lynch. "He competes, you know that, and these are the kinds of games where you want a kid like that to be the one with a chance to decide it."
Pimpinella allowed a leadoff double to Erik Slater leading off the home sixth, but worked out of it even after Clyde was bunted up a base by Matt Carney (1-for-4, 2 RBI) and was on third with one out. Pimpinella got a called strike three with the infield in for the second out and then handled a comebacker to keep the game tied, but his greatest escape was still ahead of him.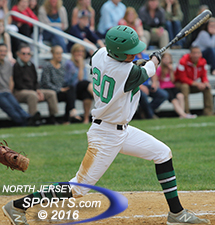 Freshman Justin Martin drove in the tying run in the sixth and the winning run in the eighth for Pascack Valley.
PV went 1-2-3 in front of Stewart in the top of the seventh before Pimpinella issued a one-out walk to Andrew Vitti in the bottom of the inning and that was followed by an infield single by Alex Clyde Alex Clyde (2-for-4, RBI). Both runners moved up a base on a check swing in front of the plate that served the same purpose on a bunt. With first base open and two outs, Lynch elected to intentionally walk Steindl to load the bases and set up a make or break at bat. Anything other than an out meant Pascack Valley's season would be over. The count got to 3-2 with all of the associated drama before Pimpinella got the hitter to chase I high fastball that was probably ball four.
"That was scary for sure. I was really amped up and I was trying to put a little extra heat on it. It rose out of the zone a little bit," said Pimpinella. "But with their four hitter up there -- an aggressive, good hitter -- you expect him to be swinging at anything close. I just tried to amp up and throw a hard strike and luckily it was hard enough to get by him."
The momentum turned right there and carried right into the top of the eight when Matt Novakowski led off with a long flyball to right centerfield. Old Tappan centerfield Zach DeNike nearly robbed Novakowski (2-for-3, R) of extra bases with a long run and slide in the gap, but the ball got down and the Indians were in business. DeVanna drew a one-out walk and, after a fly out and a wild pitch that advanced the runners to second and third, Martin (3-for-4, 2 RBI) stepped to the plate again with two outs and the game on the line. Unlike his game-tying hit, which he blooped down the leftfield line, this one was tagged back up the middle and Novakowski scored without a throw.
Alex Clyde had two hits and drove in a run for Old Tappan.
Martin made the last of his hefty contributions in the bottom of the seventh, this time on the defensive side. Pimpinella struck out the first hitter, but the next man up, DeNike, an all-county running back and one of the fastest players in North Jersey, pulled a line drive that was ticketed for left field before it was knocked down by the third baseman and picked up by Martin, who threw a rocket for the out at first base by no more than half-a-step.
"Everybody is going to talk about the two hits, the one to tie it and the one in the eighth, but what about that play? The kid DeNike runs like the wind," said Lynch. "He is their running back, he's got wheels, and that play impressed me more than the hit. That was a huge out. If DeNike gets on there, he steals second and it is a whole different ballgame. They would be one hit away all over again."
Instead, Pimpinella caught the final batter of the game looking at a called strike three to end it and send Pascack Valley on to Thursday's quarterfinals where it will face a River Dell team still battling on two fronts. The Hawks are still alive in the Bergen County Tournament and will play top-seeded St. Joseph Regional on Saturday. Both teams' pitching depth will be tested in a bracket that is notorious for low-seeded teams making deep runs and even winning it.
"We had to win this one first before I could even start to worry about Thursday, but now we'll see what we can do," said Lynch. "Anything can happen in this bracket. You see it every year."
CLICK HERE FOR MORE PHOTOS FROM THIS GAME. TO BUY A COLLECTOR'S PRINT OF THIS STORY, PLEASE VISIT 4FeetGrafix.com.