Sunday, May 22, 2016
By Cory K. Doviak
NJS.com Editorial Director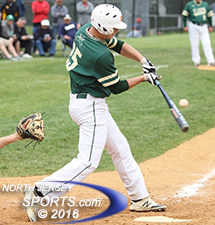 Sophomore Matt Alaimo put St. Joseph Regional in front for good with a two-run double in the sixth inning of the Green Knights' 4-2 win over No. Highlands in the Bergen County Tournament quarterfinals on Saturday in Demarest.
DEMAREST – Northern Highlands, the No. 8 seed in the Bergen County Tournament, could have opted to pull its flaps in a little bit. After using its hammer of a No. 1 pitcher, junior Zack Dreznin, to shutout No. 8 St. Mary in last weekend's Round of 16, Highlands could have justified using someone else in the quarterfinals where it was up against St. Joseph Regional, the top seed and the tournament favorite.
The states are about to begin, the Highlanders certainly have as good chance as anyone else to make it through the stacked North 1, Group 3 bracket and Dreznin could have been saved for that tournament's opener on Tuesday.
But Highlands head coach Paul Albarella instead decided to go for it. He put his ace, a Bergen Catholic transfer who had beaten St. Joe's twice before, on the hill, the Green Raiders countered with their junior ace Devin Ortiz and it was game on in front of a healthy crowd at Northern Valley/Demarest High School.
"Dreznin is a great pitcher. I have known him since I was like nine years old, I played against him when I was younger, and he did shut out down last year twice when he was with Bergen Catholic. That obviously created a lot of hype for this game," said Ortiz. "But instead of getting too up for the pitching matchup or the game in general, we knew we had to stay composed and not let any kind of outside pressure get to us."
St. Joseph's composure was tested all the way through as it trailed by one run two different times, but it never gave in. Fighting off tough pitches and running up Dreznin's pitch count paid off in the fifth inning when the Green Knights sent eight hitters to the plate, scored twice and took the lead for good on the way to a 4-2 victory that lands them in next weekend's semifinal round against 12th-seeded River Dell, a 6-2 winner over Paramus Catholic.
Tyler Shedler-McAvoy connecting on one of his three hits for Northern Highlands.
Northern Highlands served notice right from the get-go as Tyler Shedler-McAvoy led off the game with a single, went first to third on Breylin Jones single and then scored on Matt DiPasupil's fielder's choice to take the lead just three batters into the game. St. Joseph got that run back in the bottom of the first with an unearned run that was the result of an overthrow. Austin Bodrato was the beneficiary as he took two bases and then scored on a 6-4-3 double play.
Dreznin (5+ IP, 4 R, 3 ER, 5 H, 7 K, 5 BB) and Ortiz (7 IP, 2 R, 2 ER, 6 H, 6 K, 3 BB) then matched zeroes straight through to the fifth inning when Northern Highlands nosed back in front. Shedler-McAvoy (3-for-4, 2 R, SB), who was in the middle of everything for the Highlands offense, got the nod on a close call at first base and promptly stole second from where he scored on DiPasupil's (1-for-3, 2 RBI) single to right.
With the top of the order due up in the bottom of the fifth, SJR took advantage as Bodrato (2-for-4, 2 R) smacked a single back through the box, Ortiz walked and Justyn Henry-Malloy reached on an error to load the bases with nobody out. Dreznin, which got up as high as 91 on the radar guns being pointed at the mound from behind the back stop, reached back for a little extra and got a strikeout for the first out. That brought up Matt Alaimo, the Knights' sophomore first baseman, in a key spot.
"He got me out the first two times so I tried to shorten up [my swing] a bit the third time around," said Alaimo. "The paper actually said that they were going to beat us, they picked us to lose this game, so we took some motivation from that. I knew I had to go up there and do my job."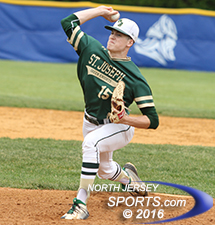 Devin Ortiz went the distance for St. Joseph, which will play River Dell in the county semifinals next weekend.
Alaimo's job was to put the ball in play and at least get the game tied. The result was even better as he pulled one just inside the third base bag and down the leftfield line for a two-run double that put Joe's in front for the first time and for good at 3-2.
Ortiz worked around a two-out walk in the top of the sixth and SJR tacked on an insurance run in the bottom of the frame. Nick Cantone (1-for-2, R, SB) drew a leadoff walk that ended Dreznin's outing and Bodrato followed with a single. Both runners stole a base on different pitches and Cantone scored from third on a wild pitch to make it 4-2.
Shedler-McAvoy's third hit of the game came with one out in the top of the seventh and brought the tying run to the plate, but the Knights closed it out in style with a 6-4-3 started by Tristan Plescia with Bodrato in the pivot.
Give credit for Highlands for going for it and credit the Knights for taking on the challenge and advancing to the Final 4.
"When they called us before the tournament and told us that we were the No. 1 seed I was excited. Then I looked at the bracket and I was like, 'Oh, no!,' because I knew we would get this guy [Dreznin] at some point and then [River Dell's Brian] Rosen probably coming in next weekend and he has been great in this tournament," said Mark Cieslak, a longtime assistant to former SJR skipper Frank Salvano, who is now in his first season as the Knights' head coach. "I think our kids were mature up at the plate today and we did not chase a lot. The kid [Dreznin] is a good pitcher. He is deserving of his reputation, but we were pretty disciplined and Alaimo came up big for us."
CLICK HERE FOR MORE PHOTOS FROM THIS GAME. TO BUY A COLLECTOR'S PRINT OF THIS STORY, PLEASE VISIT 4FeetGrafix.com.