Sunday, May 15, 2016
By Cory K. Doviak
NJS.com Editorial Director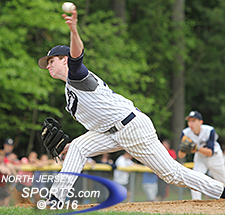 Thomas Feehan threw his second complete game of the week, this time a six-hitter with four strikeouts and just one walk as 10th-seeded Ramsey beat No. 7 Ramapo,
5-1 in the BCT Round of 16.
EMERSON – On the days when Thomas Feehan has that little extra giddy-up on his fastball, Ramsey's senior left-hander is one of Bergen County's best pitchers. On days when maybe he is maybe not throwing as hard, guess what? Thomas Feehan is still one of Bergen County's best pitchers as he showed against Ramapo in the Bergen County Tournament's Round of 16.
Having thrown a complete game shutout against Pascack Hills on Tuesday, Feehan got the ball on three days rest against a deep lineup full of experienced hitters. He might not have had the blow-it-by-you velocity, but the result was almost the same. With pinpoint location and a willing defense behind him, Feehan went the distance again, this time on a six-hitter in which he issued just one walk as 10th-seeded Ramsey upended No. 7 Ramapo, 5-1, in the final game of the trio played at Emerson High School on Saturday.
"I started on Tuesday and threw 100 pitches, so today I didn't have my best stuff. I kind of battled through it and just kept throwing strikes," said Feehan. "The defense really helped me out today. We turned a couple of double plays, there were a couple of good plays in the outfield and it was a good team win today."
Feehan had a hand in giving himself a lead to work with in the top of the third inning and it started with a leadoff walk drawn by Brendan Mahon out of the No. 9 spot in the order. Two flyball outs got Ramapo starter Matt Evangelista to within out of escaping trouble, but Feehan came through with a hit-and-run single that put runners on the corners for Adam Reisfield, who blooped a single down the left field line to knock in the game's first run. Feehan then scored on a wild pitch to double the advantage.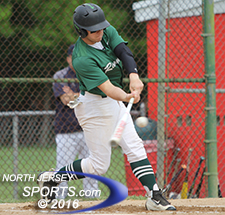 Greg Latushko had a hit, drew a walk and scored Ramapo's lone run.
"I knew that Feehan was going to keep their score low, so we just had to find a way to break the game open a little bit. I came up with two outs and I knew my team was counting on me," said Reisfield, Ramsey's senior designated hitter. "The first pitch he threw me was a fastball and I was just looking for a good pitch that I could hit. I was just lucky to drop one in there and get us a lead. We have the utmost confidence in Thomas and we knew he would make it stand up."
Reisfield (2-for-4, RBI, R) also played a part in the three-run rally in the top of the fourth that basically put the game away. Jon Turk (2-for-4, R) got that outburst started with a single to right and Jake Gursaly (1-for-2, R, BB) kept the line moving with a single two batters later. Again Ramsey had two on with two outs and again it cashed in on the opportunity. This time it was senior shortstop Mike Cirilli, the leadoff hitter, who came through with a gapper, a two-run double to left center that made it 4-0. After two walk, Reisfield's infield single put the Ramsey (16-3) up 5-0.
"He got behind in the count. It was 2-1 and he threw a fastball down the plate and that is what I got. It was great because we built that inning," said Cirilli, a three-sport standout and a four-year starter. "I was up fifth that inning, the guys got me an at bat with runners on and I was happy that I was able to come through."
Feehan (7 IP, 1 R, 1 ER, 6 H, 4 K, BB) and the Ramsey defense did the rest. After putting two on with one out in the first, Ramapo (13-9) did not put more than one runner on base in any other inning. AJ Ferrara had a two-out single in the second, Jared Marzocco had a two-out double in the fourth and Kyle Rice stroked a pinch-hit, one-out single in the fifth, but all of them were left standing on the base they originally acquired.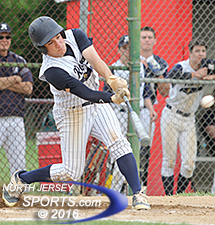 Mike Cirilli connecting on the two-run double that gave Ramsey a 3-0 lead in the top of the fourth inning.
The Green Raiders had a hint of a rally in the top of the sixth when Greg Latushko drew a leadoff walk, the only one issued by Feehan in the game, and Alex Pazos followed with a single to put runners on the corners for Matt Valente. The junior first baseman hit one right on the screws, but it was cut off by Cirilli, who started a 6-4-3 double play. Latushko scored, but Ramsey gladly traded the run for two outs and Feehan worked a 1-2-3 seventh to secure the Rams' spot in next weekend's quarterfinal round against second-seeded Don Bosco Prep with whom the Rams share a zip code with.
"It doesn't matter about seeds anymore. They only determine home or away team at this point," said Cirilli. "We blew our chance last year against St. Joe's. We blew a lead late on this field. We remember that and we are looking forward to taking on Bosco. They are our in-town rivals and it should be a good game."
For Ramapo, state tournament preparation officially begins now.
"We have a week before the states and we have to get our mojo back. We at least two games this week, hopefully we can find a third to get ready," said Ramapo head coach Mickey Hunt. "Today was disappointing, we hit some balls hard, but what can you do? They made the plays and we have to regroup and try to make a run in the states. That is what we have left."
CLICK HERE FOR MORE PHOTOS FROM THIS GAME. TO BUY A COLLECTOR'S PRINT OF THIS STORY, PLEASE VISIT 4FeetGrafix.com.