Sunday, May 15, 2016
By Cory K. Doviak
NJS.com Editorial Director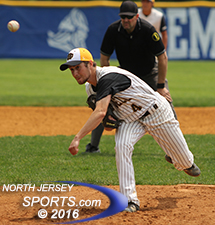 Senior Brian Rosen threw 9 innings of
5-hit, 1-run ball and his team made him the winning pitcher in the 10th inning as River Dell upset No. 5 Ridgewood, 2-1, in the Bergen County Tournament's Round of 16 on Saturday in Demarest.
DEMAREST – Who knew? Certainly not River Dell head coach Brandon Flanagan when he used Brian Rosen for a solitary inning in Thursday meaningless crossover game against Dumont as both teams got ready for Saturday's Bergen County Tournament Round of 16. It was solid rotation management to get Rosen an inning of work to stay sharp and leaving him with nine left in terms of weekly innings limits heading into his start against Ridgewood.
"Who would have thought that he would have needed that inning?" said Flanagan. "It was really just a work inning, a bullpen session against live bats. There was no way to know then that he could have used all 10 today."
While brilliant for nine innings, it still left River Dell, the No. 12 seed, one short because it was locked in a tie with fifth-seeded Ridgewood in as compelling a game that has been played in the Bergen County Tournament in the last couple of years. When Rosen threw his final pitch in what would have been a complete game in the major leagues, the score was tied at 1 and nothing was decided.
Rosen was being matched by Jake Moore, who came out of the Ridgewood bullpen in the fourth inning throwing darts. By the time River Dell came to the plate in the top of the 10th the Hawks had not scored in six innings and managed only three baserunners over that span.
But then Garrett deMarrais, the grandson of Larry Ennis, the patriarch of the Emerson High School baseball program and the son of Glenn deMarrais, the two-state championship coach at New Milford, had the chance to get things started. His leadoff single set in motion what passed for a rally in marathon pitcher's duel, which ended in a 2-1 River Dell victory that send the Golden Hawks into the Bergen County quarterfinals for the fifth straight year where it will take on another upset winner, No. 20 Paramus Catholic, which eliminated No. 4 Mahwah.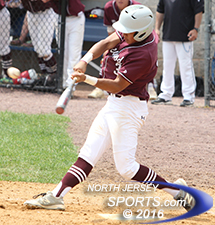 Andrew Eng accounted for all of Ridgewood's scoring with one swing of the bat, a lead-off homer in the fourth.
"With this team it has been a different guy every day and my team needed me to step up and start off an inning," said deMarrais, a junior second baseman. "The mantra was get 'em on, get 'em over and get 'em in. I managed to get on and the guys behind me managed to get me in. It was a total team effort."
The guys behind deMarrais were Tom Dougherty, whose sacrifice bunt attempt turned into an infield single, Connor McGorry, who moved both runners up a base with a groundball out and Dave Estevez, the leadoff hitter who had one chance to drive in a run with an out.
"We had second and third with one out, so I thought we were definitely going to go for the suicide squeeze, but Coach [Flanagan] let me hit and I just wanted to put it in play," said Estevez. "It was 1-1 and he threw me a fastball outside. I am usually a pull hitter but I drove it the other way.
Estevez, one of four left-handed hitters in the top five spots in the River Dell lineup, lifted a flyball to deep enough left field to allow deMarrais to score without a throw. That put Rosen on the long side of the ledger, but he was out of innings and River Dell still had three outs to get. After some deliberation, Flanagan turned to sophomore right-hander Ted Loquet (1 IP, 0 R, 0 ER, 0 H, 1 K, 0 BB), who retired the side in order to close out the win.
"We went with Teddy in the tenth and we did it with confidence. He is a sophomore, but he is a big kid with a lot of poise and he probably had the best curveball of the kids we had warming up," said Flanagan. "You can't throw dead-red fastballs to those guys because they will just mash you."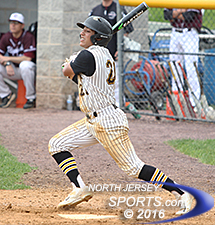 David Estevez lifted the sacrifice fly in the top of the 10th that drove in the game-winning run for River Dell.
There was not a whole lot of mashing going on for either side, however. River Dell scratched out a run in the top of the third against Ridgewood starter Kyle Finnerty (3 IP, R, ER, 3 H, K, BB) in a fortunate circumstance. There were two outs, Steven Yellin was at the plate and Estevez, who drew a one-out walk, was off from first base on the pitch. Yellin, who swings as hard as any player in the county, took a rip, but the result was a blooper not too far past the second base bag. But with the infield moving and the outfielders playing deep, the ball fell in and Estevez never stopped running. He scored from first on ball that travelled no more than 120 feet to make it 1-0.
Except for one pitch, that might have been enough for Rosen, who was in control from the start. He struck out two in the first inning and then three in a row in the second after two errors put two Ridgewood runners on with no outs. He worked a 1-2-3 third and then set up Ridgewood clean-up hitter Andrew Eng to leadoff the bottom of the fourth. Eng then pulled a fastball well over the rightfield fence to tie the game at 1 and it would stay that way for the next six innings.
"That home run was on me. I called the pitched and [Rosen] hit the spot, but the kid [Eng] put a good swing on it," said Flanagan. "We kind of went against the scouting report there. My bad."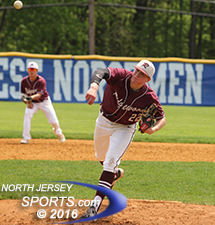 Ridgewood senior Jake Moore allowed just five hits and one run in seven innings of relief.
There was nothing else bad about Rosen's performance. In nine innings he allowed just five hits against one of the best lineups in Bergen County, struck out 10 and walked only two, both in the eighth inning and one of them intentional.
"I knew coming in that they were a good hitting team and I knew I had to hit my spots. In the bullpen my curve was working and I was able to locate my fastball, so I knew I had a shot out there," said Rosen, one of 10 seniors on the River Dell roster. "A good pitcher's duel like this game was…I just doesn't get better than that in the game of baseball. Both of the guys they used pitched great and it was just fun to be a part of something like that."
Only Sean Cullen (2-for-5, 2B) and Matt Clarke (2-for-4) had multiple hit games for Ridgewood while only Julian Smith (3-for-4) and Dougherty (2-for-4) did it for River Dell. Moore (7 IP, R, ER, 5 H, 3 K, 0 BB) was brilliant in relief for Ridgewood as he needed just 17 pitches to get through his first two innings of work and just 10 to strike out the side in the top of the fifth, but it was River Dell (17-5) that was able to manufacture the run that earned the coveted spot in the quarterfinals.
"It means a lot. We have had a decent season so far, but we haven't had that one big win yet that we could all point to," said Rosen. "Today was that win and we hope it is just the first one. We put a complete performance together against a very good team like Ridgewood on a big stage like this. It really means a ton to us."
CLICK HERE FOR MORE PHOTOS FROM THIS GAME. TO BUY A COLLECTOR'S PRINT OF THIS STORY, PLEASE VISIT 4FeetGrafix.com.