Thursday, May 12, 2016
By Rich Barton
NJS.com Staff Writer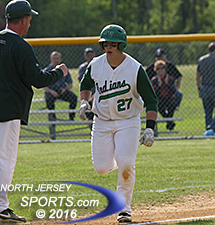 Jack DeVanna rounding third after his first inning, three-run homer set the tone in Pascack Valley 16-8 win over Waldwick in the opening round of the Bergen County Baseball Tournament.
WALDWICK – Baseball players are as superstitious and regimented as athletes in any sport and probably even more so. Being in a routine plays a big part in what makes a team successful. Just like every other game, Pascack Valley prepared for its Bergen County Tournament game on Wednesday against Waldwick just like it would for any other 4:00 p.m. weekday road game. Batting practice, loading up the bus, and getting mentally ready to play a big game are all parts of the usual routine.
But as 4:00 p.m. came and went, the Indians were still sitting at Pascack Valley High School waiting for their bus to arrive. It could have been a crushing blow to a team that thrives on being in a rhythm. Instead, it was a mere speed bump for a team on a mission.
Jack DeVanna swung a hot bat early with a three-run homer to set the tone before adding a two-run double in a seven-run second inning as 18th-seeded Pascack Valley slugged its way to a 16-8 win over No. 15 seed Waldwick in the first round of the Bergen County Tournament on Wednesday afternoon.
"We knew when the bus was late that wouldn't have much time to do what we had to do, so everything we did was important in preparing for the game," said DeVanna. "We stayed calm and just went over the game plan."
The game began 57 minutes past its scheduled start time, but it did not seem to bother the Indians in the least with a one-out double by Alex Derosa and a walk drawn by Matt Novakowski setting the stage for DeVanna PV's first turn at the plate. He drove an outside fastball to right-center that cleared the fence for a three-run clout that gave the Indians an early lead.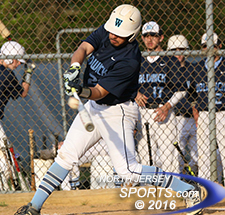 Sergio Diaz hit a two-run homer for Waldwick in the fifth inning.
"I had two strikes on me so I just wanted to put the ball in play," added DeVanna. "I got a good pitch to hit and made good contact. It was important to get some runs early and this was really a great team win."
In the bottom half of the opening frame, John Apgar lifted a sacrifice fly to get Waldwick within two runs but it never got any closer. Alex Criscuolo hit a line-drive solo shot to get the run back and the Indians never stopped hitting. Novakowski had an RBI single and DeVanna brought home two runs with a double in the gap in the midst of a seven-run second inning for a commanding 10-1 lead.
With the short porch in right field as a target, Waldwick used the long ball to keep from getting beaten by the mercy rule. Spencer McNamara and Sergio Diaz each hit two-run homers in the fourth and fifth innings to keep the game alive.
Any time the Warriors made a run, Novakowski had an answer. He roped two-run doubles in consecutive at-bats to put the game away and lift PV into this Saturday's Round of 16.
DeVanna and Novakowski each went 3-for-4 with career-highs of five RBI at the plate for Pascack Valley (10-8). Frank Cascio and Justin Martin each had RBI singles and Mike Pimpinella picked up the win for the Indians. Steve Contreras also had a two-run homer for Waldwick (15-4).
Pascack Valley will take on perennial powerhouse and No. 2 seed Don Bosco Prep in the BCT's Round of 16 on Saturday. That game will be played at Emerson High School with first pitch scheduled for 12:30 P.M.
"We know we're facing a very strong team and we're up for the challenge," said Pascack Valley head coach Will Lynch. "I thought we were very aggressive right from the first inning today and we swung the bats well up and down the lineup. It's going to be tough against Bosco, but we'll be prepared and I hope we bring our best on Saturday."
CLICK HERE FOR MORE PHOTOS FROM THIS GAME. TO BUY A COLLECTOR'S PRINT OF THIS STORY, PLEASE VISIT 4FeetGrafix.com.