Saturday, April 30, 2016
By Cory K. Doviak
NJS.com Editorial Director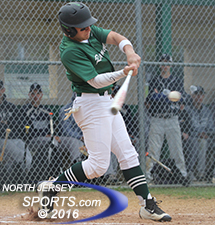 Greg Latushko has three hits and drove in two for Ramapo, which beat Paramus, 7-2, to move to within one one of officially clinching a spot in the upcoming Bergen County Tournament.
FRANKLIN LAKES – The first three innings flew by in less than half-an-hour. Both starting pitchers, Ramapo's Matt Valente and Paramus' Steve Lockwood, faced the minimum nine hitters each through the first two frames with the only two baserunners over that span were erased trying to steal second base by laser throws from Paramus catcher Dom Lazorchak. But for the two teams that are heading in opposite directions this season, the term 'just a matter of time' meant two different things.
For Ramapo, it was just a matter of time before its deep lineup could find a way to get a rally started to back up its starting pitcher, while for Paramus it was a matter of that one dreaded big inning that seems to pop up in just about every game it has played.
Cue the bottom of the fifth inning…
Down by a run after Paramus scratched together a run apiece in its previous turns at bat, the bottom of the Ramapo order got things going as Kyle Rice, the No. 8 hitter, led off with a single that was followed by a walk to AJ Ferrara and a hit-by-pitch that put Frankie Aiello on first to set up a bases-loaded, no-out situation for the home team.
The next pitch was the game-changer as Evan Mooney roped a single to left field to give Ramapo the lead for good in a 7-2 victory that moved the Green Raiders (11-5) to within one win of officially securing a spot in the Bergen County Tournament although they have probably already done enough to secure at least an at large bid.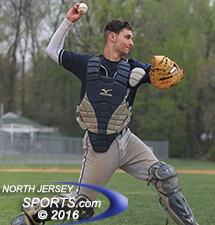 Paramus catcher Dom Lazorchak threw out two runners trying to steal and also had an RBI single in the fourth.
"I was just looking for strikes. It's been a little bit slow for me at the plate lately, so I was really focusing on getting a pitch to hit and just putting it in play," said Mooney, Ramapo's junior leftfielder. "Any way I can get on, any way I can help us score a run is all I am trying to do. I jumped on the first pitch, it got through [the infield] and we got it going from there."
Ramapo compounded the damage as a wild pitch and an error on the same sequence allowed each remaining baserunner to advance two bases as Aiello scored and Mooney moved to third during the at bat of Greg Latushko, who continued his season-long assault of opposing pitching with a ringing double to left that finished off the four-run outburst. Latushko, the senior centerfielder, finished 3-for-4 with 2 RBI and the only out he made was a long flyball that was caught by Conor Helm not more than a step in front of the centerfield fence in the bottom of the sixth.
It's the leadership provided by players like Latushko and Aiello, who have started every game over the past two seasons and Mooney, Valente and AJ Ferrara, who also came into this year with a wealth of varsity experience, that has led the charge toward the county tournament. With 14 seniors on the roster and a host of young players in every class pushing for varsity innings, there is competition for playing time, but no lack of chemistry in the dugout.
Evan Mooney had two hits, 3 RBI and scored a run for Ramapo, which is now 11-5 on the season.
"When you win games it is upbeat and I think the warm March we had really set us up for some good things. We got 11 scrimmages in, guys got at bats, I was able to solidify our infield, move guys around in the outfield and we had guys coming back that played important roles last year," said Ramapo head coach Mickey Hunt, who won his 300th career game earlier this season and was also inducted into the NJSIAA Coaches Hall of Fame. "We had a good core coming back and we were able to fit other guys who have really stepped it up and we are off to a pretty good start here."
It has gone the other way this year for Paramus, traditionally one of Bergen County's top public school baseball programs. The Spartans have seen innings like the bottom of the fifth on Friday derail was has turned into a rebuilding season. Paramus needed a win over Ramapo to keep alive any hopes of making the state playoffs, but one rough inning undid all of the good work turned in by Lockwood (4+ IP, 5 R, 5 ER, 5 H, 1 K, 3 BB), the right-hander who allowed just two hits, one walk and one manufactured run before Rice's leadoff single in the fifth sparked Ramapo's offense.
"The score was not indicative of what this game was and it has just been the way our season has been. We have played very well within games, but then there is always that one inning that gets away from us, we can't limit the damage and then we can't overcome it," said Paramus head coach John Morrisette. "That's baseball. You have to put it all together for seven innings and that has been the hard part for us. We are getting five or six good innings, the kids are still fighting hard, we just can't get that one inning that goes in our favor and concludes a game. We are a good team despite our record, tomorrow is a new day and we are going to continue to battle."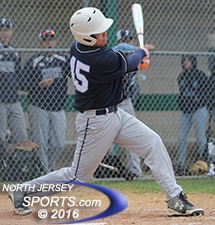 Chris Gass drove in Paramus' second run with a sacrifice fly in the top of the fifth.
Lazorchak (1-for-2, RBI), who threw out the two runners that tried to steal against him, had a two-out single in the fourth that drove in Brandon Sullivan with the game's first run. Chris Gass lifted a sacrifice fly in the top of the fifth that had given the Spartans a 2-1 lead and Nick DeNigris and Chris Regalbuto had the other two hits for Paramus, which fell to 1-14 on the season.
Latushko (3-for-4, 2 RBI), Mooney (2-for-3, 3 RBI) and Rice (2-for-3, 2 R, RBI) had multi-hit games for Ramapo while Jared Marzocco (1-for-2, R, 2B) and Ferrara (1-for-2, R) had the other two hits for the Green Raiders. Valente (6 IP, 2 R, 1 ER, 3 H, 4 K, 2 BB) was in control just about the whole way on the mound. The only trouble he ran into came via the walk as the only two he issued, a one-out free pass to Sullivan in the fourth and a lead-off walk to Kohei Ito in the fifth, turned into the only runs he allowed and only one of them was earned. Kiran Incantalupo came on to work a 1-2-3 seventh to close out the win.
"In the beginning of the game I was in a groove and just throwing strikes. I kind of lost my control a little bit after the third inning. I was falling behind hitters and making it harder on myself, but I knew that all I had to do was start throwing strikes again and my fielders would make the plays behind me. They did and we limited the damage to two runs," said Valente, who retired the first 10 hitters in faced in order. "We are playing very well as a team. We know that if one person makes a mistake that somebody else is going to pick him up. We all hit, we play sound defense and, most of the time, we throw strikes. Those are the keys to success in high school baseball and that is what we have been doing for the most part this year."
CLICK HERE FOR MORE PHOTOS FROM THIS GAME. TO BUY A COLLECTOR'S PRINT OF THIS STORY, PLEASE VISIT 4FeetGrafix.com.