Tuesday, April 26, 2016
By Rich Barton
NJS.com Staff Writer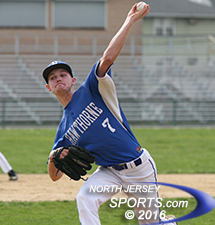 Brandon Terizzi allowed five hits, walked 3 and had 10 Ks for Hawthorne, which beat Garfield, 6-2, on Monday to keep the heat on first place Glen Rock in the race for a league title.
GARFIELD – Hawthorne and Garfield have been mirror images of one another this season as both have been big surprises with their fast starts to the season. Each team possesses a solid defensive unit with a balanced lineup at the plate and both are dead even in the league standings hot on the heels of first-place Glen Rock.
Trying to stay in the race for a league title, both teams went to their respective aces with Hawthorne southpaw Brandon Terizzi drawing the tough task of keeping pace with Garfield fireballer Mike Gutierrez, who sported a Bergen County-leading 0.29 ERA coming into the game. After falling behind early, Terizzi had to put up some zeros and hope his teammates could do muster up a few runs.
Terizzi did his part and the Bears finally broke through. A bases-clearing triple by Jack Hines broke the game open as Hawthorne grabbed sole possession of second place in the division by scoring all of its runs in the top of the fifth inning on the way to a 6-2 road win in Garfield on Monday.
Runs were expected to be at a premium and through four innings they certainly were. Garfield scored the only run over that span and had to manufacture it the hard way. Patrick Kruczala got hit by a pitch to lead off the bottom of the second. A rare balk call moved him to second base. Then with two strikes and two outs, Kruczala stole third and when the throw got away he scooted home to give Garfield a 1-0 lead.
"I knew before the game that it was going to be a pitcher's duel so I had to keep the runs down as much as I could," said Terizzi. "After they got the first run, I had to make an adjustment because my curve wasn't really working. I just basically went with my fastball and changeup. As long as I got ahead in the count, I knew I would be ok."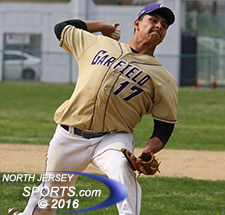 Garfield's Mike Gutierrez came in with the lowest ERA in Bergen County and pitched well again. Only one of the six runs scored against him was earned.
Gutierrez tossed four scoreless innings, but threw nearly 80 pitches in the process. As the Bears' became more patient at the plate, success followed. Desmond Mateo worked a one-out walk and Carlos Perez followed with a long triple to deep right field to tie the game at 1. Tyler Charles then roped a ground ball through the drawn-in infield to drive home Perez with the go-ahead run. Getting two runs off of Gutierrez, who only allowed one earned run this entire season coming into the game, is quite an accomplishment for any team. The Bears did not rest on their laurels but continued to work deep into counts and forcing Gutierrez to throw as many pitches as possible.
"Mikey threw hard today but he wasn't throwing his curve for strikes and his hard stuff was off the mark, too," said Garfield head coach Charlie Rigoliosi. "But we didn't give him a lot of run support and give credit to Hawthorne, they came today ready to hit. We didn't lose this game, they won it. We've been off to a good start this season but maybe we were believing our own hype a little too much. Time to get back down to basics and get ready for Lodi."
Ryan Vanderwerf drew a walk and Mike Deitrich reached on an error to load the bases for Hines, the Bears' leader in batting average. Hines got ahead in the count and got the pitch he wanted. He drilled a fastball into the left-center gap to bring home all three runs and give Hawthorne a commanding 5-1 lead. Alex Ferriola capped the scoring outburst with an RBI double.
"I knew I was in a big spot when I stepped up to the plate and I was looking for a fastball," said Hines. "Brandon was pitching really well for us and we had to reward him with some runs. I just got to the plate and tried to stay as calm as I could. With the bases loaded, I knew he didn't want to walk me. I got a good pitch to hit, stuck my bat out and drove one into the gap."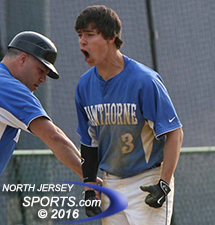 Jack Hines is pumped up after his bases-clearing triple gave Hawthorne all the offense it needed to improve to 8-3.
Terizzi did the rest from there to polish off a complete game victory for Hawthorne (8-3). He allowed five hits, walked three, and had 10 Ks. Neither of the runs Terizzi allowed were earned. Perez led the way offensively going 3-for-4 with a run scored and an RBI.
Only one of the six runs allowed by Gutierrez was earned for Garfield (8-3). He took the loss but did finish with nine strikeouts. The Boilermakers will try to get back on track on Wednesday against rival Lodi.
With the Passaic County Tournament coming up and a league title still to play for, Hawthorne is hoping a big win like this one will be the springboard that will carry them through the rest of the season.
"This is a big win for us against one of the better pitchers around," said Hawthorne head coach John Passero. "Our section for the states is loaded and there are some real good teams in Passaic County. To make runs in both tournaments and to have a shot at a league title, you have to find a way to win games like this. Terizzi pitched great to keep us in the game before our bats came through in the clutch."
CLICK HERE FOR MORE PHOTOS FROM THIS GAME. TO BUY A COLLECTOR'S PRINT OF THIS STORY, PLEASE VISIT 4FeetGrafix.com.