Sunday, April 24, 2016
By Rich Barton
NJS.com Staff Writer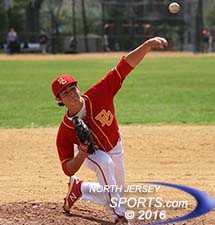 Chris Gerard threw four solid innings and was the beneficiary of a ton of run support as Bergen Catholic won its ninth straight game, 17-3 in five innings, at
St. Mary on Saturday afternoon.
RUTHERFORD – Bergen Catholic has been the hottest team in North Jersey over the past three weeks. Its method of dominance has been obvious as it has set the tone with early runs, played solid defense and let its pitching staff use that early run support to gain confidence throughout the game. As well as they have been playing recently, the Crusaders are looking to load up on statement victories and Saturday provided a perfect opportunity against a St. Mary's squad looking for a signature victory of its own.
Even against a perennially tough opponent like St. Mary, there was little that could be done to slow BC down. The game plan worked to perfection as they put up five runs in the first inning and never looked back. Bergen Catholic pounded out 19 hits and tacked on 10 more runs in the fifth to invoke the mercy rule and score an impressive 17-3, five-inning win over St. Mary at Tamblyn Field in Rutherford.
"We've been on a roll lately and we kept it going today," said Bergen Catholic starter Chris Gerard.
Bergen Catholic got off to a hot start with consecutive singles from David LaManna and Erikson Nichols to leadoff the game. After an RBI groundout by Sonny Ulliana made the score 1-0, the bumpy outfield in right played havoc on a St. Mary defender. Two errors led to two more runs before Cole Bosch and Connor LaSpina, the No. 8 and 9 batters in the BC order, delivered run-scoring singles to stake Gerard to a 5-0 lead before he even threw a pitch. Four of the Crusaders' six hits in the inning were punched through the right side of the infield.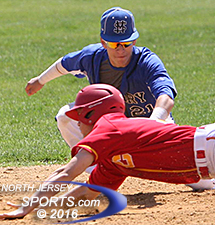 Manny Andujar had a hit and scored a run for St. Mary, which fell to 8-4.
"We pride ourselves on taking pitches and making the opposing pitcher work hard to get us out," said Bosch. "Our goal was to jump on them early and set the tone for the rest of the game. I thought everyone today had really good at-bats. We waited for pitches that we like and hit the ball where it was pitched."
St. Mary had a chance to get back in it quickly in the bottom half of the first. Manny Andujar led off with a triple to right-center and was driven home on an RBI single from Joey Castellanos. The Gaels had two runners in scoring position, but Gerard painted the corner to record the third out on a called third strike to escape the jam.
"Putting up that many runs gave me confidence to work the strike zone," said Gerard. "With that lead, I wasn't afraid to make a mistake. My focus was to keep the ball down and let my defense make the plays behind me. I think our pitching staff was considered the weak link of our team coming into the season. We've only that as motivation though to pitch well and shut teams down every time out."
From there, Gerard was on cruise control. He mixed speeds and kept the ball down throughout his four innings of work. Nichols had an RBI double in the top of the fourth and John Mead drove him in with a single to push the lead to six, 7-1, before the offensive explosion in the fifth.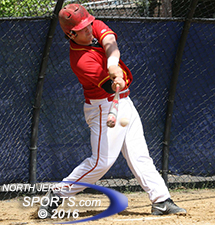 Sonny Ullana drove in the game's first run and BC never looked back.
Six straight Crusaders reached base to start the fifth inning. Vinnie Martin and Bosch added RBI singles and LaSpina added an RBI double in the biggest inning of the season for Bergen Catholic.
Gerard picked up his third win of the season and Bergen Catholic improved to 10-1 with its ninth straight victory. Gerard tossed four innings, gave up four hits, one earned run with two walks and two strikeouts. Bosch and LaSpina came up clutch at the bottom of the lineup, combining to go 6-for-7 with four RBIs and four runs scored.
Castellanos provided all of the offense for St. Mary (8-4). Along with his RBI single, he slugged a two-run homer to cap the scoring in the bottom of the fifth. With the Bergen County Tournament seeding meeting coming up and another showdown with archrival Don Bosco Prep next week, the Crusaders are looking to make their claim for the top seed.
"Even with the season that we've had so far we feel like we're an underdog," said Bosch. "We take that mentality to the field every day like we have a chip on our shoulder and we have something to prove."
CLICK HERE FOR MORE PHOTOS FROM THIS GAME. TO BUY A COLLECTOR'S PRINT OF THIS STORY, PLEASE VISIT 4FeetGrafix.com.