Thursday, April 21, 2016
By Cory K. Doviak
NJS.com Editorial Director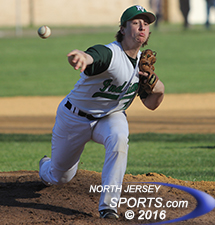 Sophomore Jordan Isaackedes gave Pascack Valley exactly what it needed,
5 1/3 solid innings as it snapped a three-game losing streak with a 9-4 win over a talented Ridgewood team on Wednesday.
HILLSDALE – After a week in which it lost three games by a total of four runs, Pascack Valley baseball coach Will Lynch used the rare four-day layoff between competitive pitches to reevaluate just about every aspect of his team. With games this week against Ridgewood, St. Joseph Regional and Mahwah – all amongst Bergen County's early season elite -- the Indians could have seen their entire season go up in smoke in the span of just two weeks.
"We had a rough week last week. We didn't play very well offensively, defensively, pitching…we were 0-3 last week and I am not taking anything away from the teams we played. They beat us, that is the way the game goes, but we had to refocus ourselves on just trying to win one inning at a time," said Lynch. "We made a couple of lineup changes and I told the guys that we can't go 0-3 and just keep going along the same way and hope for things to change. We had to force the issue a little bit."
Behind a solid pitching performance by sophomore Jordan Isaackedes, with Alex Criscuolo providing a spark to the lineup, with air-tight defense and without striking out a single time in seven innings full of quality at bats, Pascack Valley pulled its season back from the brink with an impressive 9-4 victory over Ridgewood on Wednesday afternoon in Hillsdale.
It started with Isaackedes throwing strikes, especially with a change-up that he bore in on right-handers, and carried right over to the defense behind playing well behind his quick pace and then the offense followed suit by putting the ball in play and putting the pressure on a Ridgewood defense that eventually gave way.
Andrew Eng smoked a two-run homer in the top of the fifth that got Ridgewood back to within 5-4.
Criscuolo was playing on the junior varsity level at this time last week, but Lynch brought him up, plugged him in at second base and in the No. 2 spot in the batting order and he scored the game's first run in the bottom of the first inning. Criscuolo stroked a one-out single, went to second on an outfield error and scored on Matt Novakowski's RBI single to left center. After a long layoff to stew over its three-game losing streak, the Indians got the positive energy flowing with the early lead.
"I was just trying to keep going with what I learned [on the JV level]. Get a pitch to hit, keep it on the ground and take it one base at a time without trying to over-complicate things. I just want to help the team," said Criscuolo, who finished 2-for-4 with an RBI, a run scored and a brilliant defensive play when he dove to his left to pick off a screaming line drive hit by Charlie Cardew in the top of the fifth. "It feels good that I put the work in down there on JV and then to come up here today and see it translate on varsity."
After a working out of a two-on, one-out jam in the top of the first, Isaackedes really found his groove. He retired seven of the eight hitters he faced starting with the final two hitters of the opening frame and worked a 1-2-3 third needing just 10 pitches to do it. Ridgewood starter Ethan Suh was also effective early. He stranded two after giving up the Novakowski (2-for-3, RBI) single in the first, needed just six pitches two work his way through the second and worked around a two-out error in the third to keep his team right in it and was rewarded with a lead in the top of the fourth.
Andrew Eng stroked a leadoff single, Cardew drew a walk and Mike Blood followed with a single that got the game tied at 1. Nick Linton (3-for-3, RBI) then put the Maroons ahead for the first time by singling back through the box on a 3-2 pitch and Ridgewood was in good shape for more with two on and still nobody out.
Pascack Valley junior Alex Criscuolo, just up for the JV, had two hits, an RBI, a run scored and one sparkling defensive play at second base.
Isaackedes, a sophomore who is not yet the type of pitcher that is going to blow the ball past hitters, responded with back-to-back strikeouts, two of the three he recorded in his five-and-a-third innings, and got a ground ball to Criscuolo for the third out to escape further trouble. Pascack Valley lost just about all of its pitching staff from last year to graduation and the lone returnee with any varsity experience, Nick Verost, is down right now with an injury. That means that Isaackedes is the de facto ace and he pitched like it. He kept the Indians' only deficit of the game to one run and his offense picked him up in the bottom of the fourth.
"I felt really good on the mound today. I knew I just had to throw strikes and my team was going to come through with the bats. We have had some struggles on offense the last couple of games, but we are a good hitting team and I knew that was going to change. I just had to keep up in it," said Isaackedes. "We came out early and put one [run] up in the first and we just kept attacking from there. It was a great overall effort from everybody and I just tried to do my job and make them put the ball in play and let my defense work."
While Pascack Valley's defense worked nearly flawlessly, Ridgewood had its issues in the field and it sunk Suh in the bottom of the fourth. Jack DeVanna (1-for-4) reached on an error leading off before Suh got two ground outs with Alex DeRosa, the courtesy runner for DeVanna, the catcher, moving to third. Suh induced the groundball that should have been the third out, but another error allowed DeRosa to score to tie the game at 2 and the Indians were not done. Ricky Lutz (1-for-2, 2 R, BB) walked in front of senior leadoff man Mike Pimpinella (1-for-3, 3 RBI, R), who hit a two-out, two-run, bad-hop single that jumped right over the glove and head of the second baseman.
Pimpinella took second on the throw back into the infield, third on a wild pitch and scored when Criscuolo reached on another error. All four runs in the frame were unearned and they made Suh's final line (4 1/3 IP, 8 R, 4 ER, 8 H, 1 BB) look much worse than the way he actually threw the ball.
Catcher Mike Blood drove in a run for Ridgewood.
Ridgewood got two of those runs back in the top of the fifth when Eng (2-for-4, HR, 2 RBI, 2 R), the left-handed centerfield and clean-up hitter, absolutely crushed a two-run blast over the fence in right field to get the Maroons back to with 5-4, but the bottom of the Indians' order did the job of putting the game away in the bottom of the inning.
Riley Weis (1-for-3, R), Paul Sowinski (1-for-4, R), Carson Weis (1-for-4, RBI, R) and Lutz, the No. 6-9 hitters, strung together four straight singles before Pimpinella drew a bases loaded walk and Criscuolo singled to pick up RBIs. Novakowski finished off his big day at the plate and the game's scoring with a sacrifice fly that provided the final 9-4 winning margin. Every batter in the Pascack Valley lineup had at least one hit and DeRosa (1 2/3 IP, 0 R, 0 ER, 2K, BB) went from courtesy runner to closer as he retired five of the seven hitters he faced to close out the win, a much needed victory that evens the Indians record at 4-4 on the season.
"We knew pitching depth, because of what we lost from last year, was something that we were going to have to compensate for. To be successful this year we knew we were going to have to play great defense and swing the bats and we did both of those things today," said Lynch. "That is a pretty darn good baseball team, a great baseball team that we played today. They had some hard hit baseballs, but we made the plays we needed to and now we will see if we can build on this and keep it going."
CLICK HERE FOR MORE PHOTOS FROM THIS GAME. TO BUY A COLLECTOR'S PRINT OF THIS STORY, PLEASE VISIT 4FeetGrafix.com.