Sunday, April 17, 2016
By Cory K. Doviak
NJS.com Editorial Director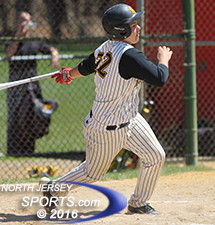 Junior catcher Steven Yelin went a perfect 4-for-4 with 2 doubles for River Dell, which its fourth straight game, 7-2, over previously unbeaten Emerson.
EMERSON – It has been quite a run for the Emerson baseball team ever since it started last season by splitting its first six games. All the Cavos have done since then is win 30 of the 32 games they have played including last year's Group 1 state championship game and a perfect 7-0 start to the this season. There is no other way to say it than Emerson has been on fire since last April and playing the Cavos at home in an independent matchup in the midst of this roll might not have been the most obvious choice for an opposing skipper to hand the ball to a starting pitcher with zero varsity starts entering the contest.
But not only did River Dell head coach Brandon Flanagan tip junior right-hander Mike Walker to take the ball in just such a scenario, he did so with confidence for Saturday's noon-time first pitch.
"Mike [Walker] had thrown two innings so far this year, we were kind of saving him for today and we know what kind of talent the kid has," said Flanagan. "He's smart, he throws strikes and he can get us groundballs all day long."
If all day long in high school baseball parlance means a full seven innings, then that is exactly what Walker did. Working down in the zone and changing speeds effectively, Walker went the distance on a six-hitter and, despite his last name, did not walk a batter. He struck out six, induced 10 ground ball outs, did not allow an earned run and used the comfort provided by some early offense as River Dell (5-2) handed Emerson a 7-2 loss, its first of the season and its first in quite a while.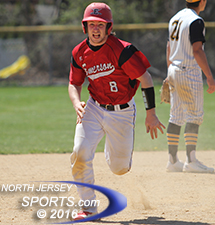 Brendan Kelly had two hits and scored both of Emerson's runs, one in the first inning and the other in the fifth.
"I was hitting the outside corner a lot and I did not leave too many pitches in the middle of the plate. I knew that this was a good hitting team we were up against and I had to limit mistakes down the middle," said Walker. "I just stayed relaxed. I knew if I could come in here and hit my spots then everything would be fine."
It also helped that River Dell gave Walker a cushion to work with before he even threw his first pitch. The Hawks have a unique lineup in that four of their first five hitters bat from the left side of the plate and five of the nine spots in the order are occupied by lefties, which can make it tough on a right-handed starting pitcher, even one who has been throwing the ball well all season like Emerson's Robbie Leuck.
River Dell's first three hitters of the game, Brian Rosen (2-for-5, R), Mike Fasano (1-for-4, R) and Steven Yelin, all had base hits with Yelin's double driving in the first run in a three-run top of the first. Julian Smith added an RBI single on the positive side RD, while on the negative Emerson lost starting leftfielder Brandon Steidl for the game and probably much longer as he dislocated a shoulder while diving for a fly ball.
Emerson got a run back in the bottom of the first when Brendan Kelly, who singled leading off, scored on a two-out error on a groundball off the bat of Frank Manning, but Walker was unruffled and the hole that the Cavos dug early was too much to climb out of, especially after River Dell added two more unearned runs in the top of the second to take a 5-1 lead. It was David Estevez and Smith (3-for-4, 3 RBI), two more left-handed batters hitting in the No. 4 and 5 spots in the order, that had back-to-back two-out RBI singles in that rally.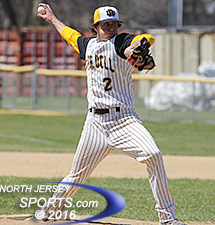 River Dell junior Mike Walker, in his first varsity start, went the distance on a six-hitter and did not walk a batter.
"There are a lot of lefties in that lineup and the one in the middle, the one who is not a lefty, that kid Yelin is a hitter. I don't think we have gotten him out yet, maybe once, in the three times we have played them the last two years," said Emerson head coach Chris Sommerhalter. "I thought we played pretty well, Robbie [Leuck] was throwing strikes like we wanted him to, but they just kept hitting them. They had 13 hits off a good pitcher and you give them the credit for that."
Yelin, the Hawks' junior catcher who is already on many Division 1 programs' radar, got his third hit of the game and his second double when he smoked one into the left-centerfield gap. Yelin's courtesy runner Tom Daugherty also had a busy day as he completed the trip around the bases three times, including on Smith's RBI single in that fourth inning. Garrett deMarrais (1-for-3, RBI) drove in the Hawks' final run with a well-struck double to left that chased home Smith. River Dell has now beaten Emerson two straight times, including in last year's Bergen County Tournament Round of 16 after the Cavos won last season's regular season matchup on a walk-off homer.
"All week we have been locked in on Emerson. Coach [Flanagan] kept reminding us that they are a big rival. We took that in and came out and played well," said Yelin, also a standout defensively behind the plate who finished a perfect 4-for-4 with two doubles and an RBI. "To get three in the first inning was humungous. It gave us the momentum and we just kept putting the pedal to the metal."
All of the support was more than enough for Walker (7 IP, 2 R, 0 ER, 6 H, 4 K, 0 BB, W), who closed out the game by retiring nine of the final 10 hitters he faced. The only other run he gave up came in the bottom of the fifth when Kelly (2-for-4, 2 R) reached on an infield single and scored on a two-out error. Kelly and Anthony Scozzafava (2-for-3) had multiple-hit games for the Cavos (7-1) while Leuck and Jon Juri collected the other two hits.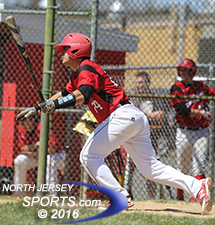 Senior Jon Juri had one of the six hits for Emerson, which fell to 7-1.
"We knew we were not going to go undefeated this year and we play a little bit of a tougher schedule than a lot of small schools, so this was a good game for us to play," said Sommerhalter, who took over for longtime head coach Bob Carcich last season and has gone 33-6 in his first 39 games in charge. "We played hard, we tested ourselves and they came out on top."
River Dell (5-2) is on a bit of a roll now in its own right. After starting the season at 1-2 after back-to-back losses to Ramsey and Mahwah, the Hawks have now won four straight heading into another interesting independent matchup against a quality Dumont squad on Monday.
"We opened 1-2 after those losses to Mahwah and Ramsey who are always so tough, even tougher when you have to play them back-to-back, so this really was a challenge for us. We really looked at this game as a way to measure ourselves against an undefeated team and a team that walked off on us last year," said Flanagan. "We'll take this win, we'll feel good about it for a day and then get right back at it against Dumont. I expect they will have their ace on the mound and we have to be ready to go."
CLICK HERE FOR MORE PHOTOS FROM THIS GAME. TO BUY A COLLECTOR'S PRINT OF THIS STORY, PLEASE VISIT 4FeetGrafix.com.