Saturday, April 9, 2016
By Cory K. Doviak
NJS.com Editorial Director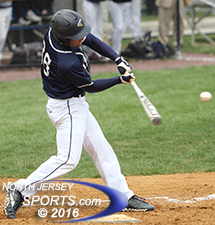 Senior Zach DeNike, playing baseball for the first time in high school, was one of five Old Tappan batters to have multiple hits as the Knights improved to 3-0 on the season with a 13-3, 6-inning win on the road at rival Demarest.
DEMAREST – Maybe with the benefit of hindsight, those that follow high school baseball will remember with a laugh the first week of this season. "Remember the weather early in 2016? That was crazy!"
But right now it is not all that funny for teams trying to piece together a schedule and actually play some games, important ones at that. The spring season is compressed even when the skies are blue and the forecast does not call for more raw bluster and every game counts in terms of county tournament qualification and state tournament positioning. Getting off to a good start and finding any kind of consistency with multiple postponements, indoor practices and without feeling in the fingertips when games are played is no easy feat.
Northern Valley/Old Tappan, however, is managing quite nicely. The Golden Knights got four strong innings from junior Jack Bilali and wrapped out 17 hits in extending their perfect start to the season with a 13-3, six-inning win at rival Northern Valley/Demarest.
Old Tappan, now 3-0 on the season, got at least one hit from each of the nine spots in the batting order and got it going early as it scored its first run before recording its first out. Jimmy Donnelly stung a single to lead off the game, stole second and scored on James Steindl's double into the wind and over the head of the centerfield. Demarest starter Jack Avillone then wiggled out of further trouble as he left the bases loaded and it could have been an opportunity lost for Old Tappan.
"We got a run with our first three batters and then we load 'em up and get nothing more out of it. That was a relief for the pitcher, he did a good job of getting out of there with no more damage and you start to think that maybe they are going to take advantage of that," said Old Tappan head coach Tim Byron. "But we did a real good job of making contact after that. We got some real big hits, some timely hits. We have a bunch guys that can put the ball in play and a lot of guys with speed that can move around the bases."
Sean Kelly connecting on the fifth-inning, pinch-hit double that drove in all three Demarest runs.
One of the guys that can put the ball in play and then some is Erik Slater, the old school three-sport (football, basketball, baseball) athlete, and it was his two-run blast in the top of the third that cracked the game open. Steindl (3-for-5, RBI, 3 2B) led off the frame with his second double of the game and, two batters later, Slater unloaded over the left field fence to make it 3-0.
One of the guys who can really move around the bases is senior Zach DeNike, the All-County running back who is playing baseball for the first time in his high school career. DeNike (3-for-4, 3 RBI, 3 R) singled with two outs, went to third on Alex Clyde's single and scored when Demarest's infield threw the ball around one time too many. That made it 4-0 and Bilali, a right-hander who relies on the feel of his off-speed pitches, had a cushion to work with.
After walking three of the first five hitters he faced, Bilali got a called strike three with a well-spun deuce to leave the bases loaded in the first and then gave up little else. Bilali three four scoreless innings, struck out three and allowed just two hits to pick up his first varsity win.
"Early on I did not throw [my curveball] too well, but I finally got command of it as the game went on. I played JV last year and I didn't know where my spot [in the rotation] was going to be or if I was even going to have one, so I was just happy to get the ball," said Bilali. "I was supposed to start against Tenafly, but with all of the weird weather we've had it turned into this opportunity to throw against our rival and it went well."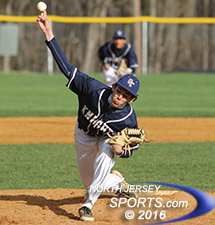 Old Tappan junior Jack Bilali threw four scoreless innings to pick up his first varsity win.
Old Tappan put up four more runs in the top of the fourth. Slater singled leading off and Brock Lombardi earned a base the hard way, taking a fastball off the foot, no picnic in the conditions. One pitch later Lombardi was forced to endure the pain on a trip around the bases on DeNike's triple to deep center that made it 6-0. Clyde and pinch hitter Gerard McNerney added RBIs to make it 8-0.
"We were excited for this game against our rival. We all came together, we put the ball in play and we had a good time," said Lombardi (1-for-2, 2 R, RBI), Old Tappan's sophomore second baseman. "We had that chance in the first inning that we let get away, but we just kept our minds in a positive way. We forgot about that inning and got right back to hitting and everyone contributed."
Demarest's offensive highlight came in the bottom of the fifth against the Old Tappan bullpen. The Norsemen drew three straight one-out walks and, with two out, Sean Kelly turned a pinch-hitting opportunity into a three-run double down the left field line. With two outs and a 3-2 count, the runners were off with the pitch and Kelly dropped one inside the stripe just in front of the foul pole.
"I looked at our score card and we had like seven pop-ups. In high school baseball, on any level really, that is just too easy. You have to make a defense pick up the baseball and throw it across the diamond multiple times," said Demarest head coach Marc Houser. "We got the double down the line [by Kelly] and that was good, but we really didn't sting anything. When you don't hit the ball on a line, you don't put any pressure on the guy on the mound. You let him settle in and just rely on his defense."
Andrew Santonocito had one of the three hits for Demarest.
KJ Stewart came on and retired all four batters he faced and Old Tappan ended the game an inning early by sending 10 hitters to the plate and scoring five runs in the top of the sixth. Lombardi singled in a run, DeNike doubled one home and knocked in two more with a slicing liner to the opposite field and Joe Moskowitz (1-for-3, RBI, 2BB) had the RBI single that pushed the lead into double digits.
Andrew Santonocito and Anthony Argenziano had the other two hits for Demarest (0-2), which has yet to get in any kind of groove with all of the schedule-juggling, but Houser is confident that his team will get there.
"We always talk about adversity and mental toughness and we will be fine," said Houser. "You don't want to dig a hole, no one does, but a couple of losses can refocus you early in the season and show you that you are not where you want to be as a high school baseball player. You never want to lose to a rival and you definitely don't want to lose in six innings, but we'll put in the work to get better."
Old Tappan could not be off to a better start. Five players – Donnelly, Steindl, Slater, DeNike and Clyde – had multi-hit games and seven of the nine spots in the order scored at least one run. That kind of production 1-9 would come in handy if the Knights want to compete for a league title and do some damage in the county and/or state tournament, but Byron has been around long enough to know that three games do not a season make.
Are the Knights a legitimate contender to be playing on the same field at Northern Valley/Demarest on Memorial Day weekend when the Bergen County semifinals are held?
"Not at this point, not yet. Come talk to me at the end of April," said Byron. "I like where the team is right now, we are starting to pick up on some things and you can feel something good starting to happen. We are 3-0 and that is a good start. But that is all it is, just a good start."
CLICK HERE FOR MORE PHOTOS FROM THIS GAME. TO BUY A COLLECTOR'S PRINT OF THIS STORY, PLEASE VISIT 4FeetGrafix.com.