Thursday, April 7, 2016
By Cory K. Doviak
NJS.com Editorial Director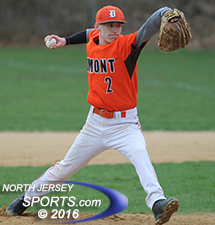 Collin Sonzogni threw five solid innings for Dumont, which improved to 2-0 with an 11-1 win over Ridgefield Park.
DUMONT – Before the radical realignment that grew the size of conferences, but shrunk the size of the leagues contained within, winning a league title was the kind of accomplishment that could legitimately constitute a successful season regardless of what happened in the state or county playoffs. That is not so much the case anymore, especially in baseball where league races might be decided in the first couple of weeks, if not games, of the season.
For a team like Dumont, which has dominated its eight-game league schedule since the inception of the Big North Conference, the motivation is to do more than hang another league championship banner in its gym. They have done it seven times in nine years under head coach Jason Cannici.
"League titles nowadays are such small potatoes. They once had a weight to them, but not anymore. We have to set our sights on winning a state sectional first and getting to and doing well in the county tournament," said Cannici, who won the 200th game of his career in Dumont's season opener. "We have to make sure that we take care of what we have to inside our league, but we have to win some of our crossover games against teams like Ramsey, like Mahwah, like River Dell, like Westwood to make some noise in the county."
After a quite start on Wednesday against Ridgefield Park, Dumont had a loud finish as it sent 12 hitters to the plate in the bottom of the fifth inning and scored six times to break open a relatively close game. The Huskies then scratched a run across in the sixth to put its 11-1 victory to bed one inning early.
"We have gotten off to slow starts in our first two games and our batters are trying to get their timing early in the season," said Cannici. "In the preseason when we were playing a lot of games we had it going, but then we had a layoff because of the weather and its taking us a while to get that back."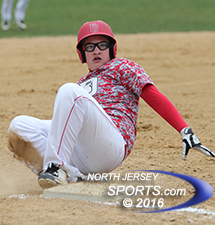 Sophomore Anthony DiBlasio had a hit and hit the ball hard in another at bat for Ridgefield Park, which fell to 1-1.
Ridgefield Park starter Chris Modesto retired five of the six batters he faced and looked like he was in good shape with two outs and nobody on in the bottom of the second. He ran into trouble when Nick Colontino (2-for-2, 3 R, 2 BB) and Frank Deane (0-for-1, 2 R, BB) drew back-to-back walks in front of Steven DiGirolomo, the No. 9 hitter who drove in the game first run with a well-struck single. The Huskies added two more runs on a bloop single by KJ Mortoral (2-for-4, 3 RBI, R) that fell just in front of a sliding outfielder. Ridgefield Park went from being one strike away from hanging up a clean inning to a 3-0 deficit heading into its turn to hit in the top of the third.
Ridgefield Park, on the other hand, left the bases loaded in the second and could have done more in the top the of the third. Brandon Rodriguez drew a leadoff walk and scored all the way from first on Jonas Espinal's double to right center after it was misplayed in the outfield. The Scarlets had second and third with one out later in the inning, but Dumont starter Collin Sonzogni reached back for two straight strikeouts to limit the damage.
Sonzogni (5 IP, 1 R, 0 ER, 2 H, 5 K, 5 BB), a right-hander, went on to retire eight of the final nine hitters he faced before leaving after the fifth with the game broken wide open.
"I just tried to find my rhythm early on. I didn't have my best stuff and the weather conditions were pretty bad out here. It is pretty cold, but I had to battle through the adversity," said Sonzogni. "When I finally found my groove I used my fastball to get ahead early in counts and then tried to put them away with my curveball."
The bottom of the Dumont order built a run in the bottom of the fourth when Nick Colontino, who drew a leadoff walk, was bunted to second by Frank Deane and driven home by Steven DiGirolomo's clean single to left. DiGirolomo (2-for-3, 2 RBI, R, SB) had a big day out of the No. 9 hole, a key piece to Dumont's circular lineup.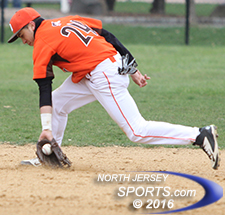 Dumont shortstop KJ Mortoral had 2 hits and 3 RBI and also was solid on defense in brutal conditions.
"This was an important game, a league game and we had to do whatever we could to make a statement," said DiGirolomo, the Huskies' centerfielder. "We have to keep the energy up. We are always loud in the dugout, we are always into the game and it only takes one or two hits to get us fired up and then it just keeps coming."
It came in the bottom of the fifth as Dumont sent 12 to the plate and scored six times. Ryan Foley (1-for-3, 2 RBI, SB) had a two-run single, Tito Garcia (1-for-4, RBI, R) hit a hot shot back through the middle to plate another and Justin Torres (2-for-4, R, RBI, 3 SB) and Steve Glennon each stole bases in the rally in which two of the runs were unearned. Shortstop KJ Mortoral (2-for-4, R, 3 RBI) had the sixth inning, two-out single that ended the game one frame early.
Espinal (1-for-3), Steve Orozco (1-for-3, SB), Anthony DiBlasio (1-for-3) and Mike Taveras (1-for-2, BB) had the hits for Ridgefield Park, which fell to 1-1 after a season-opening win over an improved Dwight Morrow team.
Dumont is now 2-0 and already in control of the league title race in a division that includes Ridgefield Park, Dwight Morrow, Cliffside Park and Fort Lee. But, as mentioned earlier, the Huskies have bigger goals in their sites.
"We want to win everything. We want to win the league, we want to make a run in the county and we want to win a state championship," said DiGirolomo. "And we know we have a lot of work to do to get there."
CLICK HERE FOR MORE PHOTOS FROM THIS GAME. TO BUY A COLLECTOR'S PRINT OF THIS STORY, PLEASE VISIT 4FeetGrafix.com.