Friday, April 3, 2015
By Cory K. Doviak
NJS.com Editorial Director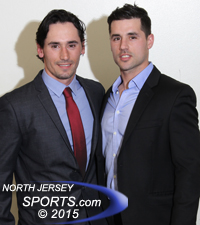 Rich Guillod (left), pictured with his brother Michael, was a first team All-County selection in his senior year. He was inducted into the Demarest Hall of Fame on Thursday night.
WASHINGTON TOWNSHIP – It has been 10 years since a male athlete has been named first team All-Bergen County in three different sports in the same season. That little bit of trivia was brought to you by the Northern Valley/Demarest Athletic Hall of Fame, which honored that athlete, Rich Guillod, on Thursday night at its third induction ceremony at Seasons in Washington Township.
Man, time flies.
"Yes it does. It doesn't seem like 10 years that's for sure," said Guillod, who was inducted along with five other athletes, two coaches, one contributor and the 1979 softball team, which went 25-1 and won the Triple Crown of league, county and state titles. "The nice part [about being inducted] is that it is a part of Northern Valley/Demarest that I can always take with me no matter what I do with the rest of my life. It keeps me connected to the high school and that is nice."
There are only a handful of players in Bergen County history to be named first team all-county in three different sports in the same school year and Guillod did it in the traditional big three of football, basketball and baseball. He helped carry the Norsemen to the North 1, Group 3 state sectional final in football in both his junior and senior seasons and they have not been back since. Demarest lost to Ramapo in 2003 and to Wayne Hills in 2004. Think Guillod remembers those games?
"I'll tell you what sticks with me. We lost to Wayne Hills by one point in the state final, 14-13, and in my junior year we lost to Ramapo by three," said Guillod. "We went to the state finals twice and lost by three points and one point. That is pretty brutal."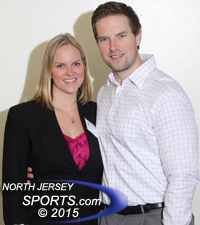 Daina Lind (nee Pucurs), pictured with her husband Marcus. She was a varsity starter in three sports for all four of her varsity seasons.
In hoops, Demarest won its first ever sectional title in his junior season and went back to the final in his senior year. In baseball, Guillod helped Demarest to state and county tournament berths in all three of his varsity seasons. In the current landscape of high school sports where players tend to specialize in one sport and forsake the others or use them only to improve their skills in their favorite, Guillod competed in all three. It is because of that work ethic and because of his obvious athletic ability that he was elected to the Demarest Hall of Fame in his first year of eligibility.
"It's definitely a cool honor and I am happy to be a part of it," said Guillod. "I can't wait to come back year after year and have the chance to meet and congratulate all of the new members. It's just nice to be back. There are a lot of people here tonight, it's a great turnout and it's going to be a lot of fun."
Spirits were high, both courtesy of the open bar at Seasons in Washington Township and also because of the memories being relived. Bob Doherty was on the stage surrounded by nine women for a team picture. It was a snapshot of the 1979 softball team that was the greatest in school history. Those Norsewomen were 25-1 and won league, county and state sectional titles.
"It was half-a-lifetime ago. It has been 36 years since we have had all of these girls together. Most of them were seniors at the time and they just knew how to play. In their junior year they beat Ramapo, which was the No. 1 team at the time, and that kind of gave us the idea that they could do something special as seniors," said Doherty. "Barbara Oakley, who is standing right here, was the main reason. She was 25-1 as our starting pitcher and we got on a roll."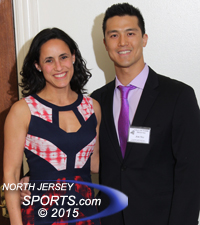 Joe Yiu, pictured with his wife Lisa, won varsity letters in four different sports before playing football in the Ivy League at UPENN.
The roster of inductees also included a couple of coaching legends. Jerry Emison, who finished his 31 year career as the Demarest athletic director, led the football program for 14 seasons was named Bergen County Coach of the Year in 1980. He was also the baseball skipper for seven seasons. Ray Siegrist, the longtime track and cross country coach, and Paul Noonan were also inducted on Thursday night. Noonan went in as a contributor to the track and football programs.
Also inducted were Craig Conklin (Class of 1967), a three-sport star in football, basketball and baseball, Marie McVeigh ('82 – Field Hockey and Track & Field), Jennifer Flinchum ('99—Track & Field, Volleyball) a 40-foot shot putter, Daina Pucurs ('04 – Volleyball, Basketball, Track & Field) and Joe Yiu, who won letters in four different sports.
Yiu was a key contributor to four league title teams in wrestling, a three-year letter winner in football and played baseball as a junior when he drew a leadoff walk in the final inning of the 1995 Bergen County Tournament final to open the door to the two-run rally that gave the Norsemen the county title. As a senior, Yiu won a county title in the shot put with a throw of 49-feet, 6-inches.
"This honor means a lot to me. A lot of these coaches and my teammates that I grew up with have had a lasting impact in my life. They always taught me that hard work, discipline and commitment are the pathways to success and I continue to follow those lessons," said Yiu, who played football in the Ivy League at the University of Pennsylvania and is currently the CIO of a real estate company. "Those lessons learned at Demarest have proved useful in all areas of my life."
CLICK HERE FOR MORE PHOTOS FROM THIS GAME. TO BUY A COLLECTOR'S PRINT OF THIS STORY, PLEASE VISIT 4FeetGrafix.com.