Friday, May 4, 2012
By Rich Barton
NJS.com Staff Writer
Needing just 78 pitches, Tommy Walls went the distance on a four-hitter without issuing a walk as Hawthorne scored late to top Lodi, 4-3.
HAWTHORNE – Offense has not been a problem for most of the season for the Hawthorne baseball team as it has averaging nearly eight runs per contest. But with the Passaic County set to be seeded on Thursday night, the Bears were not doing themselves any favors as their bats fell silent against Lodi's Bryan Cassetta through six innings. Down a run, the Bears had one last at-bat to move up a spot or two in the county tournament pecking order. Despite hitting the ball hard just once in the entire inning, Hawthorne found a few holes and it was all they needed.
No. 9 batter Travis Peene dropped in an RBI single to tie the game. He then came around to score on a game-winning hit by Mike Dittfield as Hawthorne came back in the bottom of the seventh to end Lodi's eight-game winning streak and run its own modest winning streak to three games with a 4-3 victory on Thursday afternoon at Hawthorne High School.
"In high school baseball, if you put the ball in play crazy things can happen," said Lodi head coach Kurt Geisler. "Give Hawthorne credit, they kept battling right to the very end. They came up with some timely hits and we didn't."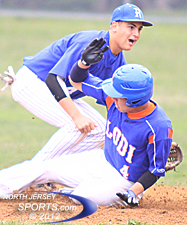 Lodi's Josh Cuder (4) had a pair of hits and drove in a run.
Both Cassetta and his counterpart, Hawthorne starter Tommy Walls, had their stuff going early before Lodi used a pair of errors on the same play to grab the lead in the top of the third. After Dan Dolan doubled, Walls attempted to pick him off but there was a miscommunication between the two middle infielders and the ball skipped through the centerfielder's legs allowing Dolan to come all the way around to score.
The Rams tacked on another run in the fourth, but it was Hawthorne that gained some life when the half-inning ended. After loading the bases with nobody out, Walls buckled down and allowed just one run before getting out of the jam down only 2-0.
"That was the spot where we really could have broken the game open," added Geisler. "When you have bases loaded and nobody out, you have to come up with more than one run. (Walls) made some good pitches and got himself out of trouble. We have won so many close games recently and now we see what it's like to be on the other side of it. Still though, to go from winning just eight games all of last year to already having (11) at this point in the season shows how much we've improved and how much confidence we are playing with right now."
Hawthorne got the run back in the bottom half of the inning when Ryan Hollis fought off a nasty outside curveball and poked it to right to score Dittfield, trimming the lead to 2-1.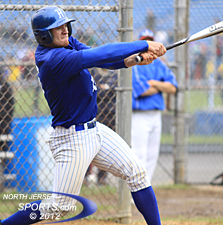 Ryan Hollis drove in Hawthorne's first run as the Bears improved to 11-4.
The teams traded runs again in the fifth inning before Cassetta went out for the bottom of the seventh looking to close the door on a complete game victory. But there was trouble right from the outset as Ryan O'Hea stroked a leadoff double. With one out, Peene blooped a single to plate O'Hea with the tying run. More importantly, he alertly moved into scoring position when the throw from the outfield went through all the way to the plate.
Mike Surplus followed with a chopper off the glove of Cassetta to put runners at the corners which brought both the infield and the outfield in. Dittfield then hit a fly ball down the right-field line that fell to score Peene and give Hawthorne the comeback win.
"I went up there being aggressive and I wanted to go after the first pitch," said Dittfield. "With guys on base, he wanted to get ahead in the count. I knew he was going to throw me a strike and I made good contact."
Dittfield's game-winning hit allowed Walls to get the win for Hawthorne (11-4). Throwing just 78 pitches, Walls allowed only four hits, struck out six, and did not walk a batter. At the plate, Peene went 2-for-3 with two RBI and O'Hea had a pair of doubles.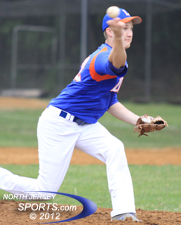 Lodi's Bryan Cassetta struck out 9 without a walk, went the distance and took a hard-luck loss.
Cassetta took the hard-luck loss for Lodi (11-7). He also did not walk a batter and scattered eight hits with nine K's. Dolan doubled twice and Josh Cuder had a pair of hits, including an RBI single in the fifth.
Hawthorne received the No. 6 seed at the Passaic County seeding meeting last night and will open county tournament play next Saturday when they face No. 11 seed Eastern Christian, who the Bears beat 2-1 in their season-opener. The competition is as deep as it has been in recent years in Passaic County. When the Bears have it all clicking, they feel they are as dangerous as any team in the county. What the win over Lodi showed was that even when scuffling at the plate and making miscues in the field, the Bears can dig deep and find a way to win; which comes awfully handy come tournament time.
"We didn't have our best game, but we fought through it," said Peene. "This was a big game against a good team that was on a hot streak. We've had our ups and downs this season, but we're as confident now as we've been all year. We really feel we can make a run in the counties and the states. This win is only giving us more confidence that we can always find a way to win."
FOR MORE PHOTOS OF THIS EVENT OR TO BUY A COLLECTOR'S PRINT OF THIS GAME STORY, PLEASE VISIT 4FeetGrafix.com.