Friday, May 6, 2011
By Rich Barton
NJS.com Staff Writer
Dan Bielitz smacking a bases-clearing triple in the midst of a 13-run second inning during St. Mary's 20-3 win at Wood-Ridge on Thursday afternoon.
WOOD-RIDGE - It is often the hard-throwing pitcher, the power hitter in the middle of the order, or the fleet leadoff batter who steals bases at will that gets the majority of the press for a high school baseball team. But most players are just like St. Mary's Dan Bielitz, a solid player in all aspects who gives it his all every day of practice, every inning of every game and just wants to contribute to a winning team.
Normally the contributions of Bielitz are subtle. He manages a game from behind the plate and generally just does what is asked of him. Bielitz was the Gaels' cleanup batter when the season started more for his bat control than his power. But some early-season struggles forced head coach Dennis Hulse to drop him to No. 7.
Most players would have scoffed or been devastated at the demotion of sorts, but not Bielitz. He just put his head down and went right back to work knowing that a chance to be a run-producer can come from any spot in the batting order, which he proved on Thursday.

Bielitz, a 5-foot-7 junior, smacked a bases-clearing triple in the midst of a 13-run second inning and teammate Kidane Rutty slugged his eighth homer of the season as St. Mary bounced back from an upset loss to Becton with a 20-3 triumph over Wood-Ridge.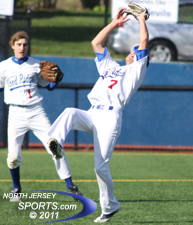 Ryan Hennessy making a tough catch for Wood-Ridge, which fell to 8-8 on the season.
"We've been falling behind in a lot of our games and it's a habit we have worked hard on breaking," said Hulse. "We have fallen behind a lot in games. Then we started pressing and we never caught up. We want to be the ones to set the tone and today we definitely did that, which helps everyone on our team relax and just play our game."

St. Mary escaped a jam in the first when Daniel Wagner and Bryan Cuevas turned an inning-ending double play before the Gaels busted out in the top of the second inning. A wind-aided pop fly off the bat of David Capriola dropped in to start off the inning. It was an extra out the Blue Devils could not afford as St. Mary's showed off both patience in the batter's box and the aggressiveness needed to drive pitches out over the plate.
After Bielitz drove in the first run with a groundout, Kevin Van Dyk followed with an RBI single. He was the first of 10 consecutive Gaels to reach base. Tom McPherson had a run-scoring single and Capriola ripped a single to plate two more runs. A walk loaded up the bases for Bielitz, who blasted a shot to deep left-center to clear the bases and then came around to score on a bad relay throw to make it 11-0.

"I was looking fastball all the way and put a good swing on it," said Bielitz. "I just wanted to do my job and drive in a few runs. As long as I could give Ryan (Ferguson) more of a cushion, that's all I cared about. I got a pitch out over the plate and was able to find a gap. When I saw the outfielders turning their backs, I just took off running. We know Wood-Ridge is a good team and we know better than to take anyone lightly. We really came out aggressive and that approach worked out in our favor."

Rutty, a left-handed hitter, has been the hottest hitter in North Jersey over the past two weeks and continued his torrid streak yesterday. He capped the huge inning by slicing a two-run double, and then crushed a three-run shot in the fifth.
Two eye-popping stats from Rutty and St. Mary's recent play are that it is the second time in the past week that the Gaels scored 13 runs in an inning (they did it against Queen of Peace) and Rutty is 14 for his last 17 (.824) with three homers and 15 RBI over that span.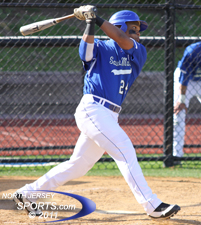 St. Mary's Kidane Rutty continued his torrid stretch at the plate, finishing with 6 RBI.
Right-hander Ryan Ferguson was the beneficiary of the run support, allowing four hits, two earned runs, with three walks and five Ks. Rutty reached base in all four of his plate appearances and had six RBI. Bielitz added a pair of hits and a career-high four RBI. McPherson added two hits and two RBI.

Ryan Hennessy homered and tripled for Wood-Ridge (8-8). Guiseppe Tartaglione had an RBI single, while Dan Sartori and Joe Barbiera both doubled and scored runs for the Blue Devils.

With the upset loss to Becton behind them, the St. Mary (12-5) are looking ahead to defending their NJIC Meadowlands Division A title and playing their best ball come county and state tournament time. With a mixture of breakout stars like Rutty and ever-important all-purpose players like Bielitz, the future is bright and the Gaels appear to be back on track to a championship season.

"We have a lot of talent on this team, but Dan (Bielitz) is the real anchor of this team and the glue that holds us together," added Hulse, in his first season as St. Mary's head coach. "Dan is a coach's dream and he comes ready to work every single day. Never has a negative word about anyone and is always encouraging. He is always pumping guys up and his spirit resonates throughout the whole team.
"Overall, I think some of the losses we had early and recently will help us down the road because of what we can learn from them. It makes all of these kids understand that you have to bring your best every day or anyone can knock you off," added Hulse. "It's a lesson we're learning on the fly. But I think we're starting to learn from those games and we're putting more of an emphasis on starting out strong. All the pieces are starting to come together and if we want to be the best team in our league, we have to keep learning from our mistakes and get better every day."
FOR MORE PHOTOS OF THIS EVENT OR TO BUY A COLLECTOR'S PRINT OF THIS GAME STORY, PLEASE VISIT 4FeetGrafix.com.