Thursday, April 21, 2011
By Cory K. Doviak
NJS.com Editorial Director
Frank Colasante retuired the final 10 hitters he faced to finish off a complete game victory in Paramus' 6-5 come-from-behind win over Bergen Tech on Wednesday afternoon.
PARAMUS – Coming off two straight wins of Bergen Catholic and Westwood in which it scored a combined total of 31 runs and facing a pitcher who was making his first start of the season in Bergen Tech's Dan Triani, the conditions seemed right for Paramus to pound out another win. But when Triani finally did leave the pitching mound, it was on his own terms and with a lead. The Bergen Tech starter threw five solid innings against one of Bergen County's best offenses and when his pitching line was tabulated, it showed that he had a lead and Paramus was down to its final six outs.
"We didn't do well offensively at all. We did not move runners when we had a chance, we couldn't get down a bunt on two different occasions and we were missing that big hit for most of the game," said Paramus head coach Joe Cervino. "We were feeling pretty confident with the bats after scoring 31 runs in our last two games, but the first five innings today were pretty disheartening. Give their kid [Triani] the credit and the best thing that happened to us was that they brought in a relief pitcher."
Clinging to a run one lead entering the bottom of the sixth, Bergen Tech skipper Doug Naccara did go to his bullpen, and Paramus' Josh Kistler and Brian Criscione waited out two walks leading off the home half of the sixth. Those would turn into the tying and winning runs in the Spartans' come-from-behind 6-5 victory.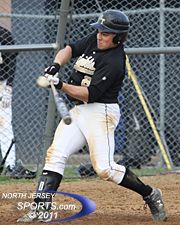 Alex Enrique had a two-run single during Bergen Tech's 4-run second inning.
After Bergen Tech centerfielder Matt Dawkins delayed the inevitable by making a full out dive to grab Tyler Garguilo's sinking liner in the gap for the first out of the bottom of the sixth, the odds finally caught up with the Knights. Nick Henriquez, Paramus' No. 3 hitter, singled up the middle and Anthony Matesic, the courtesy runner for Kistler, the catcher, got a good jump off of second base.
Dawkins charged hard and his throw was right on the money, right on home plate where it arrived at just about the same time as Matesic. Also there was BT catcher Zach Tondi and it took a second or two to decipher what exactly happened when the dust, or at least the mud, settled at home plate. Matesic got his right knee down to start the slide required for any play at the plate but really had no where to go as Tondi did not have to move from the dish at all to take the throw.
Matesic barreled into Tondi, who had the ball in his glove for a split second before it was knocked loose. The home plate umpire originally ruled that Matesic's attempted slide was within the rules, he checked with the umpire on the bases, who concurred and Paramus was credited with the run that wiped out what remained of Bergen Tech's once four-run lead and tied the game at 6. When Chris Coviello beat out the return throw on a ground ball to shortstop to allow Criscione to score, Paramus had its first lead of the game and the only one it needed.
Chris Covello's RBI fielder's choice in the bottom of the sixth drove in Paramus' winning run.
"It was one of the best games we have played all year and our starting pitcher was outstanding, especially since it was his first start of the year. When we come out and play as a team, we can compete with just about anybody," said Doug Naccara. "But you have to go there and finish, not just settle for a few good innings. Those two walks to start the sixth really hurt us."
Bergen Tech (4-6) broke on top early and had Paramus starter Frank Colasante on the ropes in the second inning. Helped by two errors in the infield, the Knights put together a four-run inning with a hit-and-run single by Triani that drove in the game's first run followed by an RBI single by shortstop Joe Azzolini (2-for-3, RBI, 2 SB). Alex Enrique, Bergen Tech's left-handed swinging first baseman and No. 2 hitter, capped the rally with a two-run single the other way.
Paramus got a run back in the bottom of the second and Bergen Tech answered that with a run in the top of the third before the Spartans' comeback began in earnest. Henriquez kicked off a three-run charge with a leadoff double to start the home half of the third and, after a Covello groundout moved him up a base, Paramus strung together three straight two-out hits. Tony Billera knocked in a run with a single, Joe Szorentini followed with a double to left center and designated hitter Matt Krum drove in two with a double to the gap in left centerfield to draw the Spartans to within 5-4.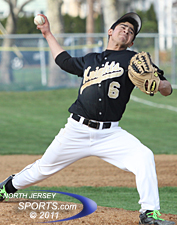 Making his first varsity start, Dan Triani pitched five strong innings for Bergen Tech.
"I knew I had to start something. We really couldn't get anything going early and that can be frustrating," said Henriquez, who was right in the middle of both of Paramus' crooked number innings. "The one thing that we have done well this season is drive in runs with two outs, we just had to get some base runners. "We scored at least 10 runs against Westwood with two outs and our first five runs in the first inning against Bergen [Catholic] came with two outs. Maybe it is that we are better focused in those situations."
The top of the fourth presented one more opportunity for Bergen Tech as Azzolini drew a one-out walk and Enrique beat out an infield single to set the table for Jordan Landau, the Knights' No. 3 hitter. But that threat fizzled as Criscione, Paramus' shortstop, ran to daylight between Azzolini and the second base bag, Colasante put the pick off throw in the right spot and the Spartans got the second out.
After that, it was all Colasante, who struck out Landau to end the fourth and then retired all nine hitters he faced over the final three innings. Colasante (7 IP, 5 R, 4 ER, 7 H, 8K, 3 BB) found the touch on his curveball over the later innings and went the route to not only improve to 3-1 on the season, but he saved the staff in a busy week. Henriquez, who was warm and ready to pitch in the seventh, can instead take the ball to start the game on Thursday against Lakeland.
"I think it was just settling into a groove. Our whole team got a wake up call in the first couple of innings because maybe we underestimated Bergen Tech a little bit. They turned out to be a good team," said Colasante. "As the game went on we kind of got a reality check. Our fielding, our hitting and our pitching picked it up later in the game and that pickoff play [at second base] really changed the momentum."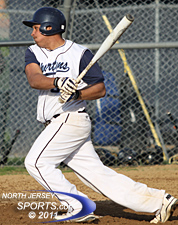 Paramus third baseman Nick Henriquez drove in the tying run with a sixth inning single.
Paramus improved to 7-2 on the season and sits one game behind Ridgewood in their five-team league. The Maroons handed Paramus one of its two losses this season and the Spartans are just trying to keep pace until it gets another shot at Ridgewood later in the season.
"Ridgewood is a very good team that doesn't get any respect. They played very well against us, they made all the plays and they left us in the position where we probably have to run the table to win a league championship," said Cervino. "We want to win some ball games to get a good seed in the state [tournament] and in the county like we did last year and hope for a better showing when we get there. Last year we had three losses going into the states and lost to the No. 16 seed [Northern Highlands]. We have the nucleus to go far, but we have to play better than we did today."
Bergen Tech fell to 4-6 on the season, but has some quality wins and quality players. The Knights could be a spoiler going forward or even make a state tournament run of its own.
"I am hoping to make some noise in the league and have people talk about us as a dangerous team and we have a shot at the state tournament," said Naccara. "And we have our state Technical Athletic Conference Tournament that starts [on Thursday] and we hope to repeat as state champs in that."
FOR MORE PHOTOS OF THIS EVENT OR TO BUY A COLLECTOR'S PRINT OF THIS GAME STORY, PLEASE VISIT 4FeetGrafix.com.